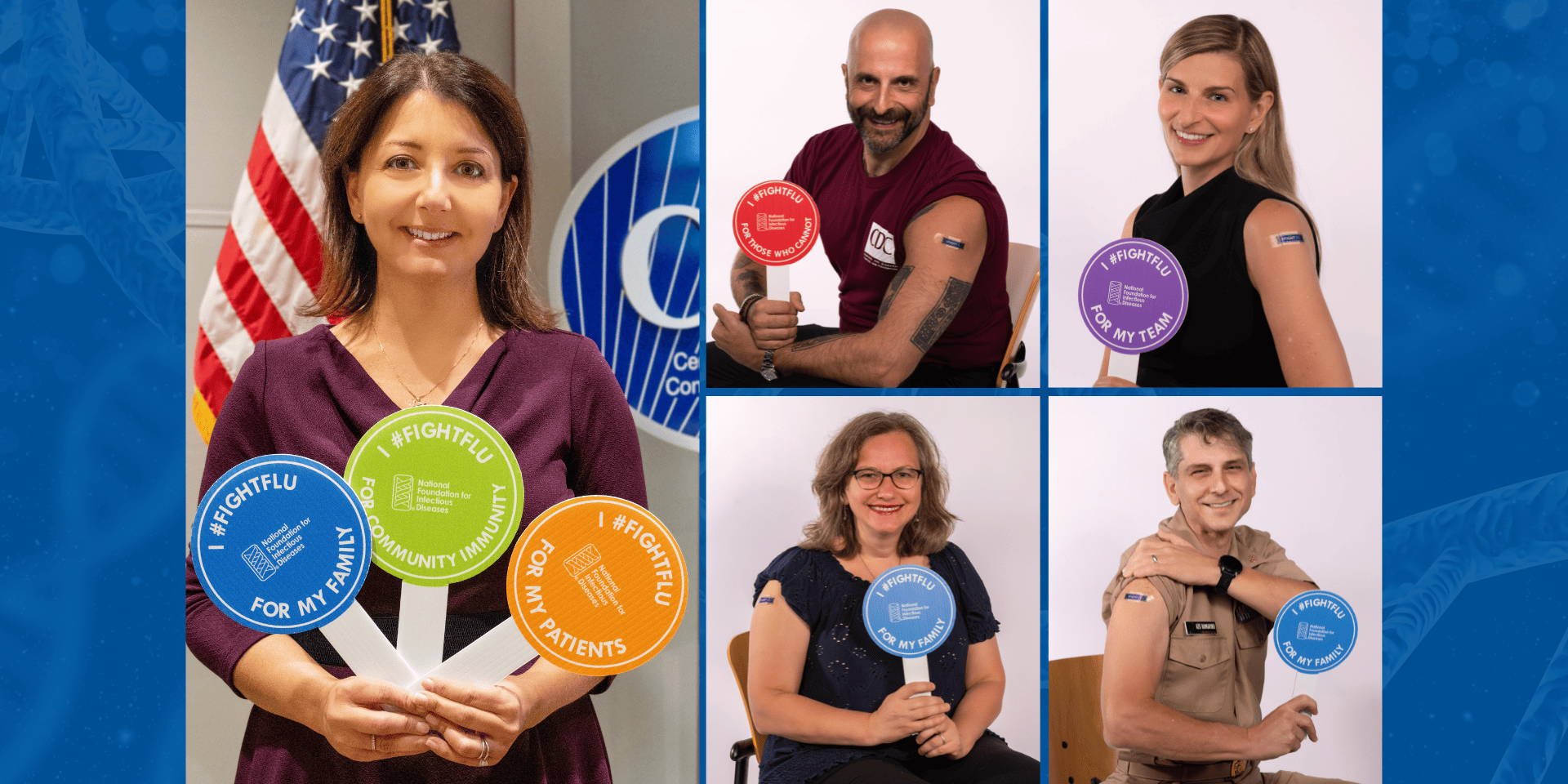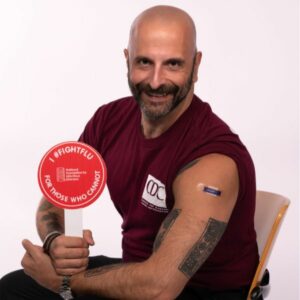 Special thanks to Demetre Daskalakis, MD, MPH, Acting Director of the National Center for Immunization and Respiratory Diseases at the Centers for Disease Control and Prevention (CDC), for this guest blog post on the importance of disease prevention during the 2023-2024 respiratory season and for joining CDC colleagues in leading by example by getting vaccinated.
The fall and winter virus season is upon us. In some parts of the southeastern US, respiratory syncytial virus (RSV) activity is increasing, which typically signals the beginning of RSV season nationwide. Influenza (flu) season is expected to start in the coming weeks, and COVID-19 hospitalizations edged up for most of late summer, while hundreds of people in the US are still dying from COVID-19 each week.
No one knows what is in store for the upcoming fall and winter virus season. But on the heels of an unusually busy 2022-2023 virus season, where the simultaneous circulation of flu, COVID-19, and RSV took a toll on our already burdened healthcare system, we must do everything possible to protect the US population against the most serious effects of these respiratory diseases.
This is a top priority for CDC, and there is good news. With powerful new and updated preventive tools available, we are in the strongest position yet to fight these 3 illnesses.
We now have vaccines to protect against all 3 of these respiratory viruses—influenza, SARS-CoV-2, and RSV. We also have widely available, effective treatments for flu and COVID-19, and rapid antigen tests that can quickly detect viruses so there are no delays in getting treatment or taking steps to help protect family, friends, and co-workers.
Here is a look at each of these respiratory diseases and the tools available to reduce the risk they pose this fall and winter:
RSV
RSV takes the heaviest toll on the youngest and oldest among us. RSV is the leading cause of hospitalization in US infants, causing an estimated 58,000-80,000 hospitalizations and 100-300 deaths among children younger than age 5 years annually. Among adults age 65 years and older in the US, RSV hospitalizes an estimated 60,000-160,000 people and causes 6,000-10,000 deaths each year.
2023 has been a year of breakthroughs in efforts to prevent severe RSV, and for the first time ever, we have immunizations in the form of vaccines to help protect older adults and monoclonal antibodies to protect infants and young children from severe RSV. In addition, we have a new RSV vaccine recommended for use in pregnant women to protect their babies from severe RSV after birth. To help protect vulnerable populations, CDC recommends:
One dose of nirsevimab, a long-acting monoclonal antibody, for all infants younger than age 8 months born during–or entering–their first RSV season (typically October through March). For a small group of children between ages 8-19 months who are at increased risk of severe RSV disease, such as children who are severely immunocompromised, a dose is also recommended entering their second season.
A single dose of RSV vaccine for pregnant women, given during weeks 32-36 of pregnancy, using seasonal administration, which means getting the vaccine between September and January in most of the US. Most infants will likely only need protection from either the maternal RSV vaccine or the RSV antibody for babies (not both).
A single dose of RSV vaccine for adults age 60 years and older using shared clinical decision-making. This means adults in this age group should talk with a healthcare professional about whether the RSV vaccine is right for them. Considerations might include whether the patient has chronic medical conditions or other risk factors that increase their risk of severe RSV disease, and the patient's own preference around getting vaccinated.
Flu
The best way to help prevent flu and protect against serious related complications is by getting a flu vaccine each year. Vaccination is particularly important for those who are at higher risk of serious complications.
During the 2022-2023 season, fewer than half of US adults and about 3 in 5 children received a flu vaccine, according to CDC estimates. Since the COVID-19 pandemic, we have observed worrisome drops in flu vaccination uptake among pregnant women, children, and healthcare professionals, and there are significant disparities in vaccination rates along race and ethnicity and among children living in rural versus urban areas. Work remains to be done to increase vaccine coverage and health equity.
COVID-19
CDC recommends an updated COVID-19 vaccine for everyone age 6 months and older. This vaccine will provide better protection against circulating variants and can reduce the chance of having long COVID. Immunity wanes over time and the COVID-19 virus continues to change—so keeping up to date with vaccination is the best way to help protect yourself and your loved ones against the most severe effects of COVID-19 this fall and winter.
Although we are in a better place now than we were earlier in the pandemic, thousands of people in the US are still hospitalized due to COVID-19 each week. Children and adults without any underlying conditions also still experience severe illness due to COVID-19. We must not forget that COVID-19 remains a threat.
In the US, most people can still get a COVID-19 vaccine for free, either through health insurance, or for those who are uninsured or underinsured, through the CDC Bridge Access Program or the Vaccines for Children program.
We have more tools to help prevent disease than ever before during this fall and winter virus season
CDC encourages everyone to take advantage of these safe and effective immunizations (and yes, getting these vaccines at the same time is acceptable), proven treatments, and common-sense precautions to protect themselves and their loved ones against these common respiratory illnesses.
---
Spread the Word To Help #FightFlu, #PreventRSV, and #StopTheSpread
The recent NFID flu vaccine clinic served as an opportunity for partners to join NFID in Leading By Example, to help raise awareness about the importance of annual flu vaccination. This year, NFID staff was joined by many partners including the Adult Vaccine Access Coalition, Association of Immunization Managers, Association of Professionals in Infection Control and Epidemiology (APIC), Families Fighting Flu, National Association of School Nurses, National Council of Negro Women-Good Health WINs, Society for Healthcare Epidemiology of America, and the Greater Bethesda Chamber of Commerce.
Show your support for vaccination and disease prevention:
---
To join the conversation and get the latest news on infectious diseases, follow NFID on X (Twitter), using the hashtag #LeadingByExample, like us on Facebook, follow us on Instagram, visit us on LinkedIn, listen and subscribe to the Infectious IDeas podcast, and subscribe to receive future NFID Updates.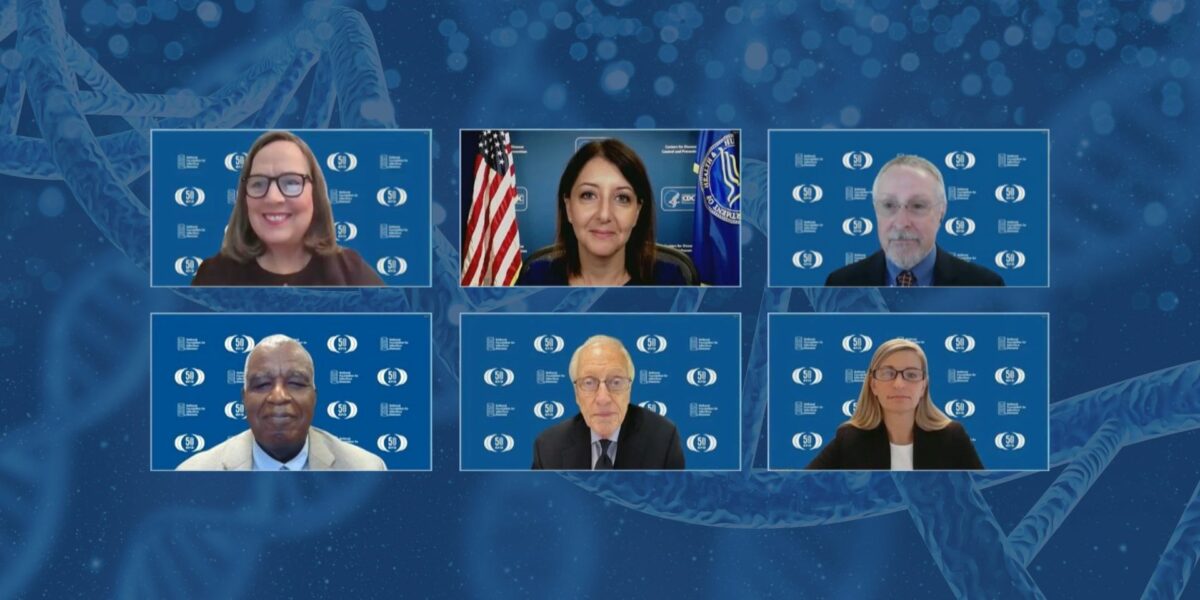 Leading national experts at the 2023 National Foundation for Infectious Diseases (NFID) Annual News Conference: Preventing Disease this Fall and Winter emphasized the importance of vaccination to help prevent disease and protect public health …