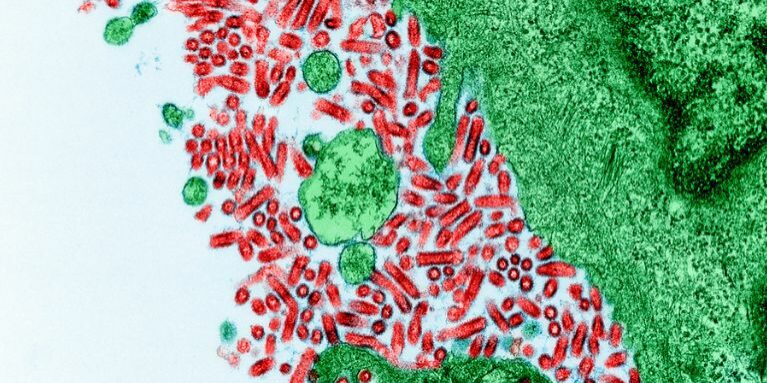 What Is Rabies?
Rabies is a serious but preventable viral disease most often transmitted through the bite of a rabid animal. The rabies virus infects the central nervous system of mammals, ultimately causing disease in the brain and death. The majority of annual rabies cases reported to the Centers for Disease Control and Prevention (CDC) occur in wild animals such as bats, raccoons, skunks, and foxes, although any mammal can get rabies.
Burden
About 5,000 animal rabies cases are reported in the US each year, with more than 90% of the cases occurring in wildlife. Only about 10% of animal rabies cases in the US occur in domestic animals such as dogs and cats.
Due to pet vaccination, animal control programs, surveillance, testing, and post-exposure prophylaxis (PEP), human rabies is rare in the US.
Only about 1-3 human rabies cases are reported in the US each year
About 70% of human rabies cases in the US are caused by bat bites
Although human fatalities are rare in the US, rabies is almost always fatal for people who do not seek prompt medical care.
Symptoms
The rabies virus must travel to the brain before it can cause symptoms which may begin weeks or months after exposure. Symptoms in humans include:
Weakness
Fever
Headache
Discomfort
Prickling or itching at the site of the bite
Anxiety, confusion, agitation
Delirium, abnormal behavior, hallucinations, hydrophobia (fear of water), and insomnia
Prevention
Understanding the risk of rabies and knowing what to do after contact with animals can help save lives. Any mammal can get rabies, but the most commonly affected animals in the US are raccoons, skunks, bats, and foxes.
The best way to avoid rabies in the US is to leave all wildlife alone, including injured animals. If you find an injured animal, do not touch it—contact local authorities for assistance. Rabies in dogs is still common in many countries outside the US, so find out if rabies is present in dogs or wildlife at your destination before international travel, particularly if you intend to stay for a long period of time and if you plan to go beyond the usual tourist destinations into local villages.
Because pets can get rabies from wildlife and can then spread it to humans, preventing rabies in pets is also an important step in preventing human rabies cases. If you do come into contact with a rabid animal, rabies in humans is preventable through prompt, appropriate medical care. If you are bitten or scratched, talk to a healthcare professional about potential treatment options.
Treatment
If you have been bitten or scratched by wildlife or an unfamiliar animal, wash your wound with soap and water. Talk to a healthcare professional who can help determine whether you need rabies treatment known as post-exposure prophylaxis (PEP), consisting of one dose of immune globulin and four doses of rabies vaccine given over a 14-day period.
Updated March 2023
Source: Centers for Disease Control and Prevention