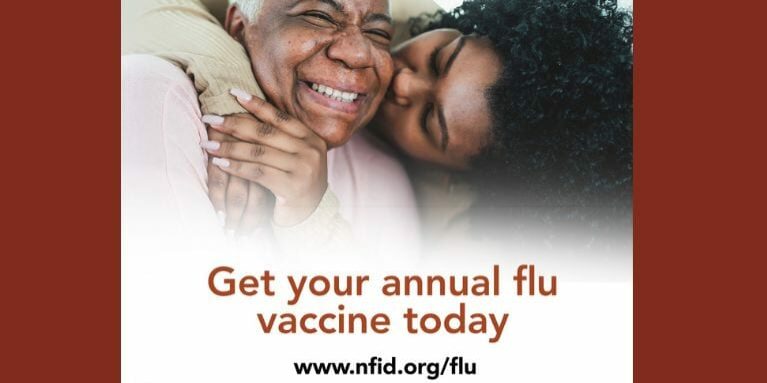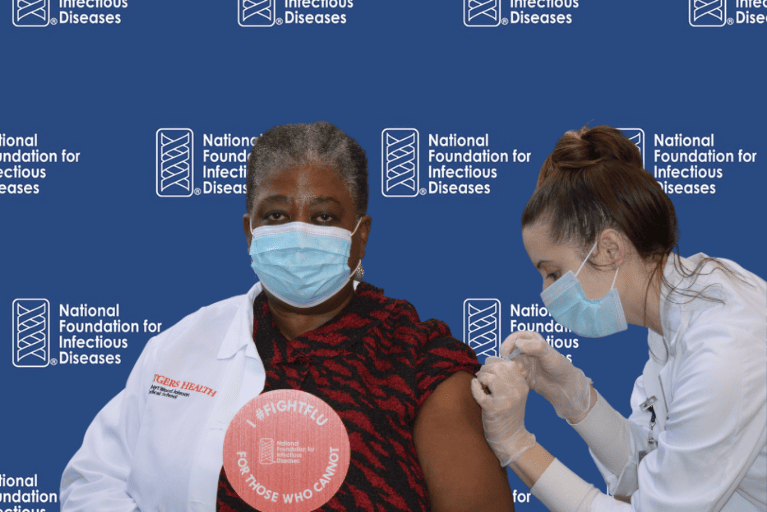 The National Foundation for Infectious Diseases (NFID) is working in partnership with Black-led and Black-serving organizations to increase awareness of the importance of annual influenza (flu) vaccination among US Black adults. Special thanks to NFID Immediate Past-President Patricia N. Whitley-Williams, MD, for this guest blog post on the critical role that annual flu vaccines play in protecting Black families and communities.
After a lull in flu activity over the past two years, the US is now experiencing the highest number of positive flu tests and hospitalizations in more than a decade. According to estimates from the Centers for Disease Control and Prevention (CDC), as of January 2023, there have been at least 280,000 hospitalizations and 17,000 deaths from flu thus far during the 2022-2023 flu season.
Looking at these rates by race and ethnicity, the highest rate of hospitalizations has been among non-Hispanic Black individuals. This is not a new trend—between 2010 and 2020, hospitalization rates were nearly 80% higher among Black adults than White adults. Additionally, flu vaccination coverage has consistently lagged among Black adults. During the 2021-2022 season, flu vaccination coverage was 42% among Black adults compared to 54% among White adults.
We know that there are multiple drivers of these disparities including, but certainly not limited to, unconscious bias, institutional racism, distrust of the healthcare system, and vaccine hesitancy. Despite these hurdles, we must do all we can to drive change.

NFID Immediate Past-President Patricia N. Whitley-Williams, MD, pediatric infectious disease specialist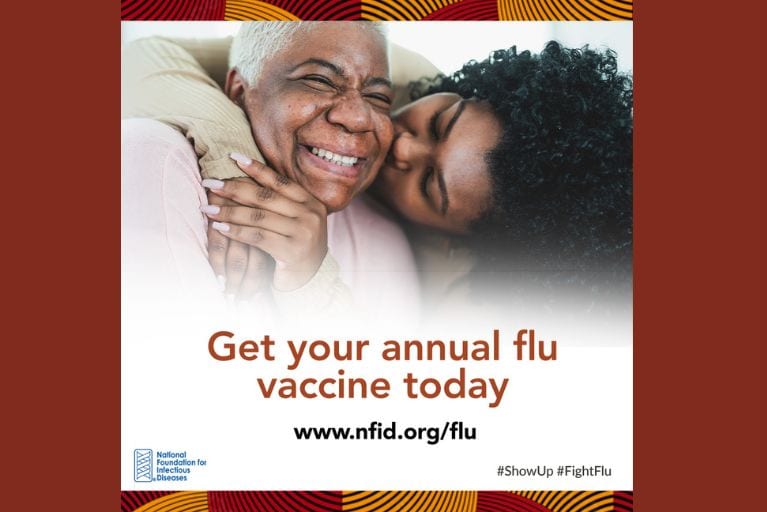 To address these disparities, NFID is partnering with Black-led and Black-serving organizations on the #ShowUp and #FightFlu campaign, which aims to raise awareness of the importance of annual flu vaccination and its critical role in helping to protect Black families and communities from flu. Most importantly, we hope this campaign supports enhanced flu education and communication with the Black community and sends the message that getting an annual flu vaccine helps you to show up for yourself and for your family.
There are factors specific to the Black population that have led to flu disparities and may influence vaccine decision-making. NFID conducted a survey of US Black adults age 18 to 49 years in 2021, and held one-on-one consultations with many partner organizations and pre-tested campaign concepts in 2022. The survey and consultations showed that:
Perceived risk of vaccine side effects is a significant predictor of vaccine uptake. Among Black adults who do not plan to get a flu vaccine, one of the key barriers is a concern that flu vaccines cause adverse reactions.
Family is an important influence on Black adult vaccine decisions. Among Black adults, protecting one's family members, especially older adults, is a top motivator in getting an annual flu vaccine.
When it comes to receiving information about flu vaccination, Black healthcare professionals (and mothers) are the most trusted source of information among US Black adults. And approximately 40% of Black adults under age 50 say they would be more likely to get a flu vaccine if their mother or a Black healthcare professional recommended it.
As healthcare professionals and trusted leaders in the Black community, we need to collectively raise our voices to spread the message that getting an annual flu vaccine helps you to #ShowUp at your best for those who matter most to you. We need to emphasize that:
You cannot be there for others if you do not show up for yourself first. Getting an annual flu vaccine not only helps protect you, but also your family members, especially if they have a chronic health condition that places them at higher risk.
Flu vaccines are safe. For more than 50 years, hundreds of millions of individuals in the US–from diverse backgrounds, races, ethnicities, and geographic areas–have safely received seasonal flu vaccines.
You cannot get flu from a flu vaccine and severe side effects are extremely rare. Mild side effects may include a sore arm, low-grade fever, or fatigue. These are much less severe than actual flu illness.
An annual flu vaccine is the best way to reduce your chances of getting flu and spreading it to others. CDC recommends that everyone age 6 months and older receive a flu vaccine every year.
Even in cases when flu vaccination does not prevent infection completely, it can reduce the duration and severity of illness. If you do get flu, getting vaccinated helps protect against severe complications, including hospitalization and death.
Help NFID #ShowUp in Your Community
Please help us #ShowUp in your communities by sharing empowering messages about flu vaccination:
Download the campaign partner toolkit, which includes key messages and template materials to share with your networks
Support the organizations who have joined the NFID Leading by Example initiative to make a public commitment to flu prevention
Share your feedback and ideas with NFID
We are very thankful to the many partner organizations who have supported NFID throughout the development of the #ShowUp campaign and we look forward to long-term collaborations focused on reducing disparities in vaccination and the burden of flu in the Black community.
I will do everything in my power to #ShowUp for my family and patients this flu season … I hope you will join me.
---
---
Join NFID on February 3, 2023 at 12:00 PM ET for a Facebook Live conversation with Patricia Whitley-Williams, MD, and BlackDoctor.org on the importance of annual flu vaccination and reducing disparities among US Black adults.
To join the conversation and get the latest news on infectious diseases, follow NFID on Twitter using the hashtag #FightFlu, like us on Facebook, follow us on Instagram, visit us on LinkedIn, listen to the Infectious IDeas podcast, and subscribe to receive future NFID Updates.
With influenza (flu) activity now high across the US, NFID is joining the Centers for Disease Control and Prevention (CDC) in reminding everyone that it is not too late to benefit from annual flu vaccination. Special thanks to José R. Romero, MD, director of the CDC National Center for Immunization and Respiratory Diseases for this guest blog post …