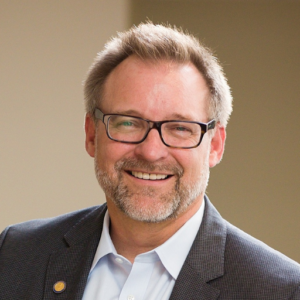 Jeffery A. Goad, PharmD, MPH, is president-elect of the National Foundation for Infectious Diseases (NFID). He is a tenured professor of Pharmacy Practice and associate dean of Academic Affairs at Chapman University School of Pharmacy. For more than 20 years, he has maintained an active practice in travel medicine and immunization services. He coordinates and teaches courses in travel medicine, immunizations, and parasitology. He is the NFID liaison to the Meningococcal Work Group of the Advisory Committee on Immunization Practices (ACIP), and is currently a national faculty and advisory board member for the American Pharmacists Association (APhA) Pharmacy-Based Immunization Training Program and chair of the APhA Travel Medicine Advanced Competency Training Course.
He is past chair and co-founder of the International Society of Travel Medicine (ISTM) Pharmacist Professional Group and past-president of the California Immunization Coalition and California Pharmacists Association.
He received his doctor of pharmacy degree from the University of Southern California (USC) School of Pharmacy and master of public health degree from the Keck School of Medicine at USC. He completed a residency in pediatric pharmacy practice at Children's Hospital Los Angeles and holds the Certificate of Knowledge in Travel Health from ISTM.
Areas of Expertise:
COVID-19 vaccination
Immunization (pediatric, adolescent, adult)
Influenza (flu) prevention
Travel medicine
Vaccine confidence and vaccine hesitancy
Quotes:
"Think about how well we've done getting COVID-19 vaccine awareness into everyone's lives. If we could bring that same energy in common messaging to other vaccines, we could prevent a tremendous amount of illness, hospitalization, and death." Source: Washington Post
"For adults, the best way to get them to get a [COVID-19] vaccine is to meet them where they are, to work with whatever misunderstandings or myths they have about vaccines, to debunk the myths, to help them with the science of the vaccine." Source: FOX 17/WZTV
"The pandemic has created some innovation in the way that we deliver our immunizations. You're going to see more pharmacy-based immunizations … We now have the ability to expand your access to get a vaccine when it's convenient for you." Source: 2/WGRZ.com
Dr. Goad on Keep Up The Rates:
To arrange an interview, contact: Diana Olson, dolson@nfid.org, 301-656-0003 x140
Visit the NFID Newsroom for spokespeople, news conferences, and press releases.
To join the conversation and get the latest news on infectious diseases, follow NFID President and NFID on Twitter, like us on Facebook, follow us on Instagram, visit us on LinkedIn, listen to the Infectious IDeas podcast, and subscribe to receive future NFID Updates.
Updated July 2022