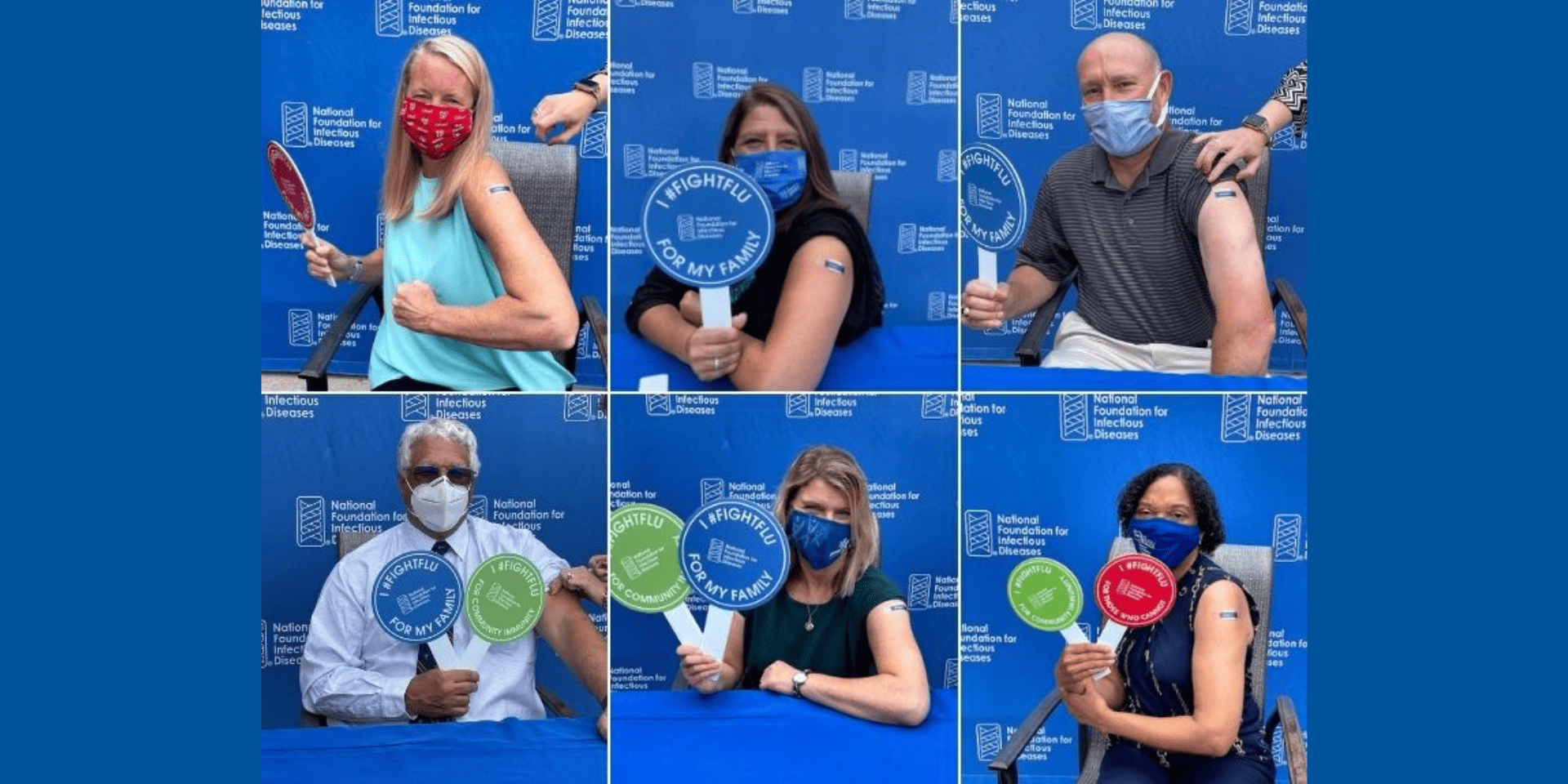 The Centers for Disease Control and Prevention (CDC) recommends that everyone age 6 months and older receive an annual influenza (flu) vaccine. Yet, a recent survey by the National Foundation for Infectious Diseases (NFID) found that 44 percent of US adults are either unsure or do not plan to get vaccinated against flu during the 2021-2022 flu season. We asked NFID Leading By Example partners who participated in the 2021 NFID flu vaccine clinic to share their thoughts around the importance of getting vaccinated to help #FightFlu …
Why do you get a flu vaccine each year?
US Department of Health and Human Services (HHS) Secretary Xavier Becerra: We have a responsibility—whether as individuals, as parents, or as members of a community—we have a responsibility to care for each other, and one of the ways to care for each other is to get vaccinated.
---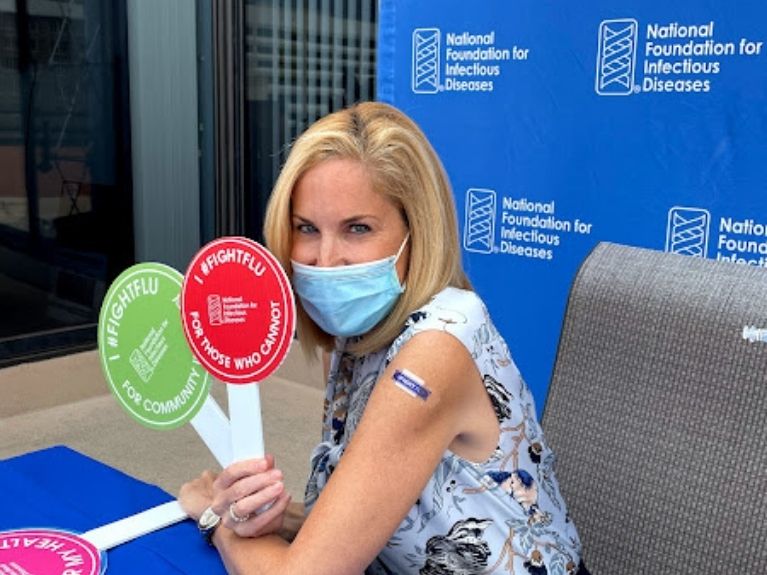 Kirsten Thistle, Health Impact Strategies: I had the flu once 20 years ago and it was miserable. I have never missed a flu vaccine since. But more than protecting myself, I want to make sure I am doing everything I can to protect others—especially people like my sister-in-law, who is undergoing chemotherapy and has a weak immune system. Getting a flu vaccine is an easy way to protect myself, my family, and my community from what can be a devastating disease.
---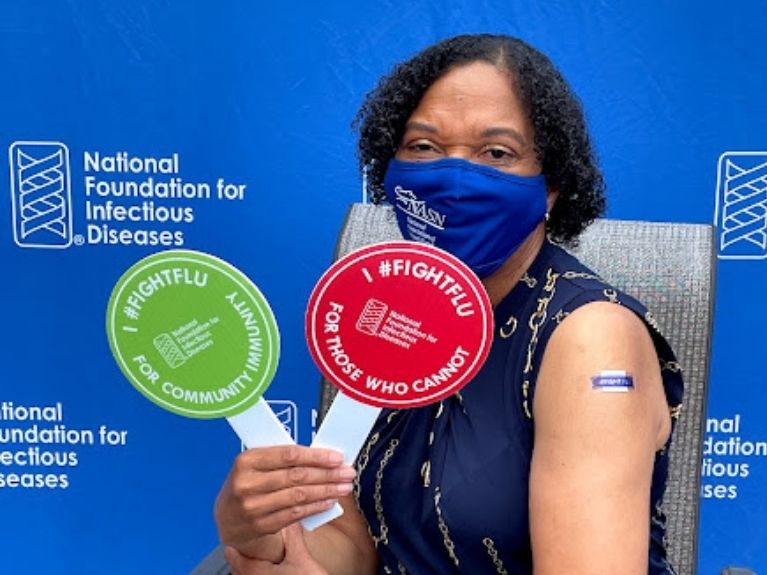 Donna Mazyck, MS, RN, NCSN, CAE, National Association of School Nurses: When one of my children was born with a chronic health condition, as a healthcare professional, I was in the habit of receiving an annual flu vaccination. To protect our immediate family, we all began to get the flu vaccine yearly. I get a flu vaccine every year to protect my family and the people in my community who cannot be vaccinated.
---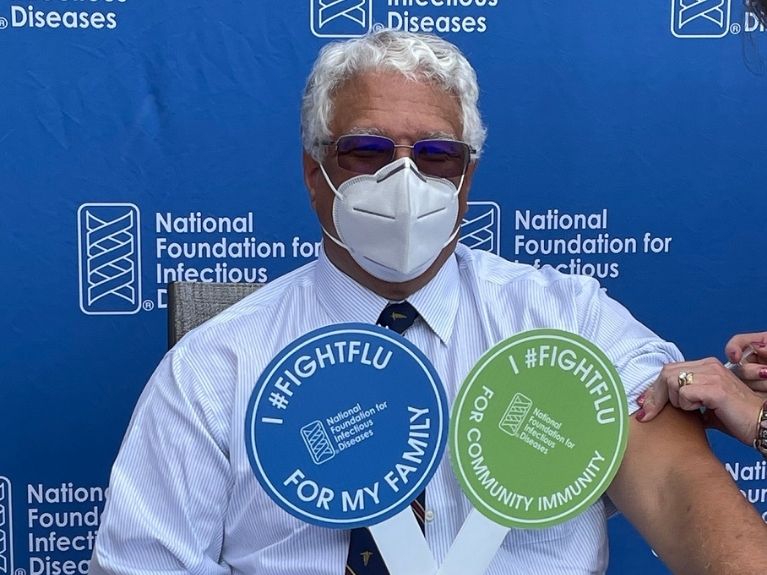 Stephen J. McKenna, MD, MBA, FACS, National Medical Association Maryland State Chapter: I receive the flu vaccine for my protection and for those surrounding me. As a surgeon, vaccination is required to maintain hospital privileges, and has been for many years. Since getting vaccinated, I have not personally suffered a serious flu episode. Flu is not harmless—it is potentially fatal, and has been for many susceptible individuals. To those who feel vaccination is unnecessary, I say count your blessings as you see healthy people around you who have been spared the suffering of flu symptoms as well as the risk of premature death.
---
What is an important flu myth that you would like to bust?
Susan Peschin, MHS, Alliance for Aging Research: The flu vaccine CANNOT give you the flu! Flu vaccines are made with either inactivated (killed) viruses, or with only a single protein from the flu virus. Some people report having mild side effects after flu vaccination, such as low-grade fever, headache, and muscle aches—but, these are NOT the flu. The most common side effects from flu vaccines are soreness, redness, tenderness, or swelling where the shot was given. If reactions occur, they usually begin soon after vaccination and last only 1-2 days. The flu can kill you or someone you care about, even otherwise healthy people. CDC recommends a yearly flu vaccine for everyone 6 months of age and older with rare exceptions. Flu viruses are constantly changing, so the vaccine composition is reviewed each year and updated as needed based on which influenza viruses are making people sick. If you have questions or concerns, please talk with a healthcare professional and then decide!
---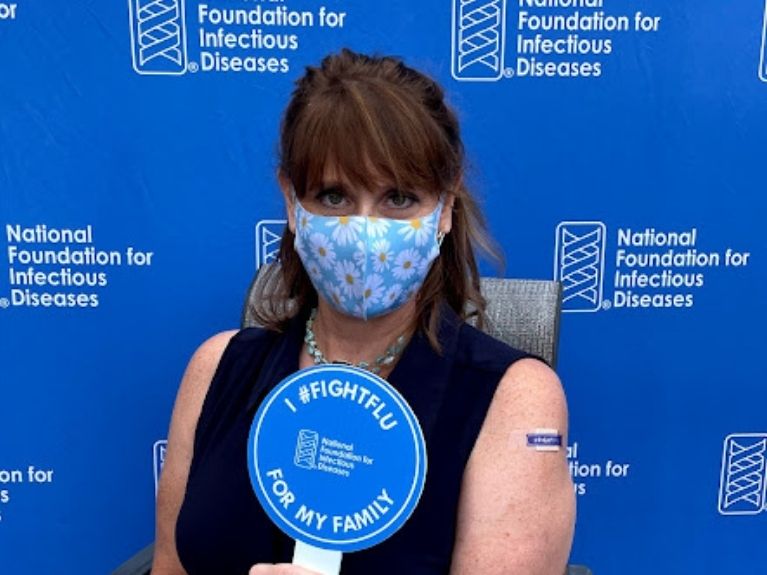 Jennifer Zavolinsky, MHS, CHES, Vaccinate Your Family: I would like to bust the myth that flu vaccines don't work. While flu vaccines might not be perfect, they can still save lives. Even during those years when the vaccine isn't as well matched with the circulating flu viruses, it still helps provide protection from serious illness, hospitalization, and death.
---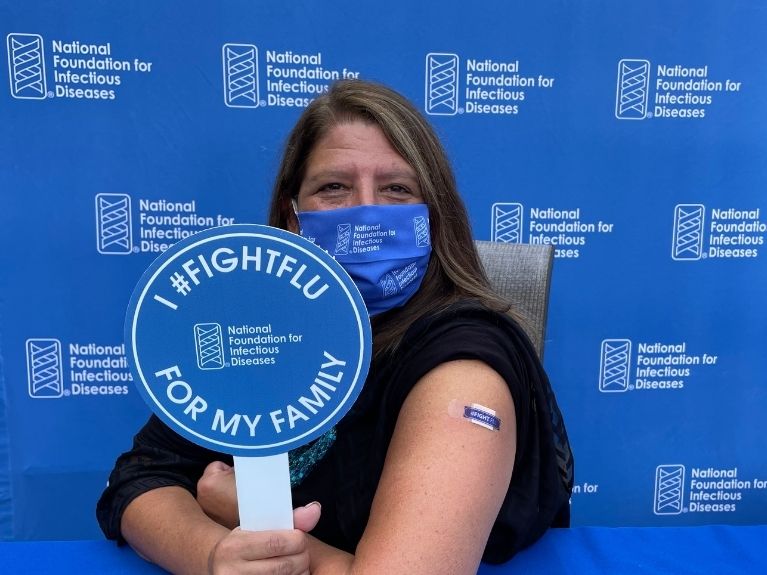 Marla Dalton, PE, CAE, National Foundation for Infectious Diseases: Amid the COVID-19 pandemic, we need to clarify the guidance and bust myths related to vaccine coadministration. COVID-19 vaccines CAN be given at the same time as an annual flu vaccine (and other routine recommended vaccines). COVID-19 and flu can be potentially serious diseases, and everyone needs protection against both.
---
What would you say to those who think they do not need a flu vaccine?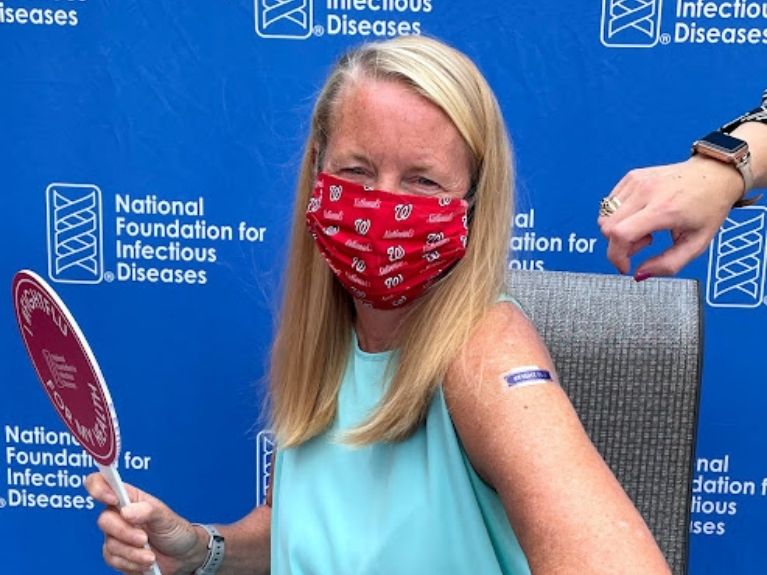 Claire Hannan, MPH, Association of Immunization Managers: Don't get the flu vaccine just because you need it, get it because you want to protect your family, your friends, and your community. I get a flu vaccine each year to protect my 96-year-old dad!
---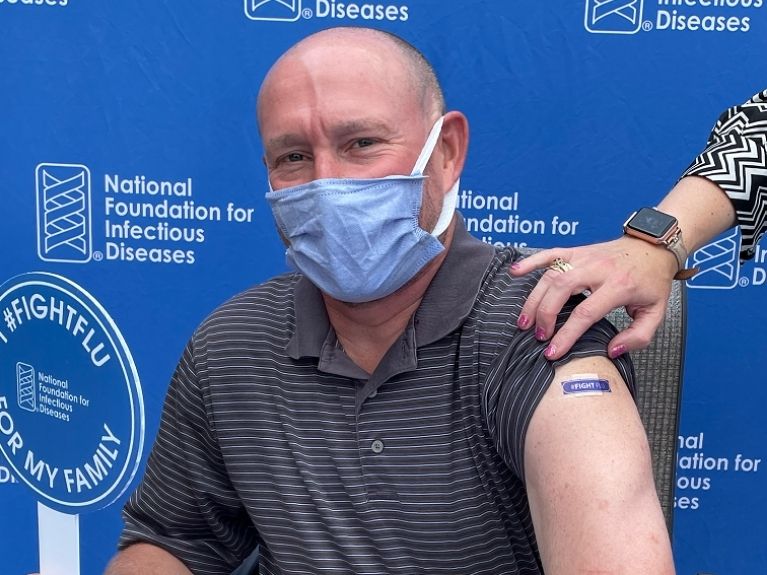 Gary Stein, Families Fighting Flu: Why take chances with your life? Your children's lives? We are always left to wonder what our daughter would have accomplished were she alive today and how our lives would be different. Likely, the only thing that would have averted her death would have been a flu vaccination. Protect yourself and your family.
Read more about the Stein family's story and share your story to help others understand the importance of annual vaccination to #FightFlu.
---
Why Do You #FightFlu?
To join the conversation and get the latest news on infectious diseases, follow NFID on Twitter using the hashtag #FightFlu, like us on Facebook, follow us on Instagram, visit us on LinkedIn, and subscribe to receive future NFID Updates.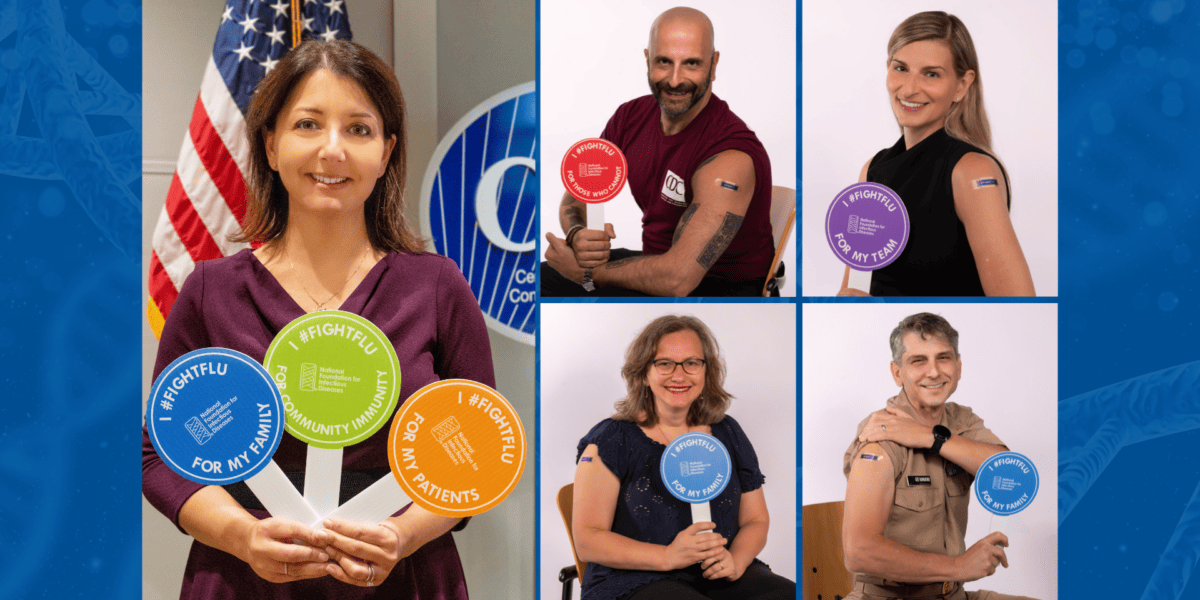 CDC guest post on the importance of disease prevention and leading by example to help protect against flu, COVID-19, and RSV