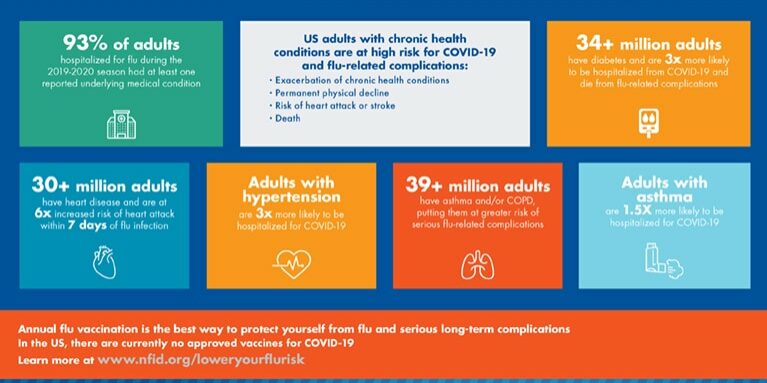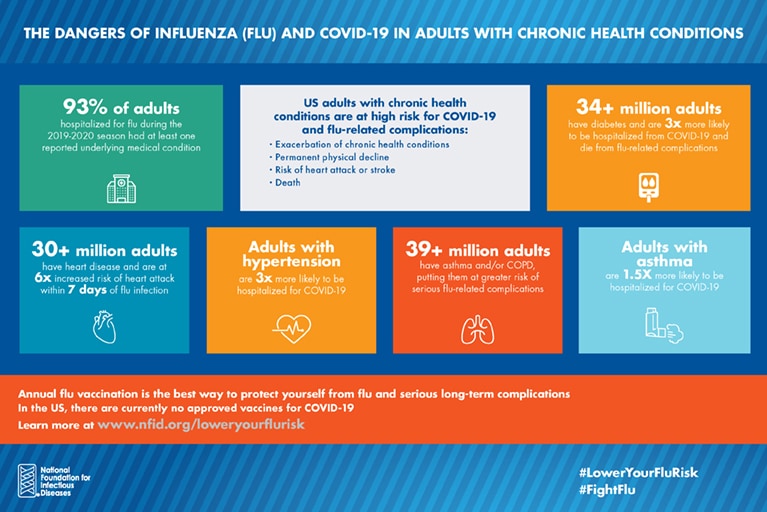 In the US, six in ten adults are living with at least one chronic health condition, and for them, the 2020-2021 influenza season poses an unprecedented dual threat: co-circulation of influenza (flu) and SARS-CoV-2, the virus that causes COVID-19. Flu and COVID-19 can be especially dangerous for adults with chronic conditions such as heart disease, lung disease, and diabetes—even when those conditions are well-managed.
Influenza infection can cause an inflammatory reaction that can last for several weeks beyond the acute infection stage. This inflammation can exacerbate the underlying disease and can lead to serious outcomes, including hospitalization, heart attack or stroke, progressive disability, and death—even after the acute illness has been resolved. Additionally, many of the underlying health conditions that make adults vulnerable to influenza are also linked to increased vulnerability to COVID-19.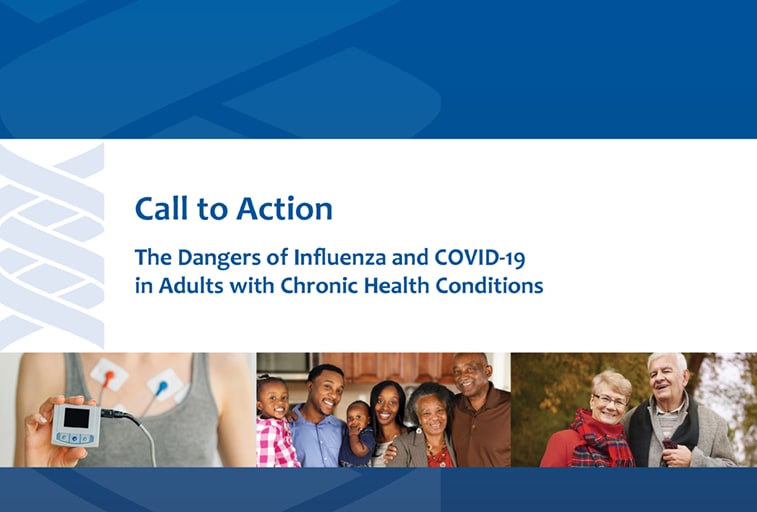 To address this urgent public health threat, NFID has published a new Call to Action, The Dangers of Influenza and COVID-19 in Adults with Chronic Health Conditions, which details the risks of influenza and COVID-19 in this population and the importance of annual influenza vaccination, particularly during the 2020–2021 flu season. More than 35 leading medical organizations, including the American College of Cardiology, American College of Emergency Physicians, American Diabetes Association, and American Lung Association, support the goals of the report and are now urging their members and other stakeholders to prioritize flu vaccination for these high-risk populations.
"While we currently do not have an approved COVID-19 vaccine in the US, we know that annual flu vaccination can help protect patients from hospitalization, progressive disability, and even death."—NFID Medical Director William Schaffner, MD
According to the Centers for Disease Control and Prevention (CDC), annual flu vaccination has been shown to mitigate serious flu-related complications, preventing an estimated 7.5 million illnesses, 3.7 million flu-associated medical visits, 105,000 hospitalizations, and 6,300 deaths in 2019–2020 alone. Yet, a recent NFID survey found that nearly one in four US adults at high risk for flu-related complications said they did not plan to get vaccinated during the 2020-2021 flu season.
"It won't take a 'bad' flu season—just 'a' flu season to make things more difficult in the ER and elsewhere in the US healthcare system. Further strain due to the co-circulation of flu and COVID-19 could disrupt routine care and have detrimental consequences for adults with chronic health conditions."—Nicholas F. Vasquez, MD, American College of Emergency Physicians
Across the US, many healthcare practices have modified their operations to protect staff and patients from COVID-19. To ensure that everyone age six months and older can safely and conveniently receive flu vaccines, some practices have set up curbside or drive-through vaccination clinics. Patients may also see additional physical distancing, more personal protective equipment (PPE), and enhanced sanitation efforts.
"If you treat a patient with heart disease, lung disease, diabetes, or another chronic health condition, then you have a responsibility to insist upon annual flu vaccination."—NFID President Patricia N. Whitley-Williams, MD
There are several strategies healthcare professionals can employ to help increase influenza vaccination rates during the COVID-19 pandemic:
Insist upon flu vaccination at every patient encounter throughout the season
Inform adults with chronic health conditions, including heart disease, lung disease, and diabetes, that influenza can exacerbate their condition and can trigger an adverse cardiovascular event or other serious complication
Proactively reach out to patients with chronic health conditions who do not have a scheduled fall visit and remind them of the importance of getting vaccinated against flu
Use community health workers, peer networks, social media influencers, and storytelling strategies to relay the importance of annual influenza vaccination and help dispel misconceptions and myths about vaccines
Assign a flu vaccine champion in the practice or health system
Educate all clinicians and office staff on current influenza vaccine recommendations
In managing chronic health conditions in adult patients, practices that are not able to provide flu vaccines onsite should refer patients to pharmacies or other alternative vaccination sites or clinics
To download the Call to Action and learn more about the risks of influenza and COVID-19 in adults with chronic health conditions, visit www.nfid.org/LowerYourFluRisk.
To join the conversation, follow NFID on Twitter using the hashtags #FightFlu and #LowerYourFluRisk, like NFID on Facebook, follow NFID on Instagram, join the NFID LinkedIn Group, and subscribe to NFID Updates.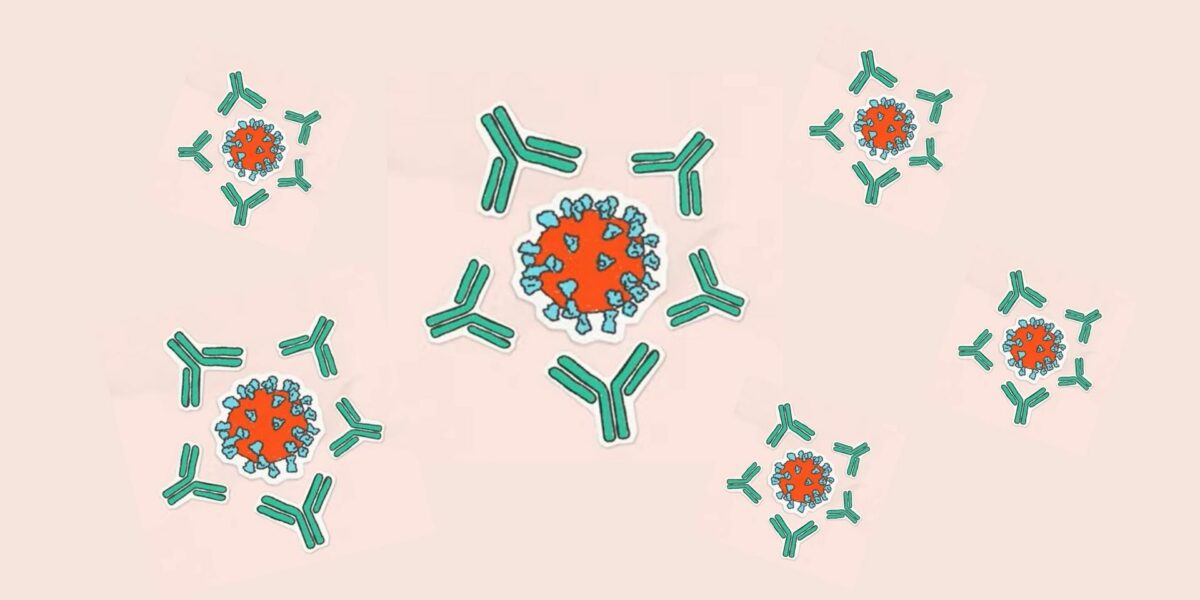 As diseases continue to emerge, reemerge, and evolve, the development and use of advanced interventions such as monoclonal antibodies are critical for protecting public health …