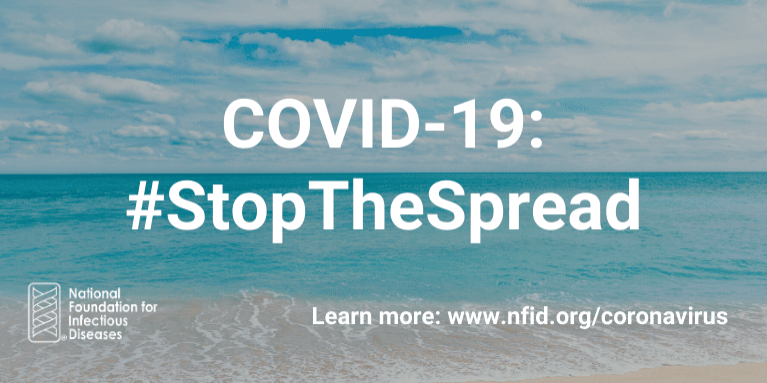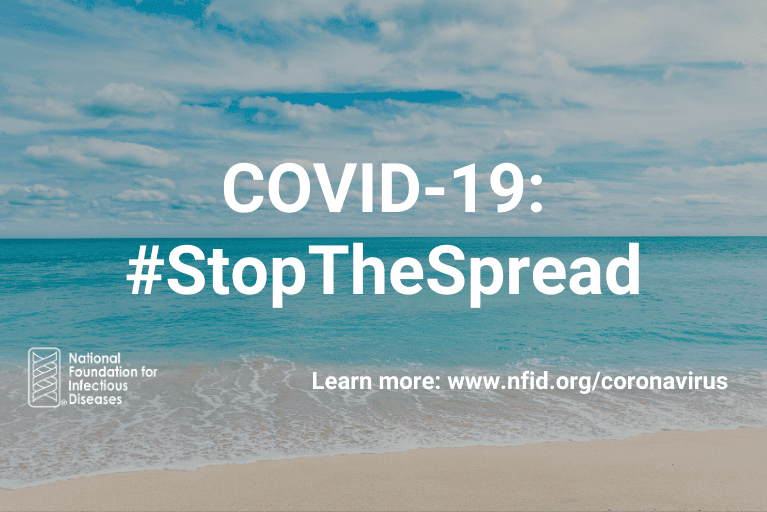 Memorial Day weekend is the unofficial start of summer in the US. Normally, that would signal time to take a trip to the beach, fire up the grill, hit the trails, or just enjoy the great outdoors. However, in light of the current COVID-19 pandemic, outdoor activities may also have risks along with the benefits.
The virus that causes COVID-19 is spread through close personal contact. Because some individuals can be infected with COVID-19 without experiencing symptoms, they can unknowingly spread the virus, or be infected by others who appear healthy. Fortunately, there are steps that you can take to help protect yourself and others, to ensure an enjoyable and safe Memorial Day weekend:
Stay Home If You Are Sick
Although this one may seem obvious, it is especially important this summer. If you or someone in your household has a fever, cough, or other symptoms of COVID-19, cancel your plans and stay home!
Avoid Crowds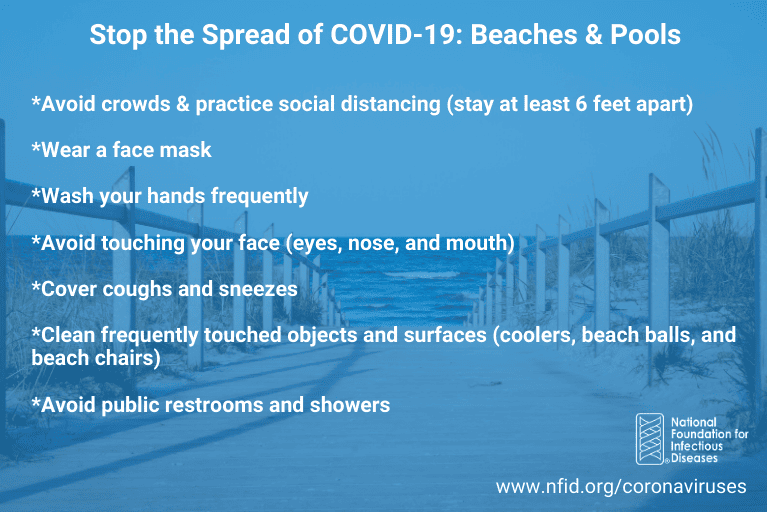 If the parking lot is crowded, stay away. The Centers for Disease Control and Prevention (CDC) recommends that you stay at least six feet away (about two arm lengths) from others. Try to find a beach, park, or other outdoor space where you are less likely to encounter crowds. Additionally, older adults 65+ and those with chronic health conditions that put them at higher risk for severe illness due to COVID-19 should stay at home as advised and avoid gatherings of more than 10 people.
Stay Close To Home
Because travel increases the chance of getting sick and spreading COVID-19, staying home is the best way to protect yourself and others. If you travel long distances where you have to stop along the way, you are more likely to come into contact with or unknowingly spread the virus that causes COVID-19. Risks for getting (or spreading) COVID-19 vary depending on where you go and how you get there. Traveling by plane, train, or bus can make it difficult to stay six feet away from others. Avoid places that may not be cleaned as frequently as recommended, such as public restrooms or pool/beach showers.
Wash Hands and Clean and Disinfect Frequently Touched Objects
Wash your hands often and thoroughly (for at least 20 seconds). If you do go out, take disinfecting wipes and alcohol-based hand sanitizer with you. Wear a mask while pumping gas, and use disinfecting wipes on the buttons and handle of the gas pump before you touch it. Wipe off golf clubs, tennis racquets, beach chairs, and coolers. Use hand sanitizer while you are out, and wash your hands with soap and water as soon as you return home.
Stay Six Feet Away—Don't "Trail-Gate"
In water or on land, stay at least six feet away from other swimmers, sunbathers, hikers, golfers, or neighbors—anyone who is not in your household. Social distancing can help prevent you from catching or spreading the virus through coughing, sneezing, talking, or breathing.
"I think part of the problem with the beach is that the atmosphere makes people revert to a pre-COVID mindset," NFID Medical Director William Schaffner, MD, told Consumer Reports. "Unlike being somewhere like the grocery store, your sense of self-preservation and of being concerned about your neighbors diminishes just because of that relaxed beach atmosphere."
Wear a Mask in Public
In public settings where it may be difficult to stay six feet away from others, wear a cloth mask, and be careful when taking it off and putting it on. Avoid touching your face, including eyes, nose, and mouth, and avoid touching the front of the mask.
Avoid The 19th Hole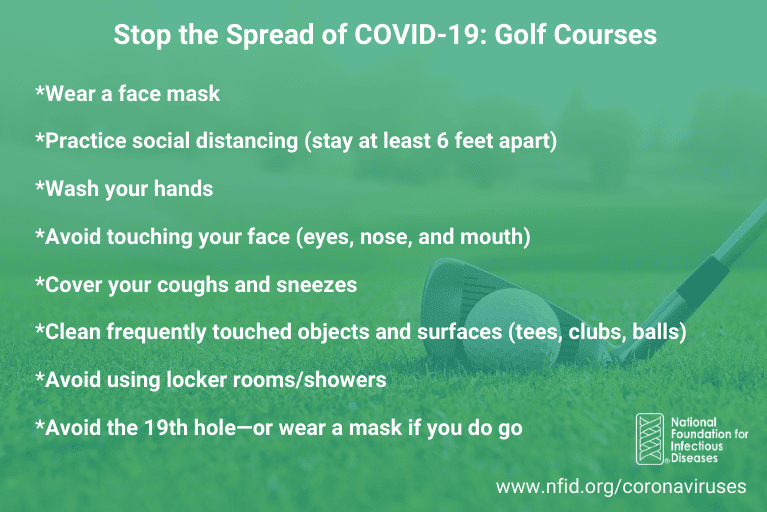 "The biggest danger on the golf course is the 19th hole," Schaffner told Golf magazine. That's where people are less likely to wear a mask and more likely to have prolonged close contact. "My recommendation is to close the 19th hole, and if it's not closed, walk right by it because that's the place on the golf course that the COVID-19 virus likes the best."
Follow The Rules
Social distancing restrictions and requirements differ by state and, in some cases, by community. To limit crowds, some communities are restricting restaurants, parking lots, beaches, and other public spaces to 50 percent capacity or less. In many communities, masks are required in public, and there may be hefty fines for non-compliance.
Go Outside and Have Some Fun
Go outside to exercise, relieve stress, and get fresh air and vitamin D. You don't have to skip summer fun as you return to the 'new normal.' The key is to take appropriate precautions to keep you and your loved ones safe and healthy. Follow these tips to stay safe on Memorial Day weekend and throughout the summer.
To learn more about COVID-19, visit www.nfid.org/coronaviruses.
To join the conversation and get the latest news on infectious diseases, follow NFID on Twitter using the hashtag #StopTheSpread, like us on Facebook, follow us on Instagram, join the NFID Linkedin Group, and subscribe to NFID Updates.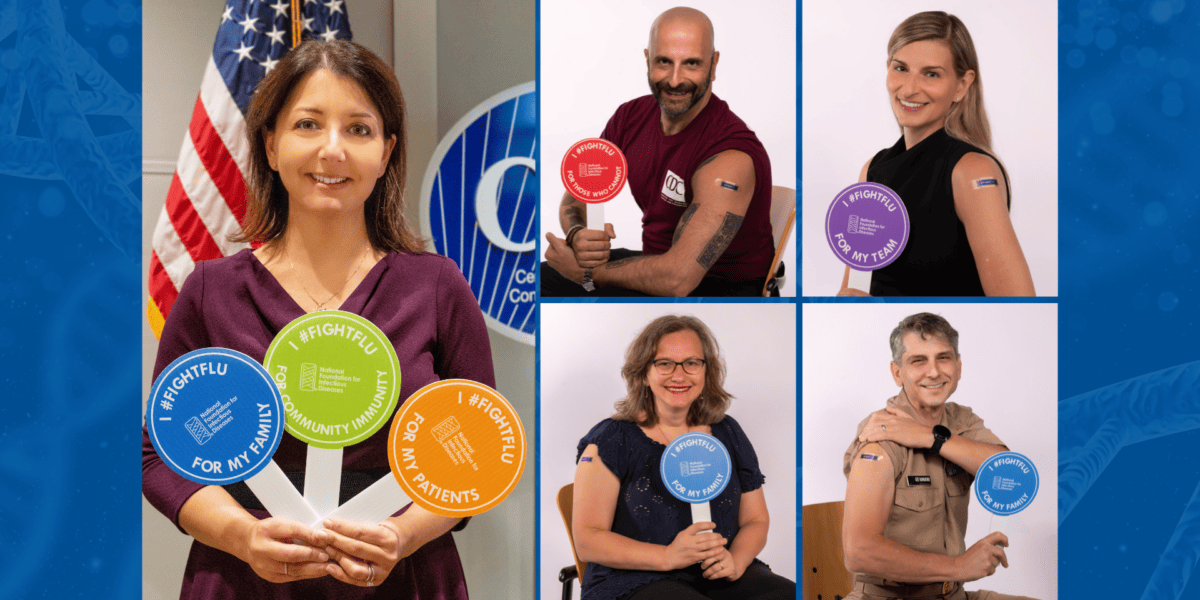 CDC guest post on the importance of disease prevention and leading by example to help protect against flu, COVID-19, and RSV