Michael Douglas' recent announcement that his throat cancer was caused by human papillomavirus (HPV), a sexually transmitted disease, has raised awareness about an important men's health issue. The discussion is particularly relevant, as Men's Health Week begins today.
Douglas' inverview with The Guardian may have caught some by surprise, but it certainly brought to light the importance of both men and women being vaccinated against HPV. As reported in The New York Times, the HPV vaccine prevents various types of cancer, including many oral cancers.
In the 1980s, only a small number of throat cancers were linked to HPV infection. Historically, patients who developed the disease were in their 70s and were heavy smokers and drinkers.

Now, about 70 percent of all throat cancers are caused by HPV, up from roughly 15 percent three decades ago. Patients are now more frequently middle-aged husbands and fathers who are economically well off, nonsmokers and not particularly heavy drinkers. Men are three times more likely to be diagnosed than women with HPV-related throat cancer.

There are many strains of HPV, and the virus is so common that at some point most sexually active adults are exposed to it. A majority of people fight off the infection and do not develop symptoms. But in a very small number of people chronic infection causes oropharyngeal cancers near the base of the tongue and the area just behind the mouth.
The Centers for Disease Control and Prevention's Advisory Committee for Immunization Practices (ACIP) recommends the HPV vaccine for all girls age 9-26  years and boys age 9-21 years. Unfortunately, immunization rates for completion of this 3-part vaccine series remain dismally low. Read more about HPV and the vaccine to prevent it at: https://www.nfid.org/idinfo/HPV.
What steps can and should be taken to increase HPV vaccination rates in the US?
To join the conversation, follow us on Twitter (@nfidvaccines), like us on Facebook, and join the NFID Linkedin Group.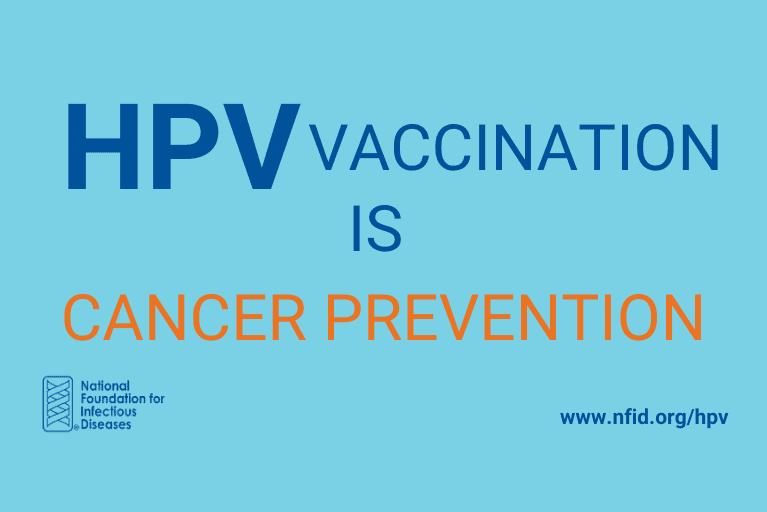 Human papillomavirus (HPV) is the most commonly sexually-transmitted infection in the US and is the cause of almost all cervical cancers in women. Nearly 80 million individuals in the US, most in their teens and early 20s, are infected with HPV …