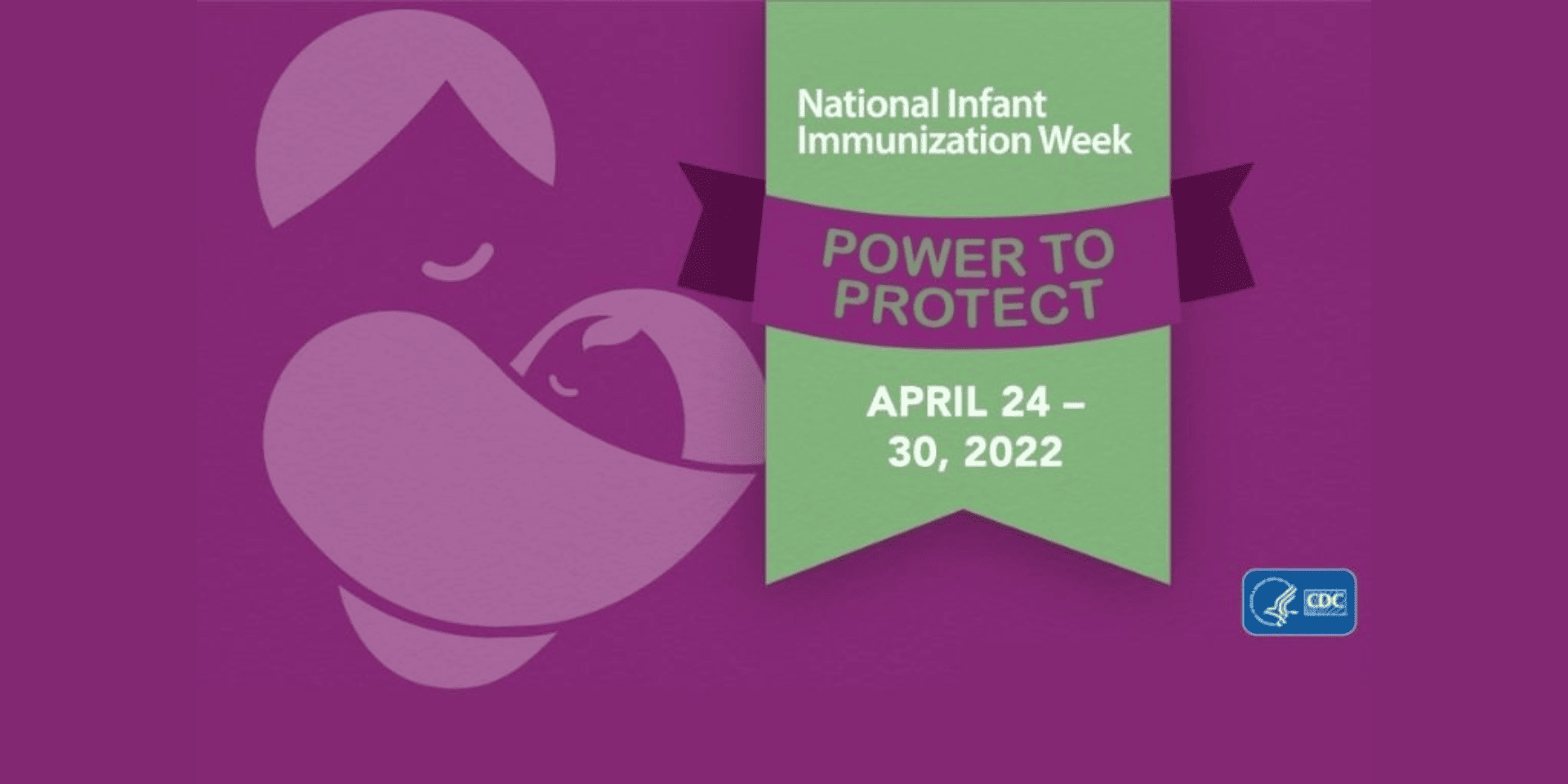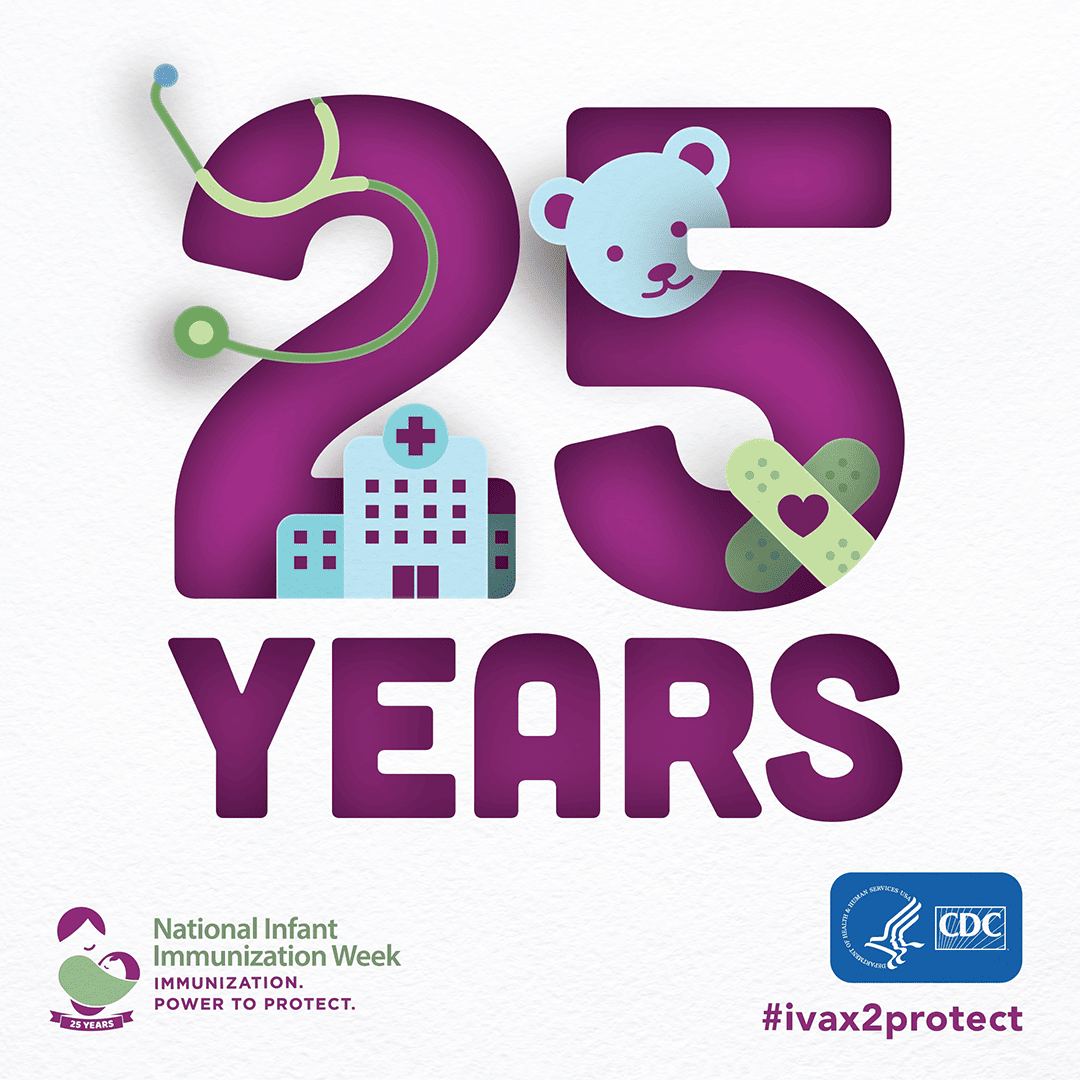 The Centers for Disease Control and Prevention (CDC) has designated April 27-May 4, 2019 as National Infant Immunization Week (NIIW), an annual observance highlighting the importance of protecting infants against vaccine-preventable diseases. 2019 marks the 25th anniversary of NIIW and celebrates the impact of vaccines on improving public health. The more than 600 confirmed cases of measles in 22 states between January and April 2019 serve as a stark reminder of the need to collectively raise our voices in support of childhood vaccination.
Vaccinating young children on time is the best way to protect them against 14 serious and potentially deadly diseases before their second birthday. For children born between 1994 and 2018, vaccination will prevent an estimated 419 million illnesses, 26.8 million hospitalizations, and 936,000 deaths in their lifetimes. When parents choose not to vaccinate, or to follow a delayed vaccination schedule, children are left unprotected against diseases that can still circulate in the US, including measles and whooping cough.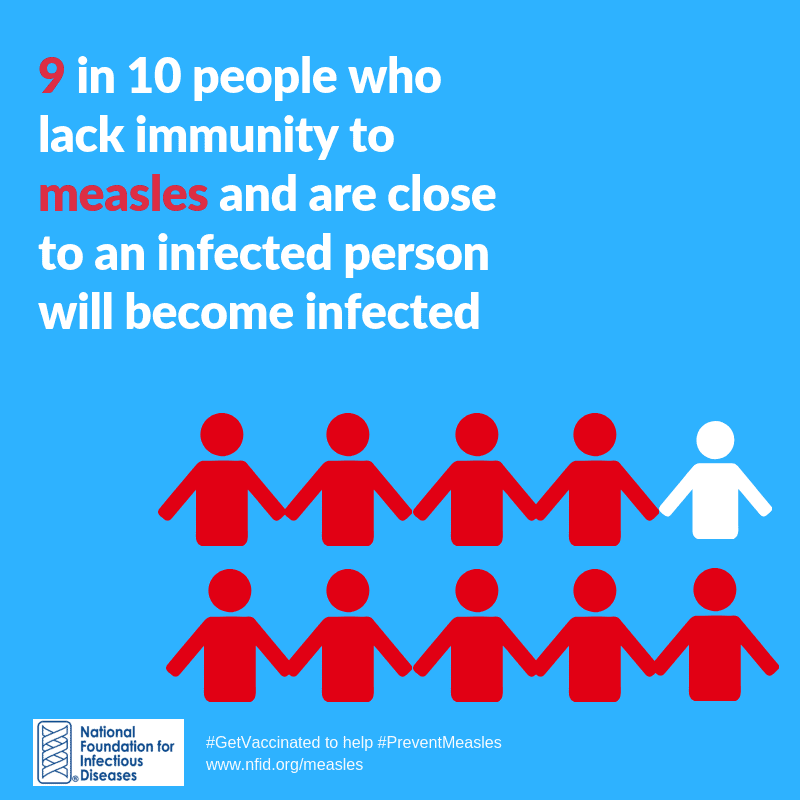 Measles is one of the most contagious infectious diseases, and may be associated with severe side effects including major neurologic damage, or even death. As the number of unvaccinated, susceptible children increase, the risk of an epidemic grows rapidly and is a real threat to all at-risk groups. The total number of confirmed cases of measles in the US in 2019 is estimated to be the largest since measles was eliminated in the US in 2000.
When the overwhelming majority of children are vaccinated as recommended, those few who are susceptible to serious medical diseases are much safer, a concept referred to as 'herd immunity' or 'community immunity.' As the pool of unvaccinated children increases, community immunity declines, which can pose a tragic and unnecessary threat to many children (and adults) who cannot be protected through vaccination.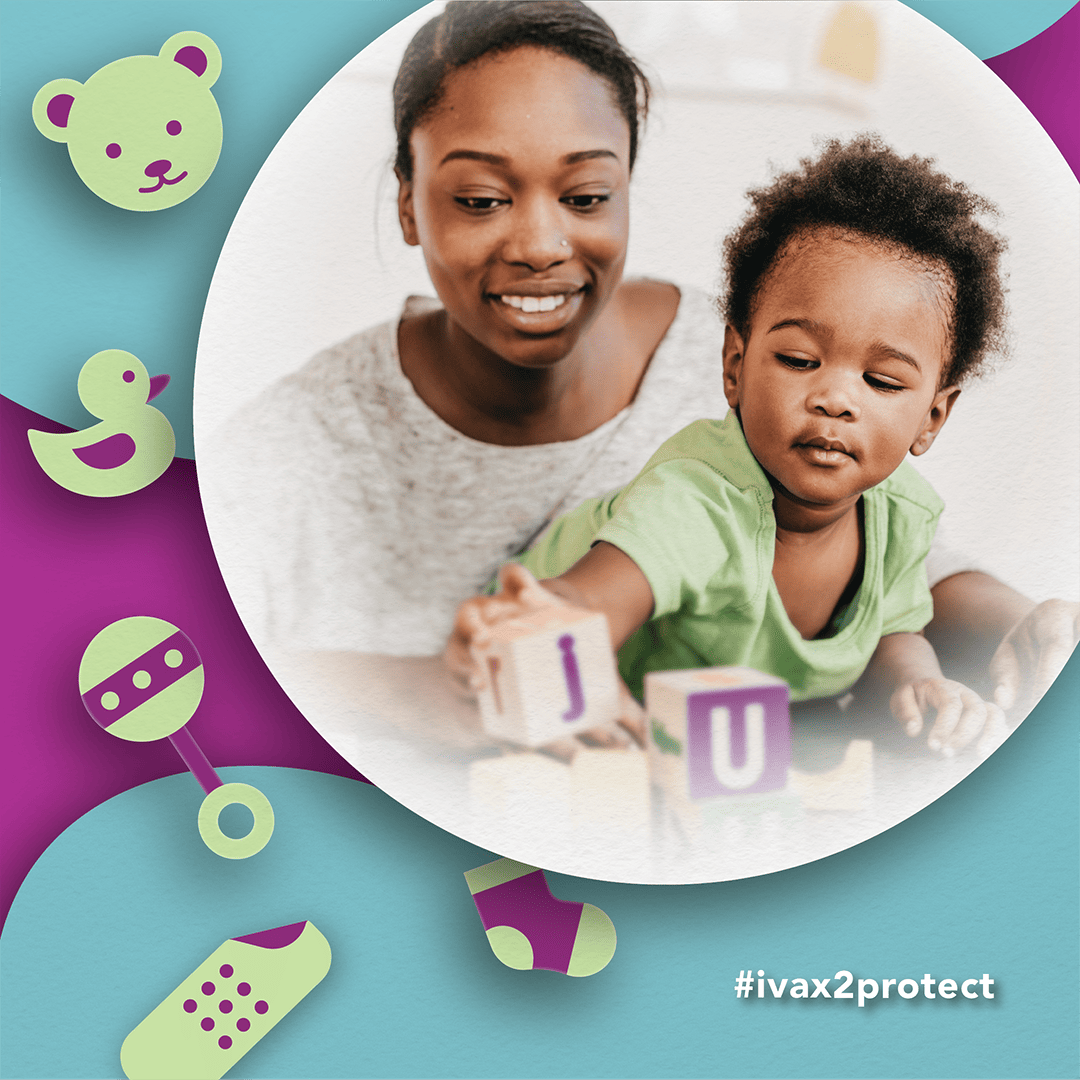 Measles is still commonly transmitted in many parts of the world. Globally, nearly 10 million individuals get measles and about 134,200, mostly children, die from the disease each year. Despite a national measles, mumps, and rubella (MMR) vaccination coverage level of about 92%, one in 12 children in the US does not receive the first dose of MMR vaccine on time, underscoring measles susceptibility across the country. Vaccination coverage continues to vary by state from 84% in some states to 97% in others. At county or local levels, vaccine coverage rates may also vary considerably and pockets of unvaccinated individuals can exist even in states with high vaccination rates.
What can you do to prevent measles?
Healthcare professionals (HCPs) must strongly recommend MMR vaccination to their patients
Children should get two doses of MMR vaccine, starting with the first dose at age 12 to 15 months, and the second dose at age 4 through 6 years
Adults should review their own vaccination history and get an MMR booster vaccine if they are unsure about past vaccination or immunity
All individuals traveling outside the US should consult with an HCP about recommended vaccines, including MMR (Traveling soon? Learn more about vaccines you may need…)
Join the conversation during #NIIW using these sample social media posts/graphics:

Click on each graphic, then right click, to save a copy of the image.
Make sure to include #NIIW and #IVax2Protect in social media posts & tag @NFIDVaccines!
To learn more about the importance of timely vaccination, read Top Reasons to Get Vaccinated.
To join the conversation, follow NFID on Twitter using the hashtags #IVax2Protect and #NIIW, like us on Facebook, follow us on Instagram, join the NFID Linkedin Group, and subscribe to NFID Updates.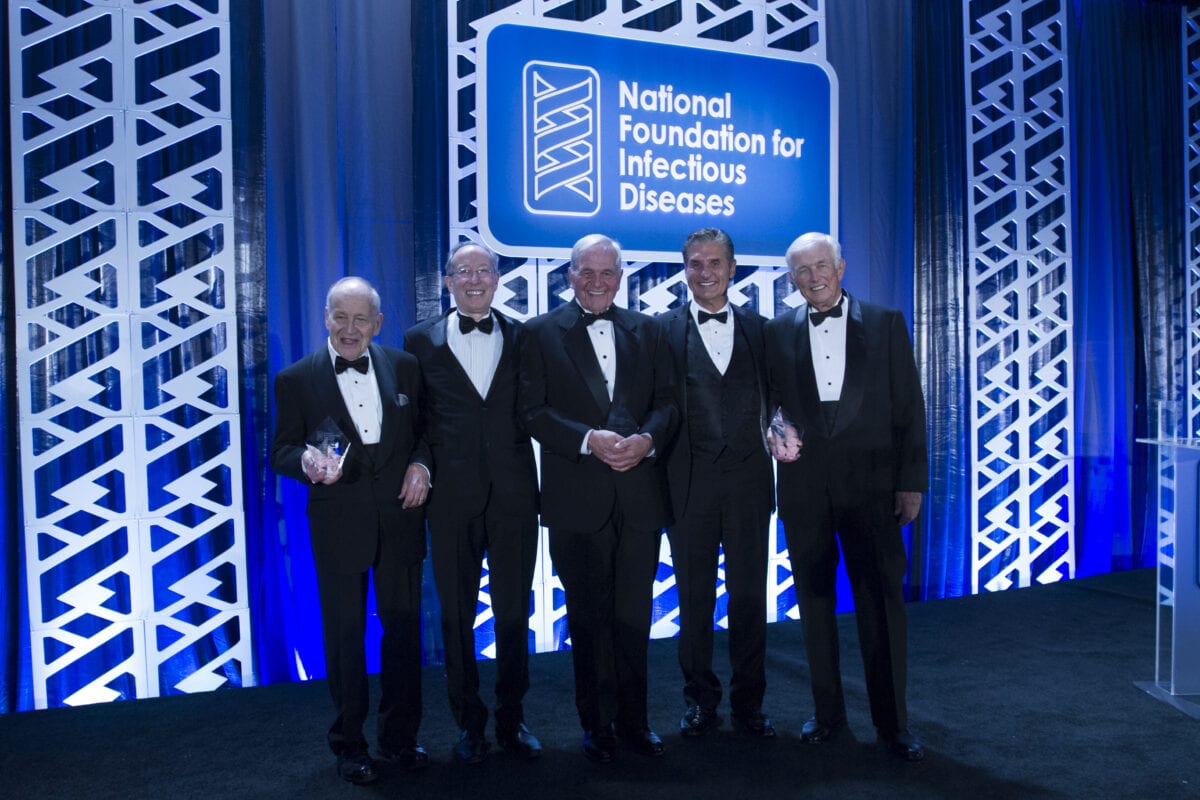 Last week, the stars came out to celebrate and honor three outstanding leaders at the "Oscars of Infectious Diseases" also known as the 2015 NFID Awards Dinner. Samuel L. Katz, MD was presented with the 2015 Maxwell Finland Award for Scientific Achievement, F. Marc LaForce, MD with the 2015 Jimmy and Rosalynn Carter Humanitarian Award, and Richard J. Duma, MD, PhD with the 2015 John P. Utz Leadership Award.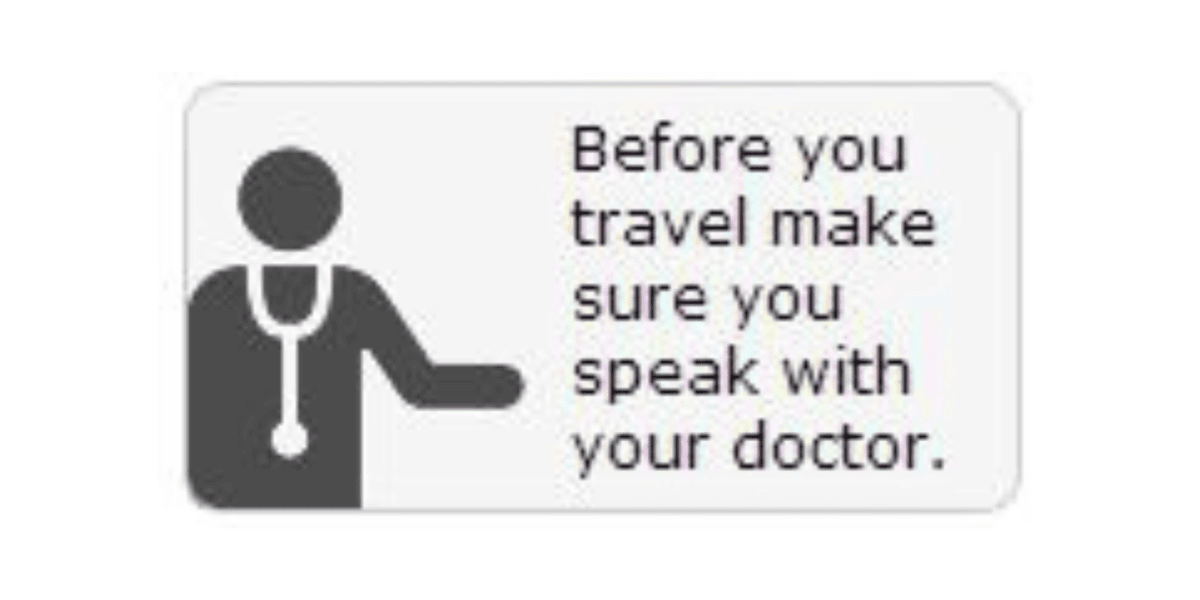 Are you planning an overseas vacation this summer? Depending on the destination, you may need to think about recommended vaccines for you and your kids.…