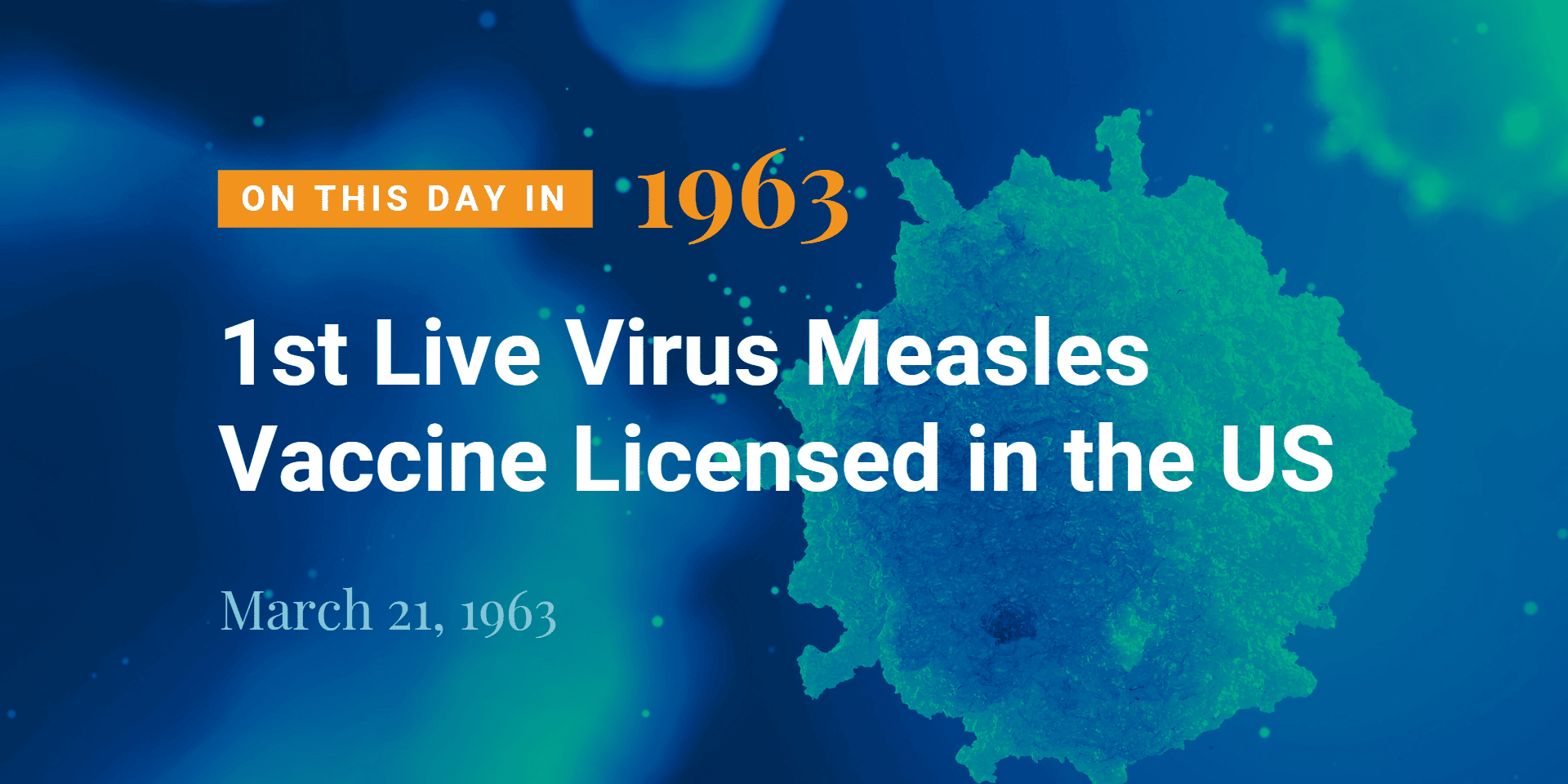 The National Foundation for Infectious Diseases (NFID) is celebrating its 50th anniversary in 2023 with a look back at  remarkable accomplishments and significant moments in public health history, including a focus on measles—a virus that was previously eliminated in the US but has recently appeared in the news again.
It has been 60 years since the first live virus measles vaccine was licensed for use in the US on March 21, 1963. Before a vaccine was available, nearly all US children were infected with measles at some point during childhood. Thanks to an effective vaccination program, measles was declared eliminated from the US in 2000, but cases and outbreaks still occur every year in the US because measles is still commonly transmitted in many parts of the world.
With recent cases reported in Kentucky and Ohio, as well as other parts of the world, concern about the spread of measles has prompted public health experts to urge parents to make sure their children are up to date on recommended measles-mumps-rubella (MMR) vaccination.
Measles in the News
MMR Vaccine Rates Are Lagging amid a Rise in Measles Cases. Experts Blame a Discredited Study: Following a measles outbreak in Columbus, OH, investigators from Columbus Public Health went to speak to parents to ask them why they hadn't vaccinated their children with the measles, mumps, rubella (MMR) shot or why they were delaying vaccination. What they found was surprising. Source: ABC News
---
15,000 Ottawa Children Missed Measles Vaccine during Pandemic: Thousands of children lack protection against measles and other diseases in Ottawa because they didn't receive routine vaccinations during the pandemic, according to new data from Ottawa Public Health (OPH) … The latest data available suggest orders for the MMR vaccine and the MMR-V vaccine, which also protects against varicella (chickenpox), decreased by 30% in 2020 compared to the typical number of orders in pre-pandemic years. Source: CBC News
---
Millions of Children Left Susceptible to Measles as Vaccination Rates Drop: The threat of a measles outbreak is growing due to a significant decline in vaccination rates among children worldwide, according to joint report released in November 2022 by the US Centers for Disease Control and Prevention (CDC), and the World Health Organization (WHO). For the last few decades, measles has remained relatively contained due to the double-dose vaccination that is 97% effective. The measles vaccination rates have steadily dropped since the start of the COVID-19 pandemic, the report found, with nearly 40 million children missing one or both of the doses in 2021, a record high according to CDC and WHO. Source: CBS News
---
20,000 People May Have Been Exposed to Measles during Religious Gathering in Kentucky: About 20,000 people who attended a large religious gathering in Kentucky in February 2023 may have been exposed to measles, and undervaccinated attendees should quarantine and monitor symptoms for 21 days, CDC said in a Health Alert Network Advisory … Measles is a highly contagious viral illness that begins with symptoms typical of many respiratory illnesses followed by a characteristic rash that usually appears on the face and spreads downward three to five days after symptoms begin. Source: CNN
---
Measles Outbreak in Ohio Declared Over After 85 Cases: A central Ohio measles outbreak among children who were not fully vaccinated is now over, public health officials announced in February 2023. Columbus Health declared the outbreak finished with no new cases after a period of 42 days—the equivalent of two measles virus incubation periods. In all, 85 children were known to be infected in the outbreak, including 36 who were hospitalized, city health department data show. All but five of the children were age 5 years or  younger. None of the children died. Source: HealthDay
---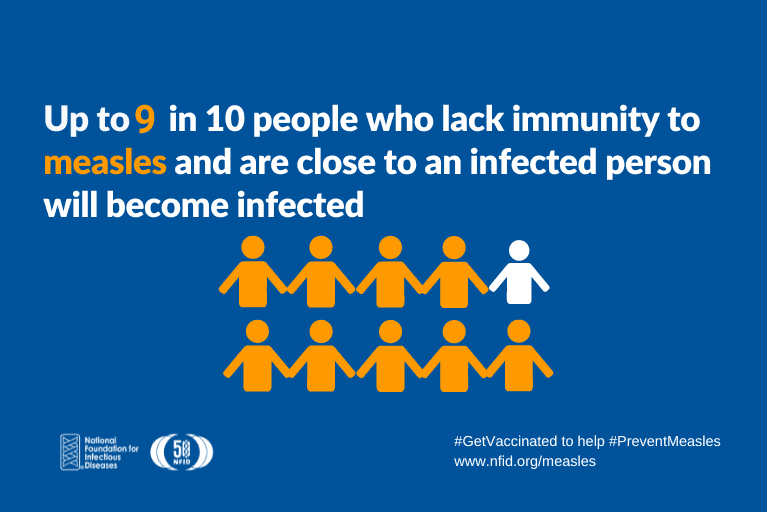 Rise in Measles Cases in the US: Is Your Child Up to Date on the MMR Vaccination? "Measles is not just a rash, runny nose, or fever, measles can affect the brain and lungs, and can be very serious," said NFID President Patricia (Patsy) A. Stinchfield, RN, MS, CPNP. "The good news is that measles is easy to prevent with safe and effective vaccines. Getting two doses of MMR vaccine results in 97% protection, providing lifelong immunity." Source: 30 Seconds Health
---
Measles Resources
Share NFID videos and download 5 Things You Need to Know about Measles (infographic) to help raise awareness about measles prevention. Learn more at www.nfid.org/measles.
---
To join the conversation and get the latest news on infectious diseases, follow NFID on Twitter using the hashtag #PreventMeasles, like us on Facebook, follow us on Instagram, visit us on LinkedIn, listen and subscribe to the Infectious IDeas podcast, and subscribe to receive future NFID Updates.
No related posts are published at this time.