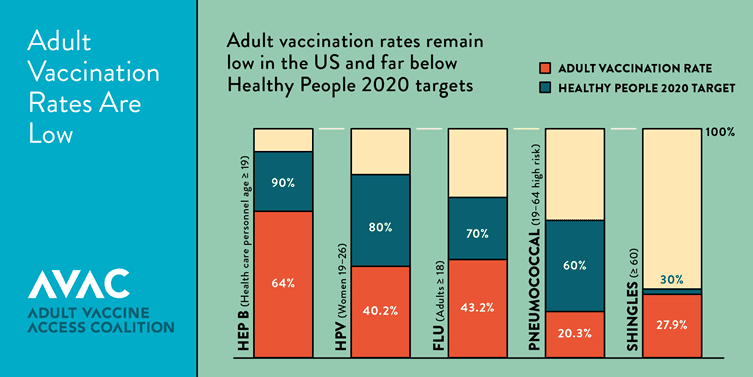 To highlight the importance of immunizations across the lifespan, NFID is launching an inaugural National Immunization Awareness Month (NIAM) blog relay, featuring a guest post each week from an immunization champion and/or organization. Each week of #NIAM16 focuses on a different stage of the lifespan.
Special thanks to the Adult Vaccine Access Coalition (AVAC) for sharing their perspective on the importance of vaccines for adults, during the first week of NIAM16 which is focused on adults. AVAC includes 50 organizations committed to enhancing access to and utilization of adult immunizations. Learn more about AVAC at www.adultvaccinesnow.org.
Vaccines save lives. Vaccines protect us from a variety of common diseases that can be serious and even deadly. In fact, it is estimated that over a 20 year period, childhood vaccines will prevent 732,000 deaths and 21 million hospitalizations!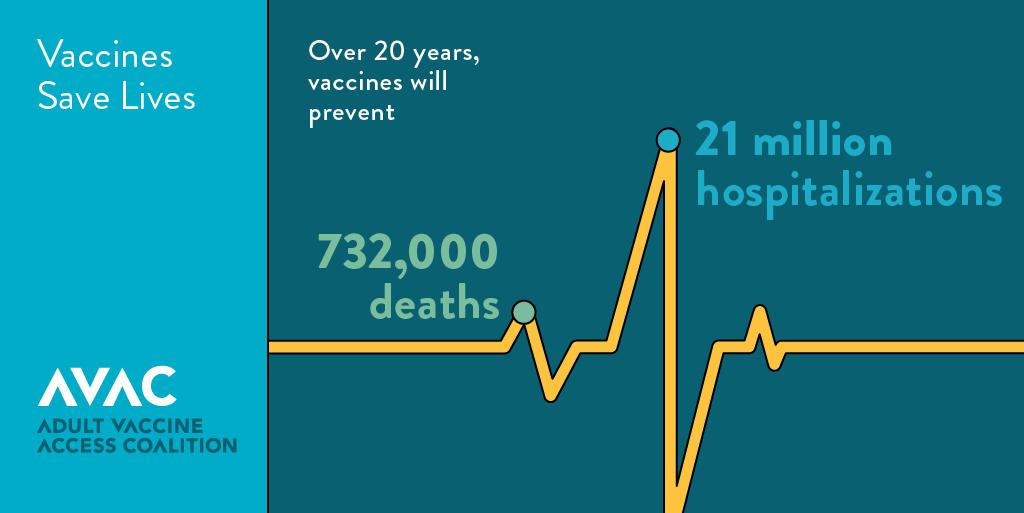 As beneficial as vaccines have been for children, there is a tremendous opportunity to expand access to this essential preventive service for adolescents and adults. Despite Advisory Committee for Immunization Practices (ACIP) recommendations, vaccines have been consistently underutilized in the adult population and lag far behind the Healthy People 2020 goals for most commonly recommended vaccines (influenza [flu], pneumococcal, Tdap, hepatitis B, human papillomavirus vaccine [HPV], and herpes zoster [shingles]). Disparities are even greater among at-risk populations, including seniors and individuals with chronic illnesses.
Every year, more than 50,000 adults die from vaccine-preventable diseases while thousands more suffer serious health consequences, resulting in $26.5 billion in spending to treat the top four vaccine-preventable diseases among US adults. It doesn't have to be this way.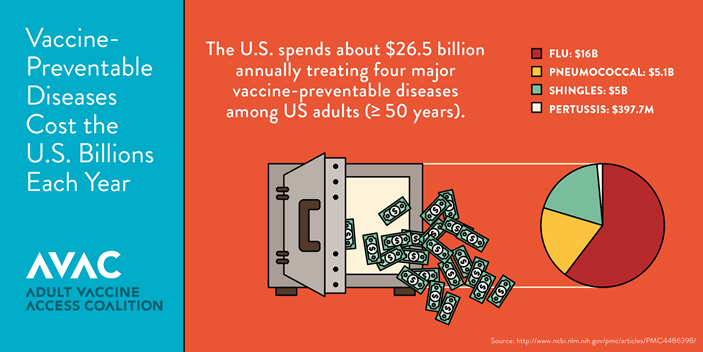 Each vaccine administered can go a long way toward protecting individuals against  vaccine-preventable diseases. Less than half of all US adults receive a flu vaccine each year, barely 40% of women age 19-26 years receive HPV vaccines, only 28% of individuals age 60 years and older receive shingles vaccines, and a mere 20% of high-risk adults receive pneumococcal vaccines.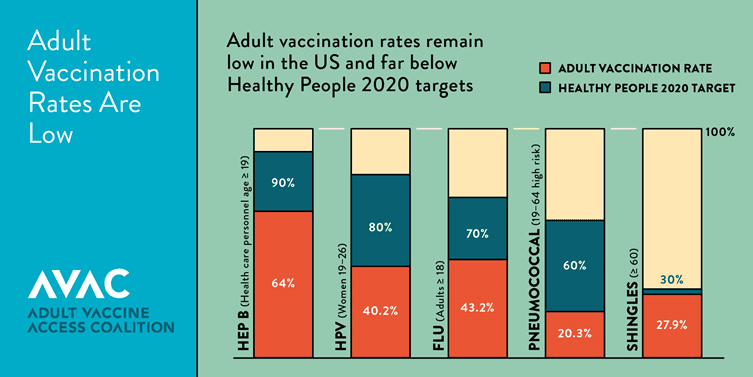 Unfortunately, there are many reasons why adult vaccination rates continue to lag behind Healthy People 2020 targets. Cost-sharing is one barrier; patients on certain health plans are responsible for shouldering costs for certain vaccines, and those on low or fixed incomes may not be able to easily afford them. Access is another; not every doctor's office or pharmacy carries all recommended vaccines and, particularly in rural areas, the distance one has to travel to receive a vaccine can be prohibitive. Education is a third; when it comes to vaccines, there are too many myths about health risks that may scare individuals and too few public health campaigns that explain just how effective and safe vaccines truly are. There's another issue worth mentioning as well, one that will be vitally important to increasing utilization of vaccines…quality measures.
The US is undergoing a slow but monumental shift toward new payment models that prioritize quality over quantity of care. Under the new model, healthcare providers receive payments—at least in part—based on patient outcomes. This type of thinking provides incentives to both healthcare providers and patients to choose a more targeted set of services that maximize potential impacts and results.
AVAC is working to address each of these barriers, including strengthening federal benchmarks and measures to encourage health plans to track, report, and achieve increased adult immunization rates. Recently, a group of nationally-renowned vaccine experts, including members of AVAC, co-authored a white paper making the case for quality measures for vaccines as a simple, practical, and necessary part of these emerging payment models.
Encouraging adults to adhere to a recommended immunization schedule as they age has the potential to improve quality of life for millions of US adults and reduce the tremendous burden our communities and healthcare providers shoulder with respect to treating vaccine-preventable illnesses.
Vaccines have demonstrated "effective prevention" in reducing rates of morbidity and mortality from a growing number of preventable conditions and improving overall health. Reducing the number of missed immunization opportunities is imperative to improving health and reducing the burden of vaccine-preventable illness.
The US healthcare system is on the verge of an exciting transformation that focuses first on keeping people healthy. We must send a strong signal that increasing immunization rates among adults in the US is indeed a national priority.
Let's start the journey now. During NIAM, let's get the word out about the importance of vaccines for individuals of all ages. Together, we can help improve access and utilization to adult vaccinations and help ourselves, our friends, and our loved ones live healthier lives.
Be sure to check NFID News each week during #NIAM16 to view guest blog posts, including next week's guest post from the American Congress of Obstetricians and Gynecologists. 
To join the conversation, follow NFID (@nfidvaccines) and AVAC (@AVACNow) on Twitter using the hashtag #NIAM16, like NFID on Facebook, join the NFID Linkedin Group, and subscribe to NFID Updates.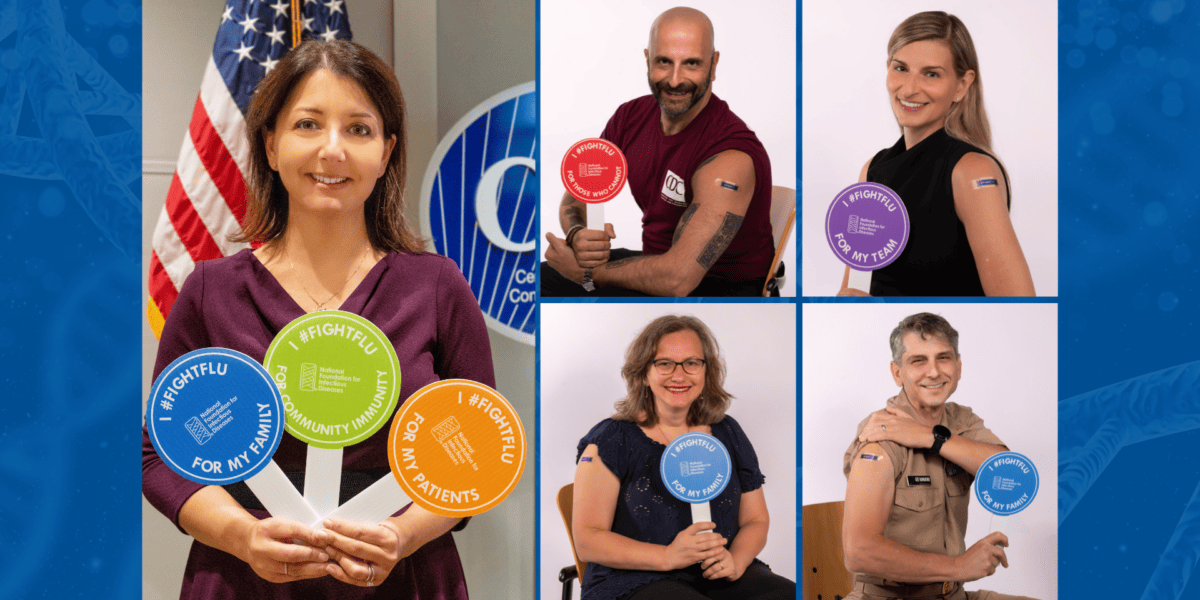 CDC guest post on the importance of disease prevention and leading by example to help protect against flu, COVID-19, and RSV