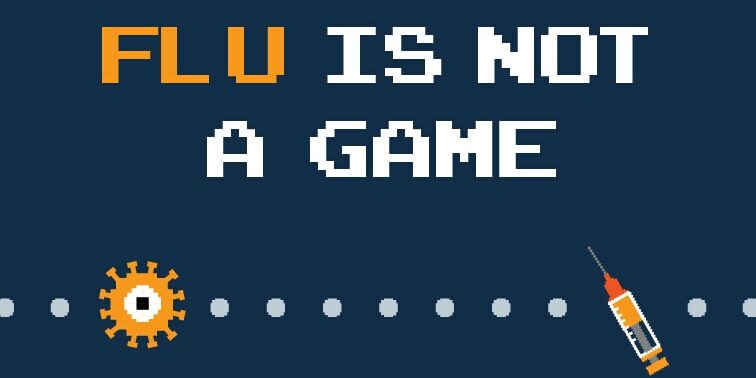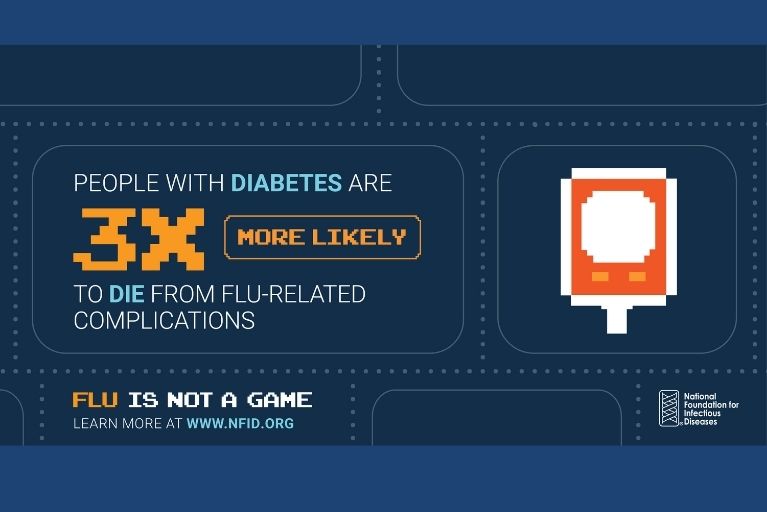 Despite common misconceptions, influenza (flu) is not just a common cold. Flu is a contagious viral infection that can cause mild to severe symptoms and life-threatening complications, including death, even in healthy children and adults. Anyone can get sick with flu, but certain individuals are at higher risk of developing serious flu-related complications, including adults age 65 years and older and those with chronic health conditions such as heart disease, lung disease, and diabetes. In recent flu seasons, 9 out of 10 people hospitalized with flu had at least one underlying health condition. The facts are clear:
People with diabetes are 3 times more likely to die from flu-related complications
People with heart disease are 6 times more likely to have a heart attack within 7 days of flu infection
For people with lung disease, flu can trigger asthma attacks and worsen COPD symptoms
Annual flu vaccination is recommended for everyone age 6 months and older to help reduce the risk of flu-related complications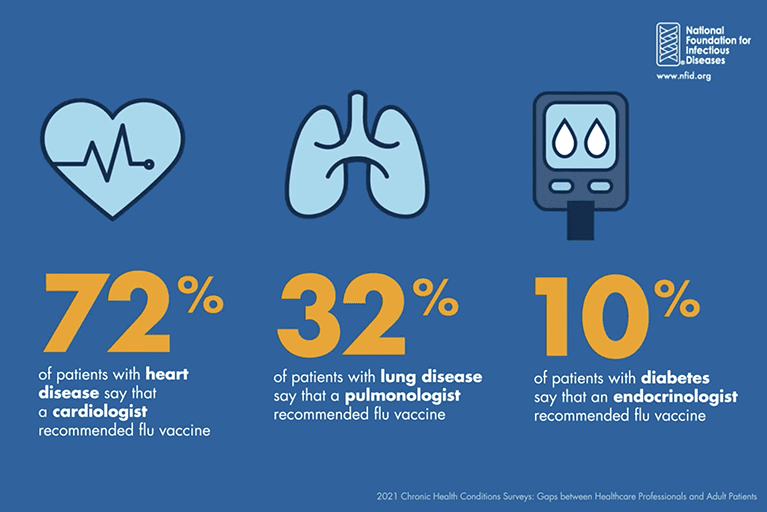 Although the best time to get vaccinated in the US is typically in early fall, flu vaccination at any time throughout flu season is still beneficial. With flu cases on the rise in some communities and with the COVID-19 pandemic increasing the possibility of coinfection ("flurona"), it has never been more important to get vaccinated against both flu and COVID-19.
For those with chronic health conditions, annual flu vaccination is a critical part of routine medical care. Yet, recent surveys by the National Foundation for Infectious Diseases (NFID) found that there is still room for improvement when it comes to healthcare professionals making strong and consistent recommendations for annual flu vaccination. Additionally, a significant gap remains between what physicians think they are saying and resulting actions among vulnerable patients. According to the NFID surveys, while nearly 100 percent of healthcare professionals say they recommend flu vaccines to their patients with chronic health conditions at least some of the time, only 45 percent of US adults with chronic health conditions say they were vaccinated against flu by early November 2021.
Help Spread Awareness, Not Disease
To help bridge the gap and raise awareness about the importance of annual flu vaccination for patients with chronic health conditions, NFID has developed complimentary tools and resources for healthcare professionals and partner organizations:
1. Share new NFID "Flu is Not a Game" videos and graphics on social media. The animated videos (available in 15-, 30-, and 60-second versions) include brief interviews with four patients currently living with heart disease, lung disease, and diabetes, who each talk about the importance of annual flu vaccination.
2. View on-demand NFID webinar for healthcare professionals, Closing the Gap: Protecting Adults with Chronic Health Conditions, for tips on how best to communicate the importance of annual flu vaccination with patients.
3. Share important messages about vaccine coadministration, with animated public service announcement video. It is convenient and safe to get a flu vaccine and other routine vaccines at the same time as a COVID-19 vaccine.
4. Share your story to help others understand the importance of annual flu vaccination, particularly for those with chronic health conditions.
Learn more at www.nfid.org/LowerYourFluRisk.
To join the conversation and get the latest news on infectious diseases, follow NFID on Twitter using the hashtags #FightFlu and #LowerYourFluRisk, like us on Facebook, follow us on Instagram, visit us on LinkedIn, and subscribe to receive future NFID Updates.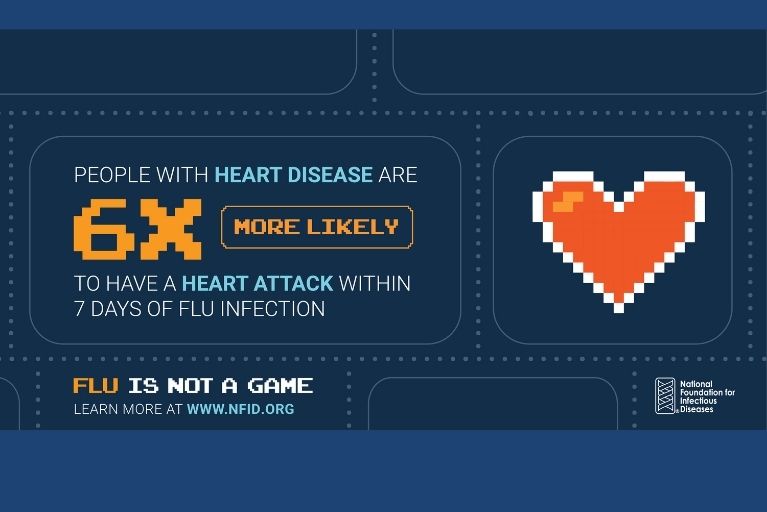 In the US, heart disease is a leading cause of death, causing one in four deaths. To help raise awareness about the importance of a heart-healthy lifestyle, American Heart Month is observed in the US each February, making it the perfect time for healthcare professionals to talk with at-risk patients about the need to stay up to date on all recommended vaccines …