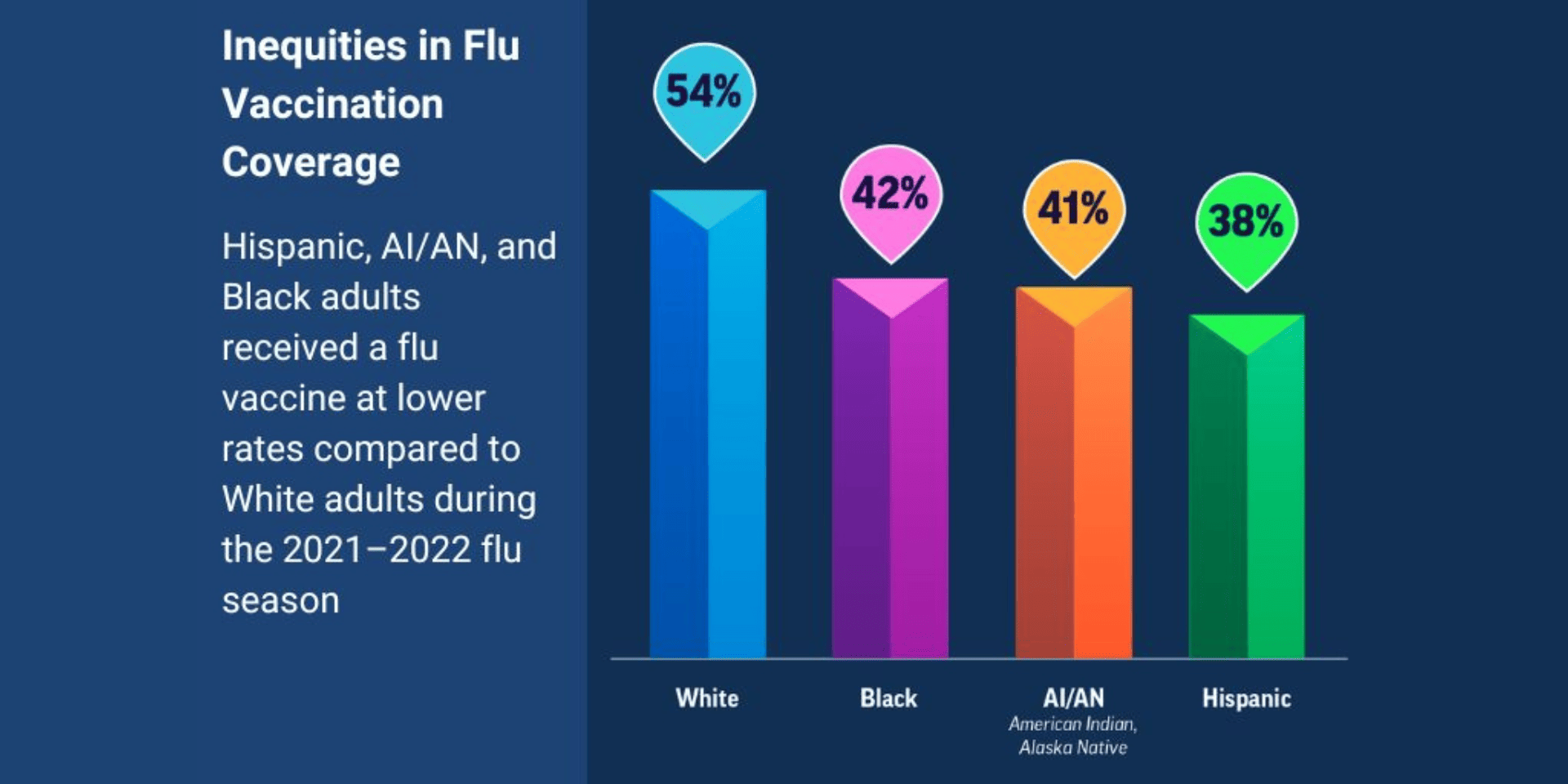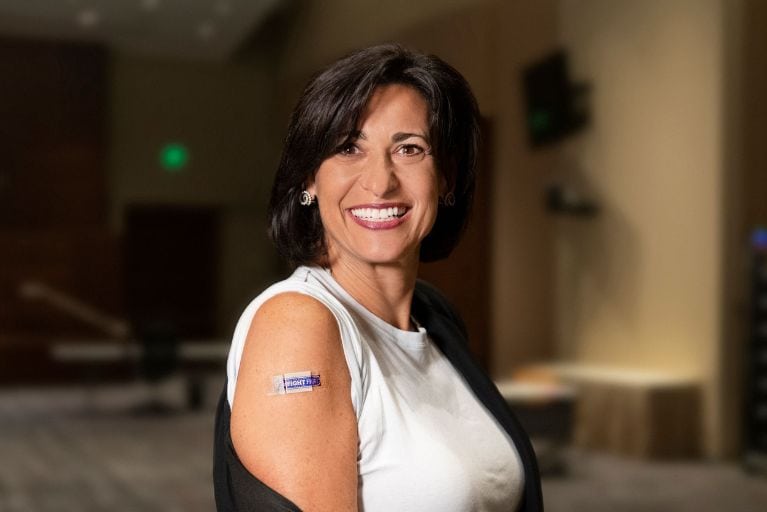 Special thanks to Centers for Disease Control and Prevention (CDC) Director Rochelle P. Walensky, MD, MPH, for this guest blog post on the importance of addressing barriers to annual influenza (flu) vaccination. Walensky was also a panelist at the 2022 National Foundation for Infectious Diseases (NFID) Influenza/Pneumococcal Disease News Conference.
Influenza (flu) viruses are now spreading in many parts of the US. An early increase in flu activity has also brought early flu-related hospitalizations, with the highest hospitalization rates in children and older adults. Laboratory-confirmed flu hospitalizations reported to the CDC FluSurv-NET hospitalization network are the highest seen at this point of the season in 10 years. Tragically, CDC has also reported the first flu-associated pediatric death of the 2022-2023 flu season. While it is too soon to say how severe the season will ultimately be, early flu activity and a significant increase in flu-related hospitalizations, underscore the importance of annual flu vaccination for everyone age 6 months and older.
Though flu is notoriously unpredictable, this early activity could signal the beginning of an active and possibly severe flu season … 

CDC Director Rochelle P. Walensky, MD, MPH
Some Groups at Higher Risk Are Vaccinated at Lower Rates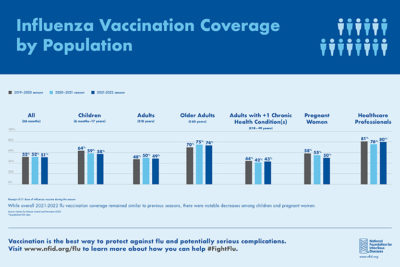 With flu activity already on the rise, CDC is especially concerned for what this season could bring. In addition to low flu activity over the past two seasons, there have also been drops in flu vaccine coverage in key population groups—many of whom are at increased risk of severe flu-related illness. The resulting reduced population immunity, particularly among young children who may never have had flu exposure or been vaccinated, could bring about a robust return of flu.
CDC is particularly concerned about drops in flu vaccine coverage in children (down 6 percentage points since 2019-2020) and pregnant women (down 8 percentage points since 2019-2020). CDC also has found that Black, Hispanic, and American Indian/Alaska Native (AI/AN) adults in the US are less likely to get vaccinated against flu compared to White adults. Flu vaccination coverage has been consistently lower among Black, Hispanic, and AI/AN adults since at least as far back as 2010. Most recently, during the 2021-2022 season, flu vaccination coverage was 54% among White and Asian adults, 42% among Black adults, 41% among AI/AN adults, and 38% among Hispanic adults.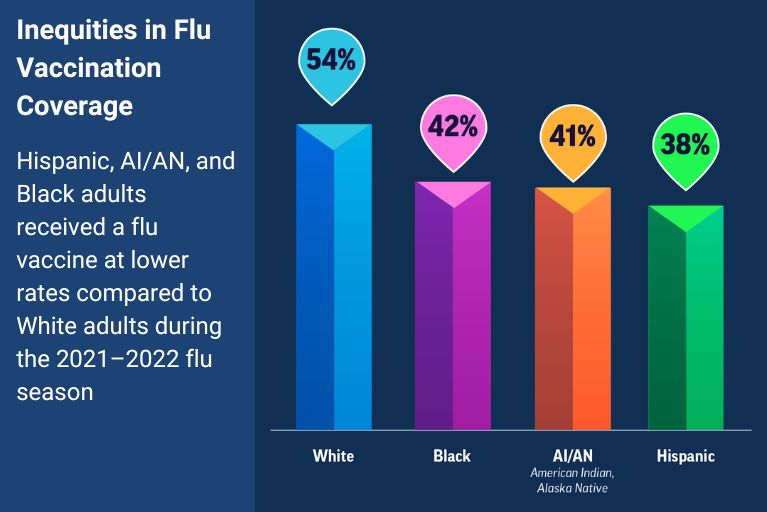 There are several barriers to flu vaccination, many of which apply across population groups, including different races and ethnicities. Systemic barriers include access to healthcare and insurance and missed opportunities to vaccinate. Misinformation also is a big hurdle, which is often cross-cutting and contributes to lower vaccine confidence. Research by NFID and others has identified some common misconceptions about flu and flu vaccines:
Myth: Flu is not a serious illness. Fact: Flu can be a serious disease, particularly among those at higher risk of potentially serious flu complications, such as young children, older adults, pregnant women, and people with certain chronic health conditions, like asthma, heart disease, or diabetes. Flu infection can carry a risk of serious complications, hospitalization, or death, even among otherwise healthy children and adults.
Myth: Flu vaccines do not work very well. Fact: While flu vaccines vary each season in how well they work, each year flu vaccination prevents millions of flu illnesses, hundreds of thousands of flu-related hospitalizations, and thousands of deaths from flu. Even when the vaccine is not well-matched to circulating viruses, data show that vaccination protects against severe disease. Several studies show that among those who get vaccinated against flu but still get sick, vaccination can reduce their risk of flu-related hospitalization and even death.
Myth: Flu vaccines can give you flu. Fact: Flu vaccines cannot cause flu illness. Flu vaccines given with a needle (flu shots) are made with either inactivated (killed) viruses, or with only a single protein from the flu virus. The nasal spray vaccine contains live viruses that are attenuated (weakened) so that they will not cause illness.
Racism and prejudice also are known to worsen health inequalities. Longstanding inequities have established barriers, especially for Black and Hispanic communities, resulting in flu vaccine coverage disparities and unfavorable health impacts. Over the past two years, CDC has implemented programs to address barriers to flu vaccination and raise awareness about its importance, specifically among people from racial and ethnic minority groups.
Vaccination Offers Best Protection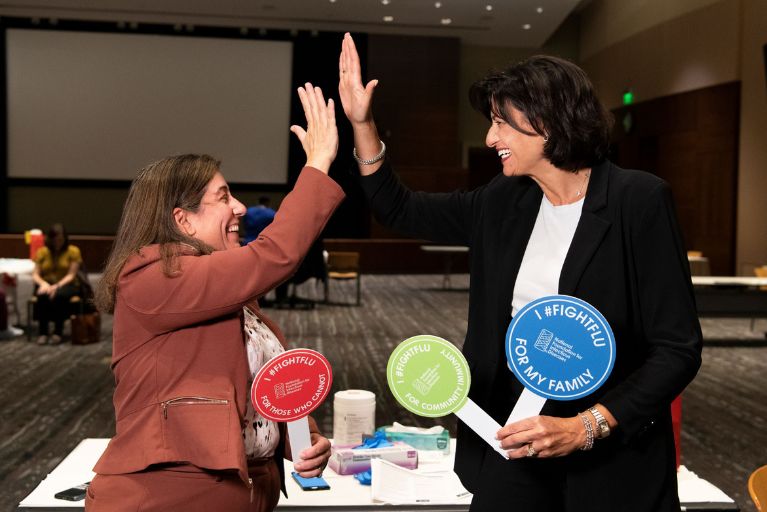 Each year, flu vaccination provides the best protection against flu and potentially serious related complications. CDC recommends everyone age 6 months and older get an annual flu vaccine, and with flu activity already increasing nationally, it is especially important to get vaccinated as soon as possible—before flu starts spreading in your community.
Studies conducted throughout the COVID-19 pandemic indicate that it is safe to get both a flu vaccine and a COVID-19 vaccine at the same time. People are considered up to date with COVID-19 vaccination if they have completed a primary series and received the most recent booster dose recommended for them. Flu vaccination is beneficial anytime flu viruses are circulating—even into December or later.
This season, CDC recommends that adults age 65 years and older receive one of 3 flu vaccines that are preferentially recommended for older adults.
If you have not already done so, get your flu vaccine today. To find flu and COVID-19 vaccines near you, visit www.vaccines.gov.
---
Learn More About Flu Vaccination:
For additional information about flu and efforts to raise awareness about flu and address barriers to vaccination, view these resources:
To join the conversation and get the latest news on infectious diseases, follow NFID (@NFIDvaccines) and CDC Director Walensky (@CDCDirector) on Twitter using the hashtag #FightFlu, like NFID on Facebook, follow NFID on Instagram, visit NFID on LinkedIn, and subscribe to receive future NFID Updates.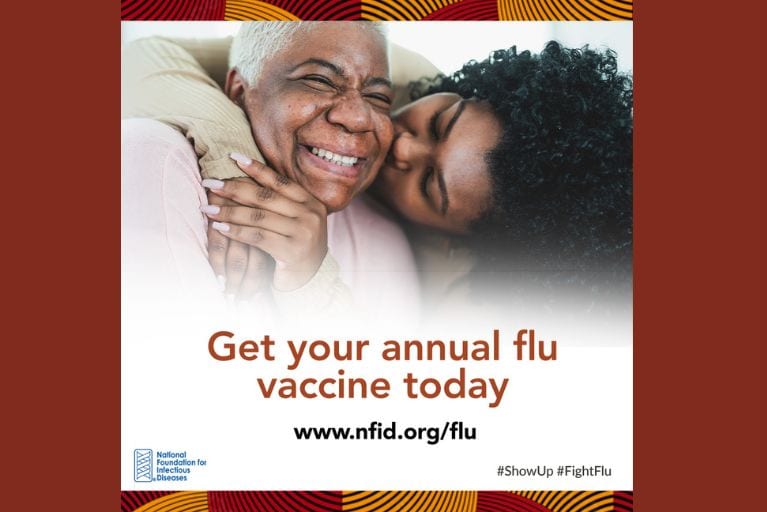 The National Foundation for Infectious Diseases (NFID) is working in partnership with Black-led and Black-serving organizations to increase awareness of the importance of annual influenza (flu) vaccination among US Black adults. Special thanks to NFID Immediate Past-President Patricia N. Whitley-Williams, MD, for this guest blog post on the critical role that annual flu vaccines play in protecting Black families and communities …