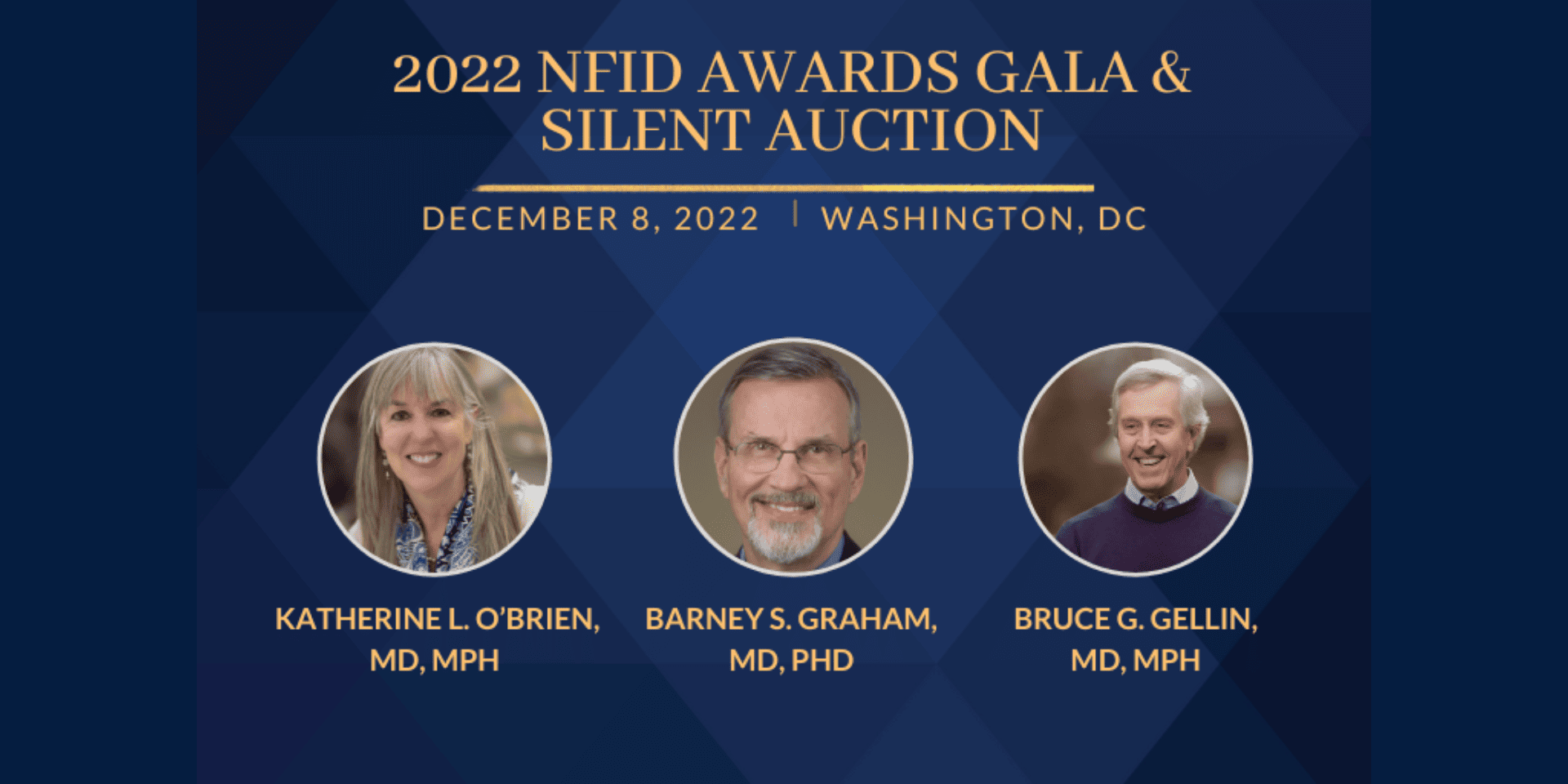 The National Foundation for Infectious Diseases (NFID) will honor three outstanding public health heroes on December 8, 2022 at the NFID Annual Awards Gala & Silent Auction in Washington, DC. Their inspirational work has fueled the global response to COVID-19 and other potential pandemics:
Katherine L. O'Brien, MD, MPH, director of the Department of Immunization, Vaccines, and Biologicals at the World Health Organization (WHO)
Barney S. Graham, MD, PhD, senior advisor for Global Health Equity and professor of Medicine and Microbiology, Biochemistry, and Immunology at Morehouse School of Medicine, and former deputy director of the National Institute of Allergy and Infectious Diseases Vaccine Research Center at the National Institutes of Health
Bruce G. Gellin, MD, MPH, senior vice president at The Rockefeller Foundation and chief of global public health strategy for the Pandemic Prevention Institute
We asked the 2022 NFID awardees about the challenges that keep them up at night and the guidance they have for the next generation of public health heroes …
What keeps me up at night? Deep division in our societies around the world—we are not able to see the humanity in each other and the fact that the human species is a social and dependent species. We need each other.
Social media has many benefits, but it is also deeply contributing to the erosion and destruction of our collective consciousness. The generations that have grown up with the internet and social media are forced to live in ways that are not aligned with our human consciousness.
I think about the lack of courage of our political leaders to bite into the lemon and speak truthfully about what we need to do for the benefit and health of our societies. My advice to the next generation of infectious disease professionals:
Think big and start small … but start!
The 'p' in public health is actually for 'politics.'
"Our communities are made of people who want the same thing—peace, prosperity, meaning, and connection—and are human enough to accept the changes needed for a livable future … The opposite of poverty is not wealth, but justice."

Katherine L. O'Brien, MD, MPH
I sleep pretty well, but the things on my mind related to infectious diseases are how to promote action rather than just committees planning and generating documents related to pandemic preparedness. With currently existing tools, we collectively have the capability to obtain the knowledge, create the reagents, and achieve candidate vaccines, antivirals, and diagnostics for the 26 viral families prior to the next pandemic threat. This will require dedicated investigators, consistent resources, and a systematic, organized effort over several years, but is a tractable project.
The long-standing efforts to make an HIV vaccine have led to a remarkable set of new technologies that make it possible to understand biology with a precision I could not have imagined 30 years ago. These technologies have made vaccine development more of an engineering exercise. Single-cell analysis provides more precise immunological endpoints and the ability to rapidly discover new human monoclonal antibodies. Rapid gene synthesis makes reagent and product development much faster.
"With these new tools, young people should be inspired to solve many of the remaining infectious disease challenges."

Barney S. Graham, MD, PhD
What keeps me up now is worrying about the future. I am an optimist and would like to believe that the path to progress is direct, but lately, I have worried that it might not be. For now, I take solace—and inspiration—in a speech President Obama gave several years ago, when commenting on a raft of daunting global challenges: "We have to reject the notion that we are suddenly gripped by forces that we cannot control. We've got to embrace the longer and more optimistic view of history and the part that we play in it."
Knowing the science is critical, but it is not enough. Science will change, and we will all need to keep our eyes open for these shifts. In medical school, we heard (not so jokingly) that "half of what you'll learn will be shown to be either dead wrong or out of date within five years of your graduation; the trouble is that nobody can tell you which half—so the most important thing to learn is how to learn on your own." Facts matter, but learning, and learning again, matters more.
"Our greatest threat is complacency. Our national experience with COVID-19 has magnified this fact, and I am getting increasingly worried that complacency will worsen when the pandemic finally recedes and efforts to improve for the future dissipate."

Bruce G. Gellin, MD, MPH
Join NFID on December 8, 2022, to Honor the 2022 Awardees
The NFID Annual Awards Gala & Silent Auction is the premier annual fundraising event for NFID and celebrates the work of inspirational public health heroes. Support the NFID mission and help honor the 2022 awardees. The deadline to purchase tickets is November 30, 2022. Act now and reserve your seat at www.nfid.org/awards.
To join the conversation and get the latest news on infectious diseases, follow NFID on Twitter using the hashtag #NFIDAwards, like us on Facebook, follow us on Instagram, visit us on LinkedIn, and subscribe to receive future NFID Updates.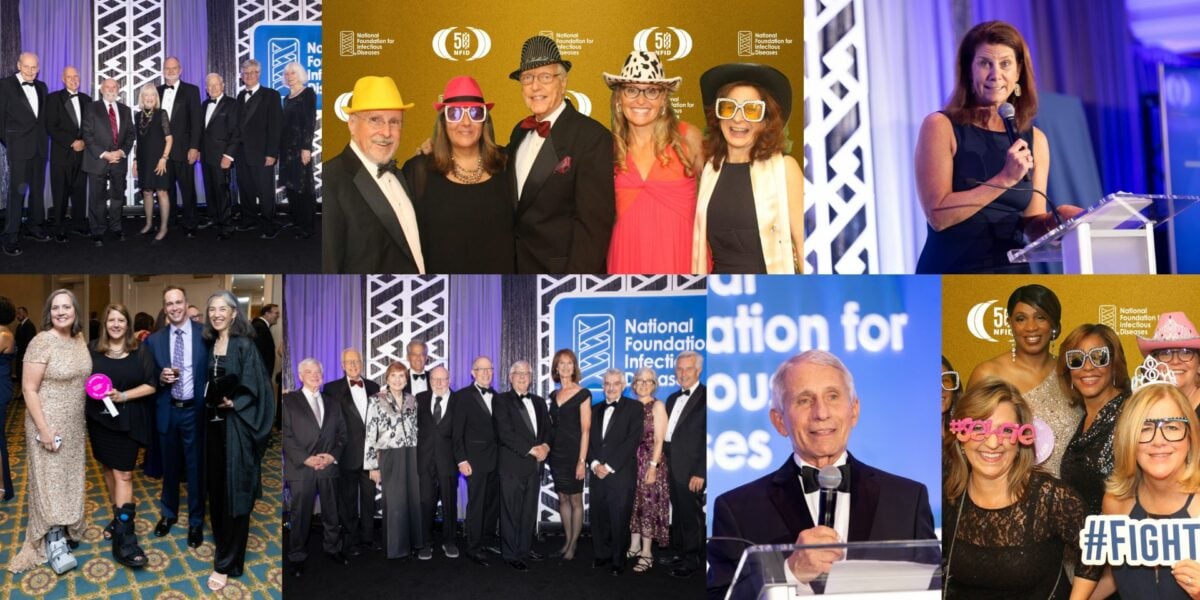 The stars of public health gathered together for the star-studded NFID 50th Anniversary Gala, including more than 20 past recipients of the prestigious NFID awards