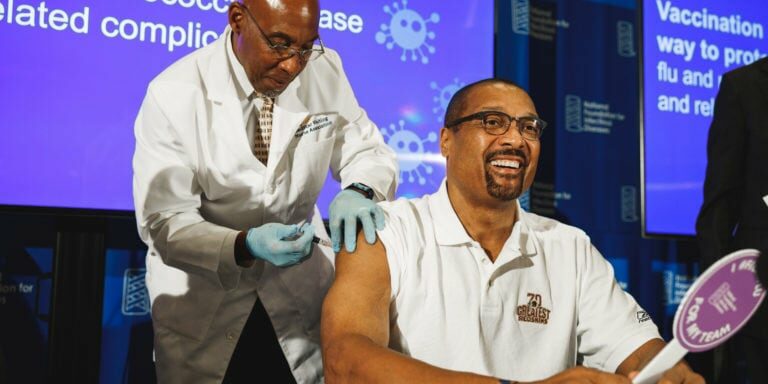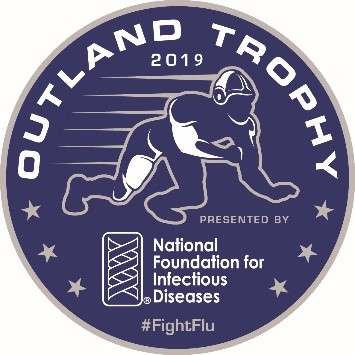 Special thanks to Mark May, 2019 NFID #FightFlu ambassador, 1980 Outland Trophy winner, and former Washington Redskins NFL player and two-time Super Bowl champion, for this guest blog post highlighting the importance of influenza (flu) prevention during the holiday travel season. To help raise awareness about the importance of flu prevention, NFID is partnering with the Football Writers Association of America (FWAA) to present the Outland Trophy, awarded to the best interior lineman in college football.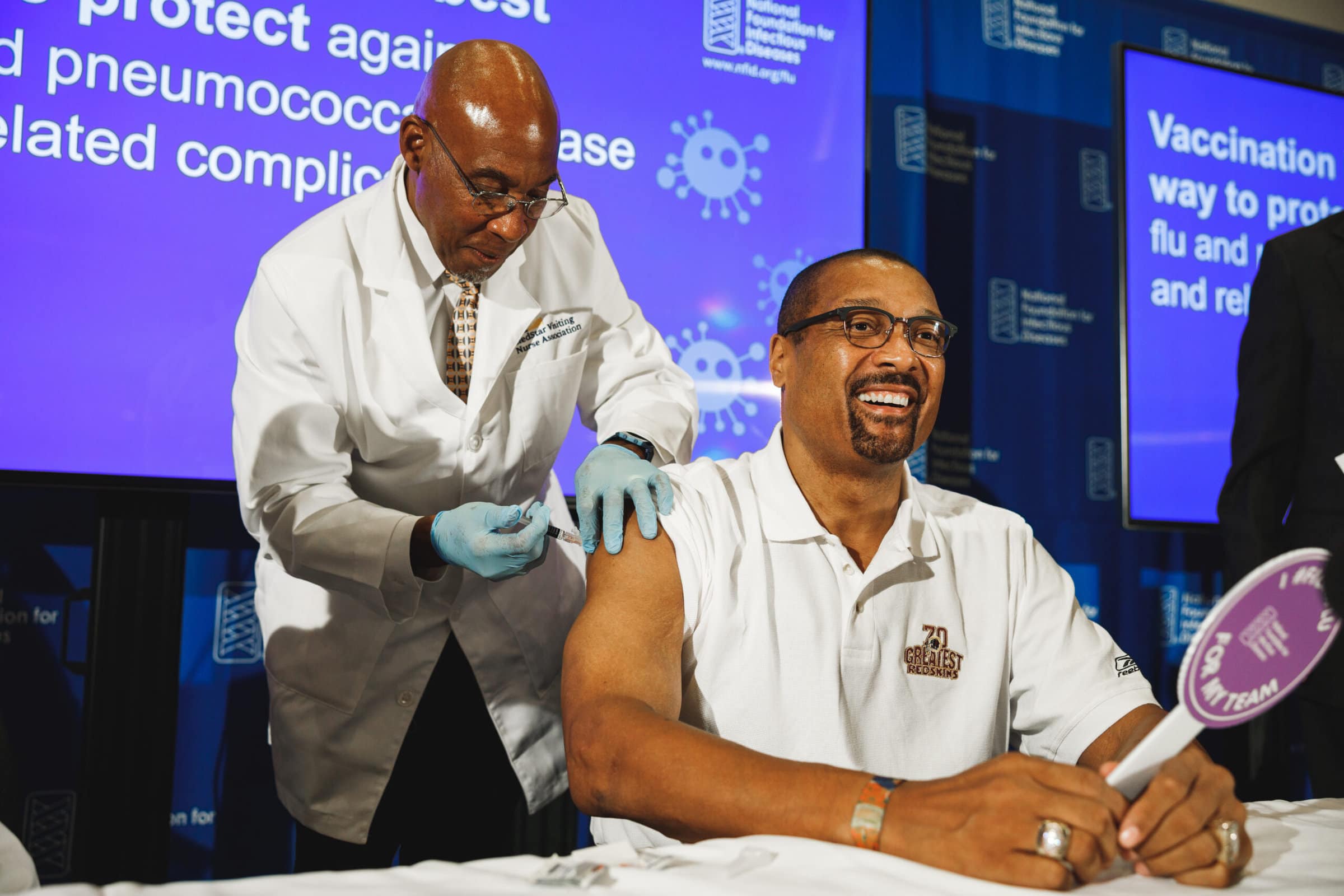 As a former professional football player and sports commentator, I do a lot of traveling. I'm always on the road, meeting people and shaking hands. There is always 'that one guy' who's coughing and sneezing, spreading germs, who wants to put his arm around me for a selfie. Don't be that guy…get vaccinated against flu. Get the vaccine this year, get it every year. Do it now, if you haven't already. It's not too late to get vaccinated this season.
Whether you're traveling for work or for the holidays, you are likely to come in contact with a lot of people. If one of them has the flu, and you haven't been vaccinated, you are at greater risk for getting the flu. And, if you are the one with flu, you could spread it to those around you (fellow football fans and family members!) without even realizing it.
You may think you are strong enough to fight off flu, but even healthy people can get the flu, and it can be serious. Also, think about the people you may visit this holiday season—your grandparents, your pregnant sister-in-law, your new niece or nephew, or your mom or dad with diabetes. Flu can be serious, causing thousands of illnesses, hospitalizations, and deaths in the US every year. You don't want relatives or friends to die from a preventable disease like flu. Protect yourself, and those around you, by getting an annual flu vaccine.
The Centers for Disease Control and Prevention (CDC) recommends that everyone age 6 months and older get vaccinated against flu every year. Last year's flu season was the longest in a decade, lasting through mid-May in the US and causing nearly 43 million illnesses.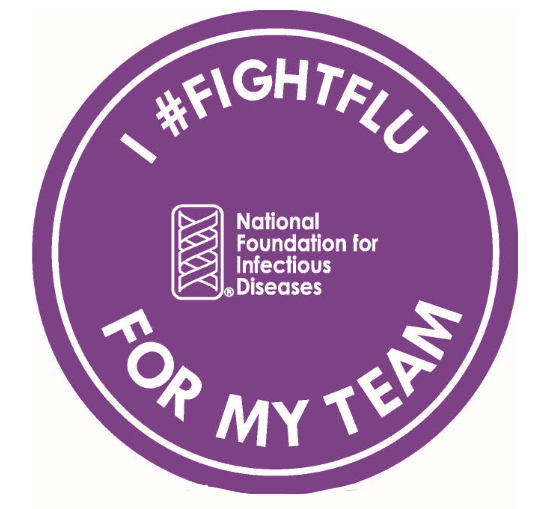 This September, I flew all the way to Washington, DC to get vaccinated against flu at the 2019 NFID Influenza/Pneumococcal Disease News Conference along with Secretary of Health and Human Services Alex M. Azar II. Fortunately, you don't have to travel that far—flu vaccines are readily available across the country, in pharmacies, medical offices, schools, and at work clinics.
Surprisingly, many football players tell me that they don't want to get vaccinated because they are afraid of needles. I assure them that protection from flu is worth it and remind them that the blood test at their annual physical is probably worse.
Although flu vaccines are not 100 percent perfect, getting vaccinated every year can help lessen the blow, and even if you do get the flu, your illness will likely be milder and won't last as long, putting you back in the game a lot sooner.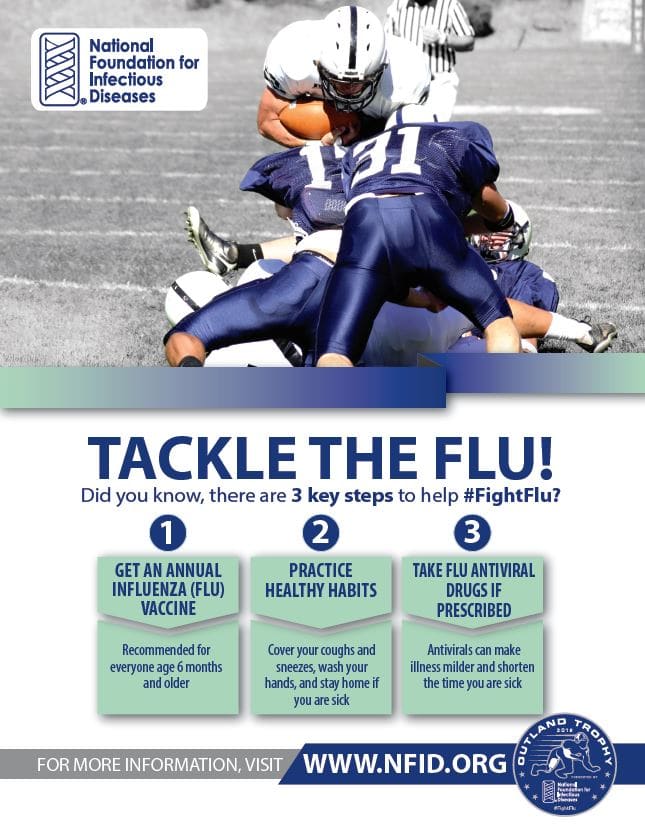 NFID and CDC recommend a "Take 3" approach to flu prevention:
Get your flu vaccine every year. It's the best first line of defense.
Practice healthy habits. Cover your coughs and sneezes, wash your hands frequently, and stay home if you are sick.
If you do get sick and you suspect flu, call a healthcare professional right away and take antiviral medicine if prescribed.
It's easy to remember these three steps—look for them in the NFID 'Tackle the Flu' ads featured in NCAA college football game-day programs and NFL team yearbooks.
Be sure to watch The Home Depot College Football Awards on ESPN tonight (7:00 PM ET, December 12, 2019), where the recipient of the 74th Outland Trophy will be announced, live from the College Football Hall of Fame in Atlanta, GA. Keep an eye out for the #TravelingFluBug, who will also be spreading awareness, not flu at the NFID Outland Trophy Awards Dinner in Omaha, NE on January 15, 2020.
To join the conversation, follow NFID (@NFIDvaccines), Mark May (@mark_may), and Outland Trophy (@outlandtrophy) on Twitter using the hashtag #FightFlu, like NFID and Outland Trophy on Facebook, follow NFID on Instagram, join the NFID Linkedin Group, and subscribe to receive future NFID Updates.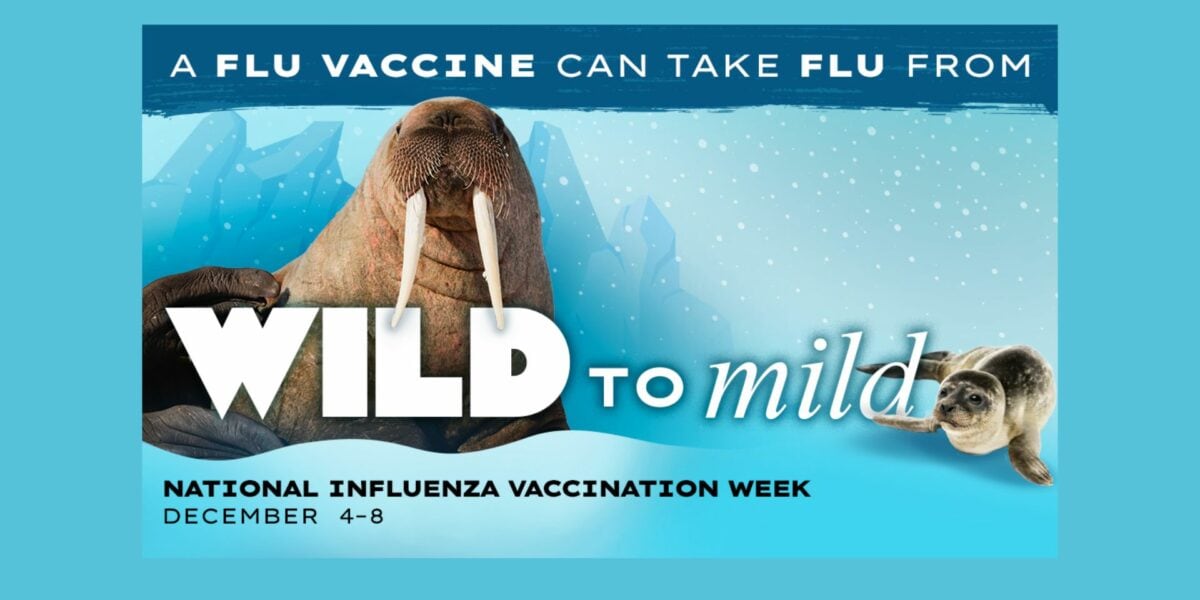 With flu activity on the rise and vaccination rates lagging across the US, NFID is reminding everyone age 6 months and older to get vaccinated against flu