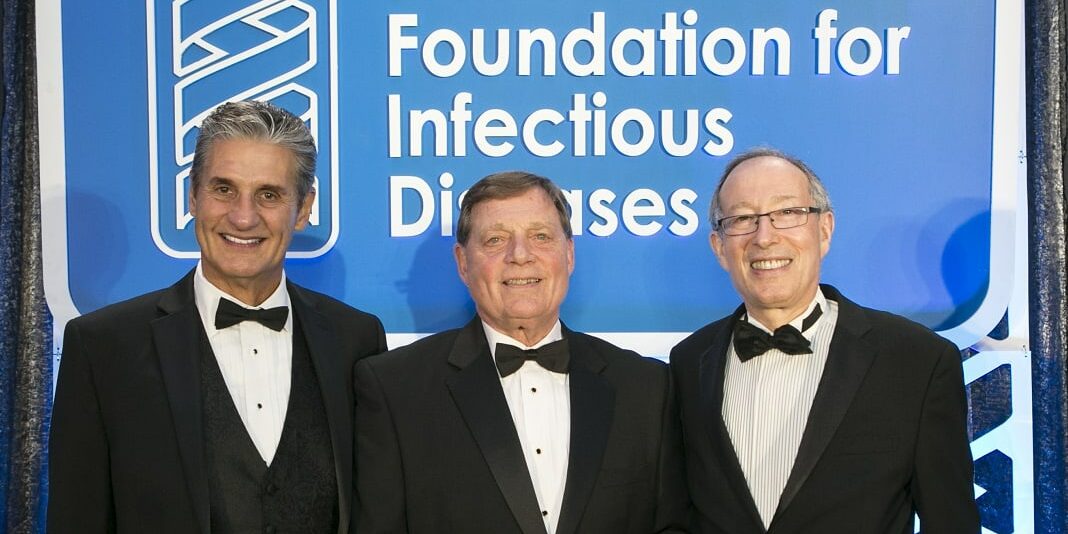 The National Foundation for Infectious Diseases (NFID) recently honored infectious disease heroes for their significant and lasting contributions to global public health at the 2016 NFID Awards Dinner. The 2016 Jimmy and Rosalynn Carter Humanitarian Award was presented to Robert E. Black, MD, MPH, a global public health leader who has dedicated his career to saving the lives of poor children across the globe. He was honored in recognition of his work which has had a significant impact on the survival of children around the world, both by his discoveries and through his practical application of health interventions in programs.
Robert E. Black, MD, MPH has focused his career on finding simple, affordable, and scalable interventions to reduce the leading causes of childhood mortality and morbidity—mainly diarrhea, acute lower respiratory tract infections, malnutrition, and neonatal conditions in the developing world. Driven by this goal, he has not only produced seminal research findings that led to public health interventions, he has played a leadership role in synthesizing the evidence to mobilize global commitments to address these problems.
A keystone of Dr. Black's work is identifying promising laboratory-based observations and evaluating them in human studies, both in clinical settings and in large-scale fieldwork, and then scaling the interventions to demonstrate their potential application around the world. "I am motivated by the dual challenge of science and the application of science," says Dr. Black. "It feels irresponsible not to do whatever I can to bring a scientific innovation to the populations who most need it."
His work has led to policy changes by international agencies, including the World Health Organization (WHO), UNICEF, and the US Agency for International Development (USAID). His extraordinary efforts have saved the lives of millions of children across the globe.
Colleagues also talk about his commitment to training and mentoring the next generation of health researchers. "Dr. Black epitomizes the concept of mentoring and develops lifelong relationships with young investigators," says Dr. Roger Glass, Director of the Fogarty Center of the National Institutes of Health, "helping them establish their own careers and become productive teachers, researchers, and agents of change."
Dr. Black is a role model for public health scientists and practitioners, and is a teacher and mentor who will continue to inspire generations of public health students for years to come.
-Mathuram Santosham, MD, MPH, Professor, Departments of International Health and Pediatrics, Bloomberg School of Public Health at Johns Hopkins University
THE POWER OF ZINC: A MICRONUTRIENT SAVES MILLIONS OF LIVES
Dr. Black has made many valuable contributions to the field of public health and his work on zinc supplementation may be noted in history as one of the most effective. Based on his review of scientific literature, Dr. Black hypothesized that this micronutrient, which can be delivered at the cost of a few pennies per week, had the potential to save thousands of lives around the world if appropriate modalities were available to deliver it.
Dr. Black evaluated his hypothesis through a series of studies culminating in a landmark study conducted in India with one his students, Dr. Sunil Sazawal. This groundbreaking study demonstrated that daily supplementation with zinc during diarrheal episodes significantly reduced the duration and severity of diarrhea in infants, with greater reductions in children with stunted growth than in those with normal growth.
Subsequent studies by Dr. Black and his students, junior faculty colleagues, and collaborators in developing countries showed that zinc supplementation can also prevent acute lower respiratory infection and associated mortality. Later, they also showed that zinc supplementation reduced all-cause mortality by 50 percent. This study demonstrated a practical method for delivering zinc supplementation and in 2004 WHO and UNICEF issued a joint statement recommending the use of zinc supplements with each diarrheal episode. This intervention is now being implemented in nearly all low-income countries around the world.
An example of Dr. Black's contribution to global policy change is his work on zinc supplementation, which led to the recommendation by WHO and UNICEF to use zinc as an adjunct therapy for all cases of diarrhea in children. This has the potential to save up to 500,000 lives each year.
-Roger Glass, MD, PhD, Director, Fogarty International Center and Associate Director for International Research at the National Institutes of Health
Additional studies have further elucidated the benefits of zinc. Zinc supplementation during the treatment of pneumonia reduces the duration of illness and daily zinc supplementation of low birth weight infants significantly reduces mortality.
In addition to conducting his own research, Dr. Black played a leadership role in ensuring that zinc supplementation was implemented on a global level. He organized a series of workshops and conferences that included the participation of leading scientists and key stakeholders, including international donors, ministries of health, program managers, manufacturers of zinc supplements, and companies that have the potential to manufacture zinc-fortified foods.
ADVANCING THE GLOBAL AGENDA ON CHILD SURVIVAL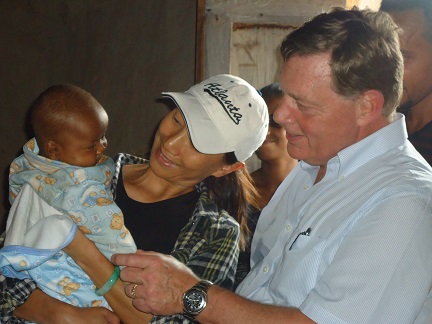 Over the past 20 years, Dr. Black has played a pivotal role in advancing the global agenda on child survival. He has organized meetings to develop consensus and advance research and implementation of key child survival interventions for diarrheal diseases, acute lower respiratory infection, and neonatal health.
In 2003, Dr. Black was instrumental in organizing a conference in Bellagio, Italy to examine the status of child survival interventions and identify knowledge gaps. The Director General of WHO was among the list of public health leaders in attendance at this influential meeting. Conclusions of the Bellagio Study Group on Child Survival were published in a five-part series in the Lancet. Among its major findings was that 90 percent of the nearly 11 million deaths in young children occurred in 42 countries and that universal implementation of proven interventions, such as oral rehydration therapy for diarrhea, childhood immunizations, and breastfeeding could reduce these deaths by 60 percent. The report also stressed that funding for Child Survival as a proportion of the total health budget had reduced dramatically in the years leading up to the Bellagio meeting and that more resources had to be applied to Child Survival if the UN Millennium Development Goal for reduction in child mortality was to be met.
The "Lancet series" spearheaded by Dr. Black galvanized the global public health community and rekindled dialogue at the highest levels of governments, donor agencies, scientists, and public health professionals to explore ways to place the Child Survival agenda in the forefront again.
DEFINING THE CRITICAL 1,000 DAYS IN UNDER- AND MALNUTRITION
In 2008, Dr. Black led an effort to analyze and summarize knowledge about maternal and child under-nutrition and propose feasible interventions. And again, Black and his colleagues published a series of five highly influential papers in The Lancet.
The series identified the need to focus nutrition interventions on pregnancy and the first two years of life, the "critical 1,000 days." Better nutrition during this period prevents short-term consequences, such as mortality, and long-term adverse effects on adult chronic disease and diminished human capacity. This concept has now been adopted and the enhanced efforts to address nutrition advocated by Dr. Black and colleagues are now championed by the Scaling Up Nutrition Movement, UN Agencies, and governments.
INCREASING THE FOCUS ON NEONATAL MORTALITY
Through his work with WHO, Dr. Black recognized that neonatal mortality was declining more slowly than other child mortality. The goals for mortality reduction in children younger than five years of age would not be reached without increased focus on neonatal deaths. He convened a meeting with USAID support in 2005 to review interventions in maternal and newborn health that could accelerate reduction in neonatal mortality.
Dr. Black's work, once again, paved the way for global action, leading to greater focus on neonatal mortality in various agencies and funding from the Bill & Melinda Gates Foundation for the Save the Children Saving Newborn Lives Program, which has made major contributions in advocacy and program implementation. His leadership demonstrates Black's unwavering commitment to reducing the high rate of neonatal and other child deaths in developing countries. His work has had a significant impact on the survival of children around the world, both by his discoveries and through his practical application of health interventions in programs.
Dr. Robert Black's legacy is embodied in the many m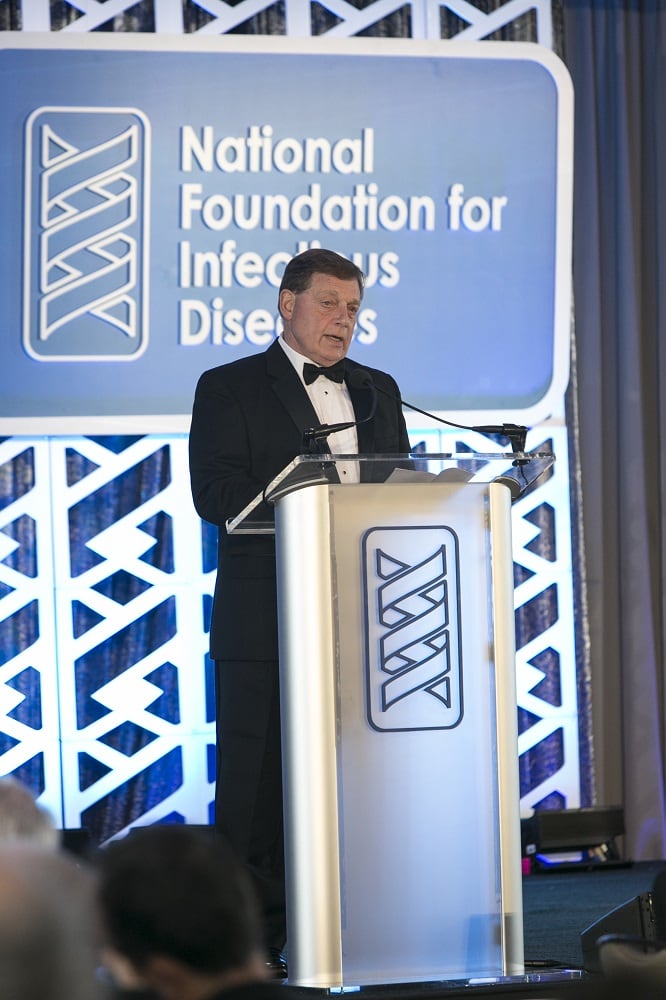 illions of lives he has saved and improved throughout his long, productive, and ongoing career. "It is remarkable to see the reductions in childhood mortality and improvements in health over the last 40 years," says Dr. Black. But, he quickly adds, "Six million children still die every year and 98 percent of them are in lower-income countries. We must do better." His work continues and will expand through the countless young health researchers who have learned at his side and who have now become public health leaders in their respective countries.
View additional photos from the 2016 NFID Awards Dinner
Nominations for the 2017 NFID Awards will be accepted until June 30, 2016. All nominations must be submitted online at: 2017 Awards Nominations. Awards will be presented at a black-tie gala in the Spring of 2017 in the Washington, DC area.
To join the conversation, follow us on Twitter (@nfidvaccines) using the hashtag #NFIDawards, like us on Facebook, join the NFID Linkedin Group, and subscribe to NFID Updates.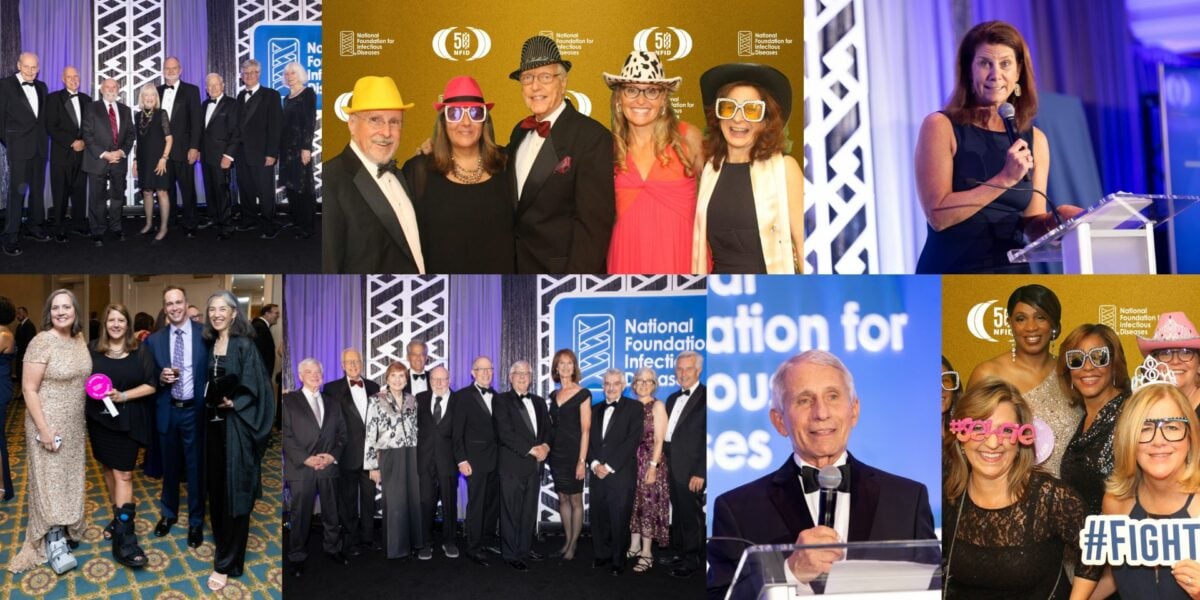 The stars of public health gathered together for the star-studded NFID 50th Anniversary Gala, including more than 20 past recipients of the prestigious NFID awards