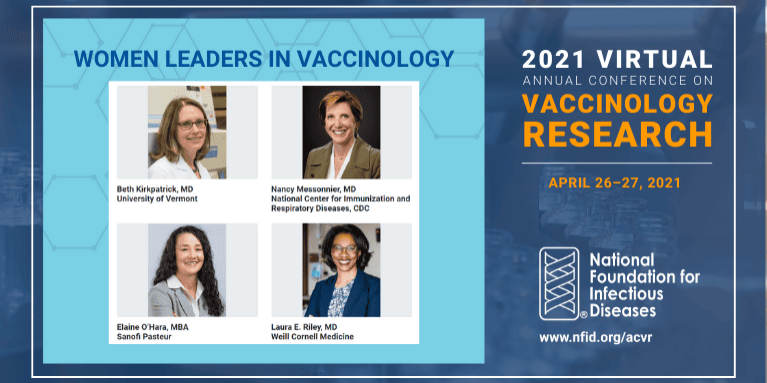 March is Women's History Month—commemorating and encouraging the study, observance, and celebration of the vital role of women in society. Trailblazing women working in vaccinology will share stories about their individual paths and lessons learned throughout their careers at the Women Leaders in Vaccinology Panel discussion during the 2021 Annual Conference on Vaccinology Research (ACVR), to be held virtually on April 26-27, 2021.
Sponsored by the National Foundation for Infectious Diseases (NFID), ACVR is a well-established forum for the exchange of the latest scientific and clinical knowledge in vaccinology. Read on for inspirational quotes from the 2021 women leaders in vaccinology and those they admire …
Be a careful student of the unexpected and paradoxical—allow them to illuminate your path …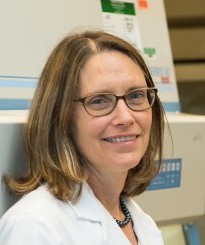 Beth Kirkpatrick, MD, University of Vermont
During these unprecedented times, partnerships between public health, healthcare providers, community organizations, other partners, and the public are especially critical …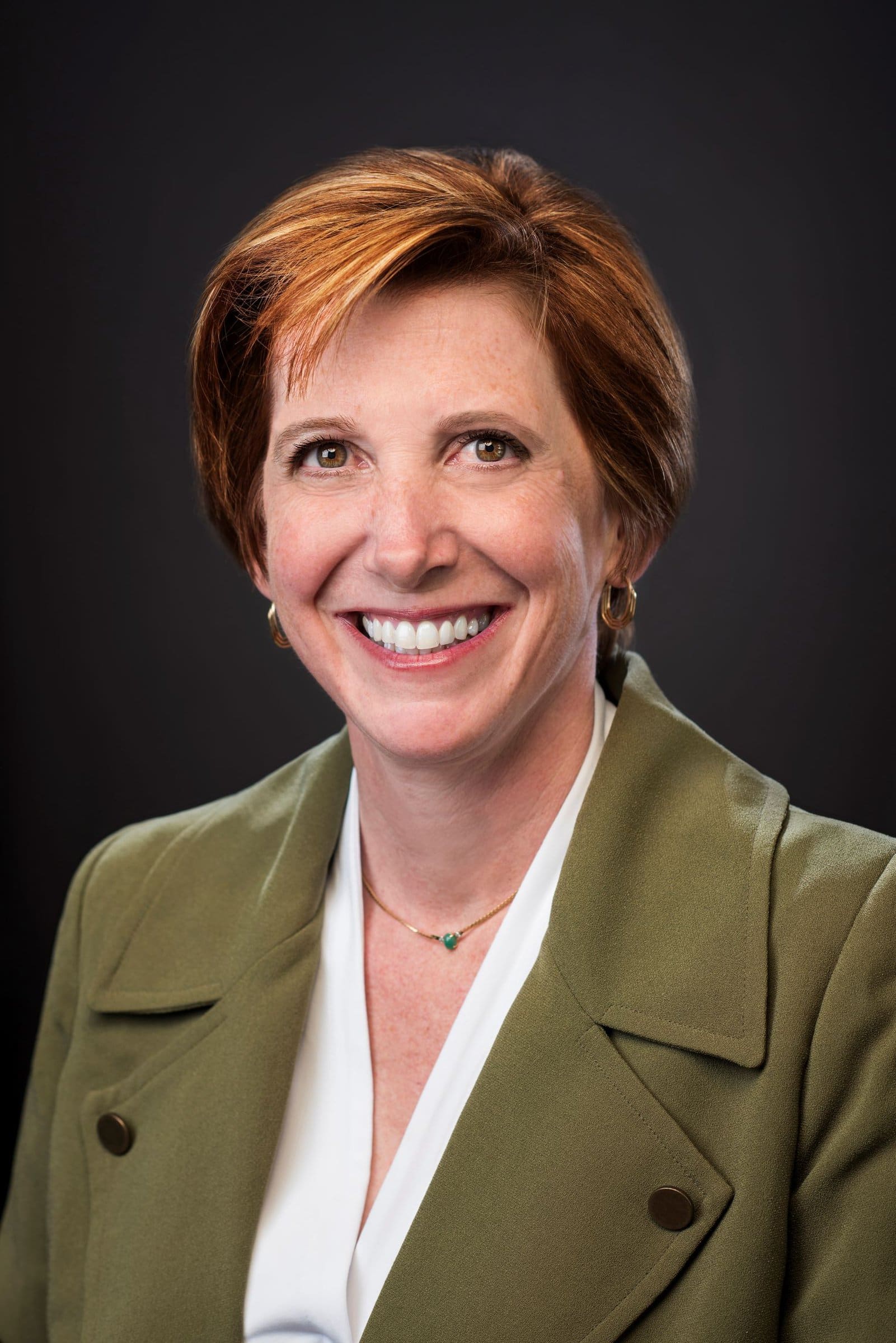 Nancy Messonnier, MD
National Center for Immunization and Respiratory Diseases
Centers for Disease Control and Prevention
Never measure the height of a mountain until you reach the top; then you will see how far you have come!
-Dag Hammarskjold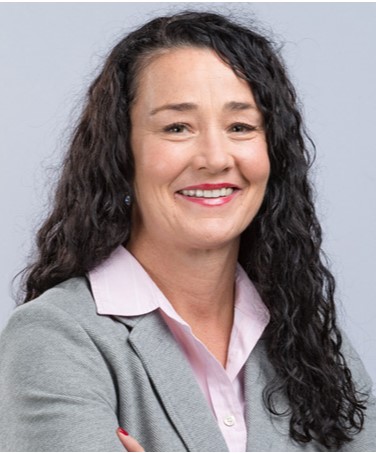 Elaine O'Hara, MBA
Sanofi Pasteur
My interest in public health and infectious disease began just as I finished my high-risk obstetrics fellowship and it was the beginning of the HIV epidemic in women. Those first few years were dark days as we muddled through, and after that experience, I was hooked on infectious disease prevention, which naturally took me to vaccines. From there I delved into the unique pregnancy physiology and every disaster that came our way—H1N1, Ebola, Zika, and now COVID-19 …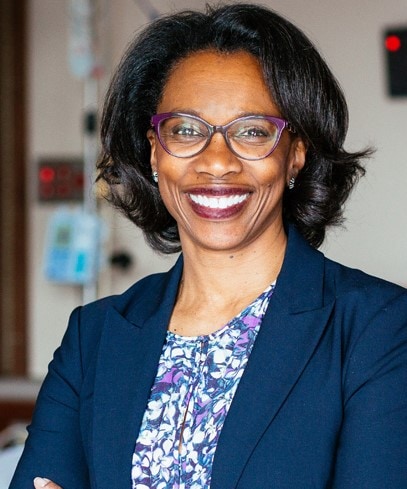 Laura E. Riley, MD
Weill Cornell Medicine
Join NFID next month to celebrate these inspirational leaders whose collective work has helped so many. View the detailed ACVR agenda to learn more and register online for the conference.
NFID has long supported women and their important role in infectious disease prevention and treatment. View the gallery of women leaders on the NFID Board of Directors—all remarkable women who have made a significant impact on public health:
Julie Morita, MD Robert Wood Johnson Foundation
Cynthia G. Whitney, MD, MPH Emory University
Jeffery A. Goad, PharmD, MPH
Sara E. Cosgrove, MD, MS Johns Hopkins University School of Medicine
Secretary: H. Keipp B. Talbot, MD, MPH Vanderbilt University School of Medicine
Lisa S. Ipp, MD Weill Cornell Medicine New York-Presbyterian
President-Elect: Patricia A. Stinchfield, RN, MS, CPNP, CIC
Kathleen M. Neuzil, MD, MPH Center for Vaccine Development and Global Health University of Maryland School of Medicine
Add a comment below to recognize a female mentor who has impacted your life and share how she has inspired you.
To join the conversation and get the latest news on infectious diseases, follow NFID on Twitter using the hashtags #ACVR and #WomenInScience, like us on Facebook, follow us on Instagram, visit us on LinkedIn, and subscribe to receive future NFID Updates.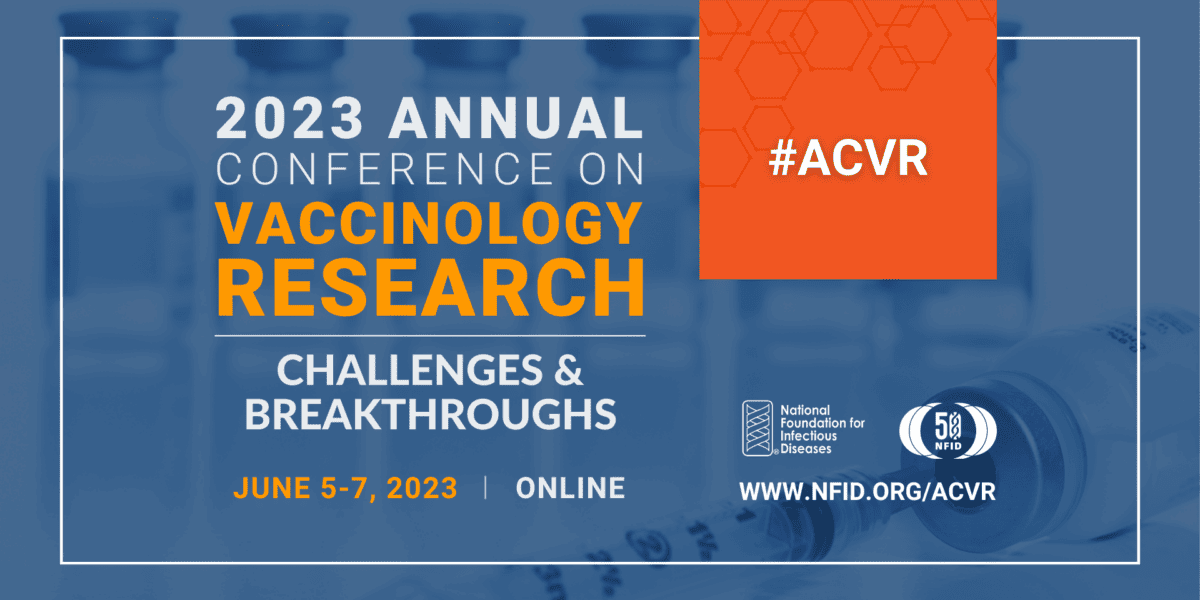 The 2023 ACVR featured new scientific findings on COVID-19, respiratory syncytial virus (RSV), influenza, and more, as decades of research are paying off