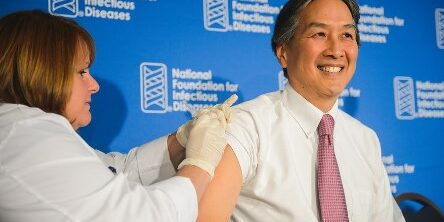 Influenza (flu) prevention was front and center at the 2013 NFID Influenza/Pneumococcal News Conference held this week at the National Press Club in Washington, DC.
News conference panelists included Dr. Howard K. Koh, Assistant Secretary for Health at the US Department of Health and Human Services; Dr. Anne Schuchat, Assistant Surgeon General, US Public Health Service and Director of the National Center for Immunization and Respiratory Diseases at the US Centers for Disease Control and Prevention; Dr. Paul D. Biddinger, Chief, Division of Emergency Preparedness and Medical Director, Emergency Department Operations at Massachusetts General Hospital; and Dr. Richard S. Liebowitz, Senior Vice President and Chief Medical Officer, New York-Presbyterian Hospital. The panel was moderated by NFID immediate past-president, Dr. William Schaffner.
Dr. Koh emphasized the importance of everyone 6 months and older being vaccinated annually against the flu. "Flu vaccination represents a simple investment we can make year in and year out to maximize the gift of health." He also noted that the Affordable Care Act would allow many to get the vaccine at little to no cost. But his greatest bit of advice may have been about which influenza vaccine to get this season, "The best vaccine is the one that's delivered!"
While the 2012-13 influenza season may have hit early and hard, there was some good news as well. Dr. Schuchat reported that 56.6% of children age 6 months to 17 years were vaccinated against the flu last season, up 5.1 percentage points compared to the 2011-12 season. And while vaccination among the adult population is still low, a remarkable 92.3% of physicians received a flu vaccine during the 2012-13 season. Dr. Schuchat also spoke of the many different vaccine options available, including the introduction of an egg-free option and a quadrivalent (four-virus) flu vaccine, which includes protection against an additional influenza B virus and will be available in all nasal spray vaccines and some traditional shots this season. Estimates indicate that at least 135 million flu vaccine doses will be available in the US this season.
Putting a human face to flu, Dr. Biddinger shared stories about the devastating impact flu can have on families and the importance of getting vaccinated annually. In January 2013, Boston declared a public health emergency after 700 diagnoses were made and four deaths occurred. "Last year started with an especially early season with a large number of severe cases presenting together over a short time, but every year we see many patients in our emergency department who struggle to fight off influenza. Don't wait until you hear about an outbreak in your area. Get vaccinated now to protect yourself, those around you. and your community."
Dr. Liebowitz leads vaccination efforts for employees at the nation's largest not-for-profit hospital. "We are committed to vaccinating our staff in order to protect our patients. This is priority one. Patients come to us to improve their health and we need to do all we can to shield them from exposure to the influenza virus. As an added benefit, annual flu vaccinations help keep our employees and their families healthy, and of course, enable staff to care for our patients during winter respiratory season."
NFID also called on healthcare professionals and business and community leaders to "lead by example," by making influenza prevention a health priority. Dr. Koh and other panel members supported the initiative by getting vaccinated at the onsite vaccine clinic administered by MedStar Visiting Nurse Association. NFID's initiative, Leading by Example is supported by more than 40 companies and organizations who have made a commitment to influenza prevention.
Let us know how you plan to #fightflu this season. Join the conversation and follow us on Twitter (@nfidvaccines), like us on Facebook, and join the NFID Linkedin Group.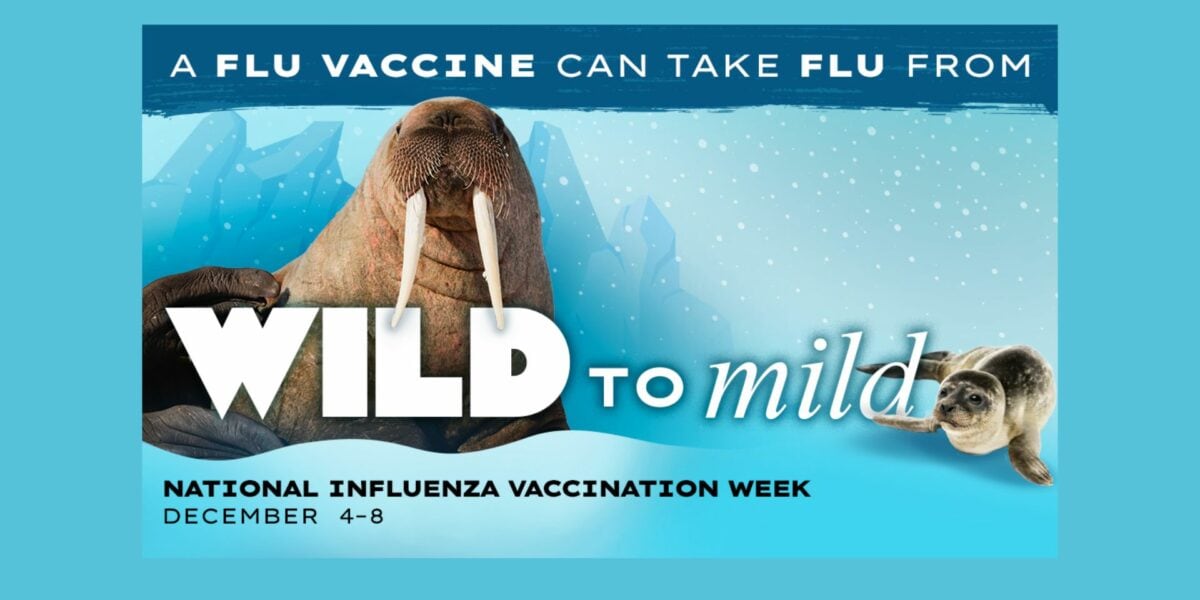 With flu activity on the rise and vaccination rates lagging across the US, NFID is reminding everyone age 6 months and older to get vaccinated against flu