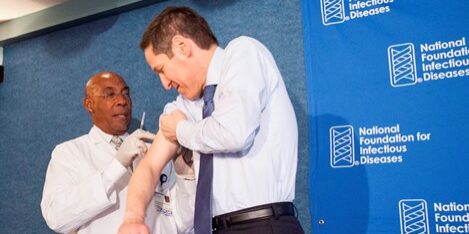 On September 17, 2015, NFID hosted the 19th Annual Influenza/Pneumococcal News Conference at the National Press Club in Washington, DC. Tom Frieden, MD, MPH, director of the Centers for Disease Control and Prevention (CDC), joined with leading medical/public health experts at the news conference and encouraged all individuals age 6 months and older to get vaccinated against influenza (flu) annually.
Panelists joining Dr. Frieden included William Schaffner, MD, medical director of NFID and professor of preventive medicine and infectious diseases at Vanderbilt University School of Medicine; Kathleen Neuzil, MD, MPH, professor of medicine and director, Center for Vaccine Development at the University of Maryland School of Medicine; and Wendy Sue Swanson, MD, MBE, pediatrician, blogger (Seattle Mama Doc) and executive director of Digital Health at Seattle Children's Hospital.
The panelists emphasized the importance of the universal recommendation for everyone age 6 months and older to get an annual flu vaccine.
"Vaccination is the single most important step people can take to protect themselves from influenza," Frieden said. "Flu can be serious and it kills tens of thousands in the US each year. Vaccination is easier and more convenient than ever, so protect yourself and your family with an annual flu vaccine."
Every year in the US, 200,000 people are hospitalized due to seasonal flu-related complications. Last season, the rate of flu-related hospitalizations among those age 65 years and older was the highest since CDC began recording the information about 10 years ago. Flu also hit children hard causing 145 reported pediatric deaths.
Last year's flu vaccine effectiveness was well below average but, "overall, the flu vaccine is usually 50-60% effective," noted Frieden, "it doesn't matter which flu vaccine you get, just get one."
Additionally, panelists reinforced the importance of following the CDC Take 3 Actions to Fight the Flu:
Get an annual flu vaccine
Take every day preventive actions to stop the spread of germs including covering coughs and sneezes, frequent hand-washing, and staying home if you're sick
Take antiviral drugs if prescribed by a healthcare professional
Dr. Schaffner also discussed the importance of pneumococcal vaccination, which is recommended for all individuals age 65 and older and for some under the age of 65, who have chronic health conditions, such as diabetes or chronic lung disease. Pneumococcal vaccination can be given at the same time as the flu vaccine. So when you get your flu vaccination, make sure that you're up to date on other recommended vaccines as well.
View the 2015 NFID Influenza/Pneumococcal News Conference
For additional information about preventing flu this season, visit nfid.org/flu. To learn more about the NFID Leading By Example initiative, calling on leaders in healthcare, business, education, and politics to "lead by example" by making a commitment to influenza prevention, visit nfid.org/lbe.
To join the conversation, follow us on Twitter (@nfidvaccines) using the hashtag #FightFlu, like us on Facebook, join the NFID Linkedin Group, and subscribe to NFID Updates.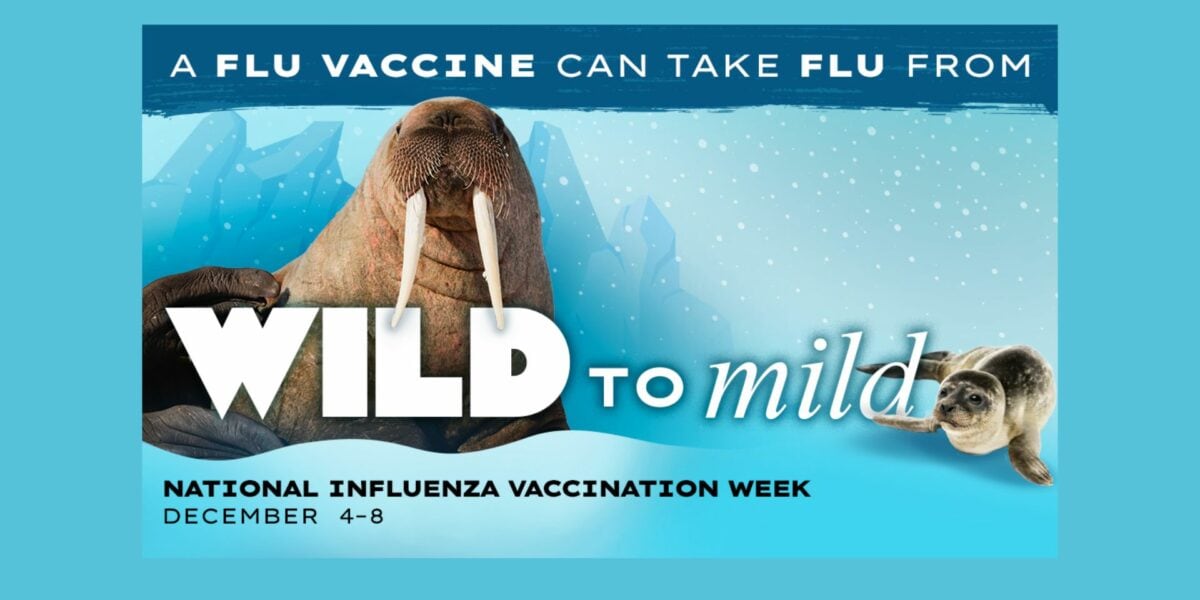 With flu activity on the rise and vaccination rates lagging across the US, NFID is reminding everyone age 6 months and older to get vaccinated against flu