The following resources include proven best practices for increasing HPV immunization rates in preteens, teens, and young adults as well as effective informational and educational tools for healthcare professionals to share with patients.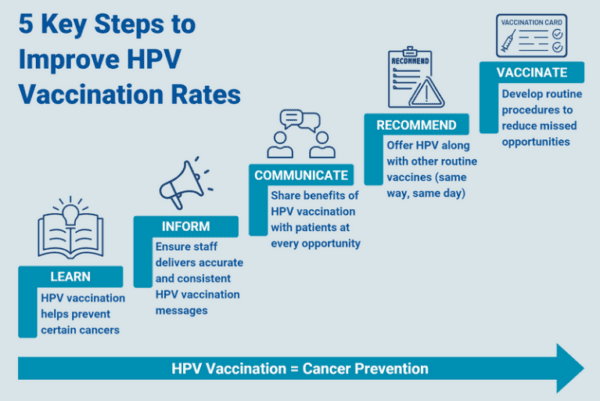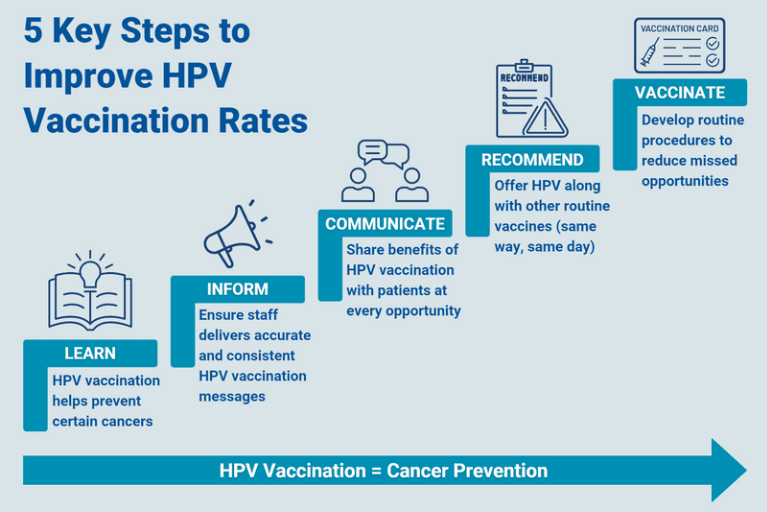 The Centers for Disease Control and Prevention (CDC) recommends 11- to 12-year-olds get two doses of HPV vaccine to protect against cancers caused by HPV. The second dose should be given 6-12 months after the first dose. Those who initiate the vaccination series at or after age 15 years as well as those who are immunocompromised should receive three doses (at 0, 1–2, and 6 months).
Both males and females up to age 26 years who were not adequately vaccinated should receive catch-up HPV vaccination.
Adults age 27-45 years should talk with a healthcare professional about whether HPV vaccination is right for them. Shared clinical decision-making is recommended because some individuals who are not adequately vaccinated might benefit from vaccination.
View CDC Vaccination Recommendations
Standing Orders for Administering Human Papillomavirus Vaccine to Adults: Immunization Action Coalition (IAC) sample policy and procedure for vaccinating adults
Standing Orders for Administering Human Papillomavirus Vaccine to Children and Teens: Immunization Action Coalition (IAC) sample policy and procedure for vaccinating children and teens
Updated March 2023
Source: Centers for Disease Control and Prevention