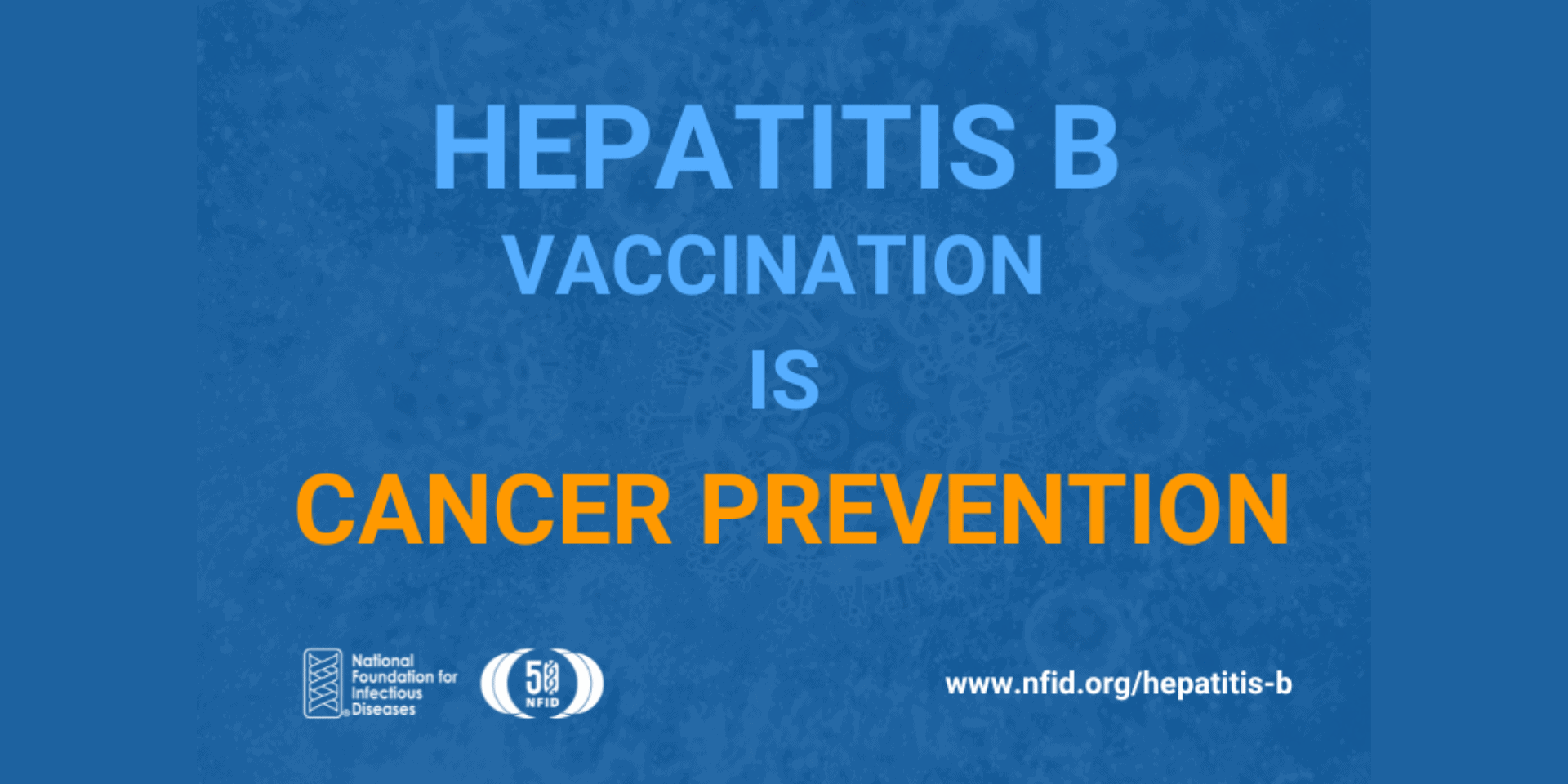 Bethesda, MD (May 19, 2023)—May is Hepatitis Awareness Month and May 19 is Hepatitis Testing Day. The National Foundation for Infectious Diseases (NFID) has spokespersons, videos, and other resources available to help increase awareness about the importance of adult vaccination and screening for hepatitis B, a serious liver disease caused by the hepatitis B virus (HBV).
"Hepatitis B is one of the leading causes of liver cancer in the US," said NFID Medical Director William Schaffner, MD. "For decades now, routine vaccination of US infants and catch-up vaccination for children and teens has helped to protect young people, but far too many adults remain vulnerable."
Adult vaccination rates for hepatitis B have hovered at about 30% for several decades, due in part to complex guidelines that required healthcare professionals to assess as many as 18 different risk factors before determining if a patient should receive hepatitis B vaccine.
However, that changed in April 2022 when the Centers for Disease Control and Prevention (CDC) began recommending universal hepatitis B vaccination for all adults age 19-59 years, and those age 60 years or older with risk factors. More recently, in March 2023, the screening guidelines for hepatitis expanded and CDC now recommends that all adults age 18 years and older get tested for hepatitis B at least once in their lifetime.
Although there is currently no cure for hepatitis B, antiviral treatment and monitoring can help prevent severe illness and death due to HBV infection. "Adults should talk to a healthcare professional about hepatitis B vaccination and testing," says Dr. Schaffner.
About Hepatitis B
Hepatitis B is a serious liver disease caused by the hepatitis B virus (HBV). Many people infected with hepatitis do not have symptoms, masking their infection. According to CDC, about 2/3 of people with hepatitis B are unaware that they are infected. But once infected, individuals can carry the virus throughout their lives as a chronic infection, which for some can lead to liver cirrhosis, liver cancer, and death. HBV infection kills thousands of people in the US each year, usually as a result of complications from liver disease.
About the National Foundation for Infectious Diseases (NFID)
Founded in 1973, the National Foundation for Infectious Diseases (NFID) is a non-profit 501(c)(3) organization dedicated to educating and engaging the public, communities, and healthcare professionals about infectious diseases across the lifespan. View the NFID on-demand webinar, Hepatitis B Prevention Strategies, to learn more about recommendations for hepatitis B vaccination in US adults, along with strategies to effectively communicate current recommendations. Learn more at www.nfid.org/hepatitis.
Contact: Diana Olson at dolson@nfid.org.
---
NFID Videos: Hepatitis B Can Be Prevented
Sorry, we couldn't find any posts. Please try a different search.