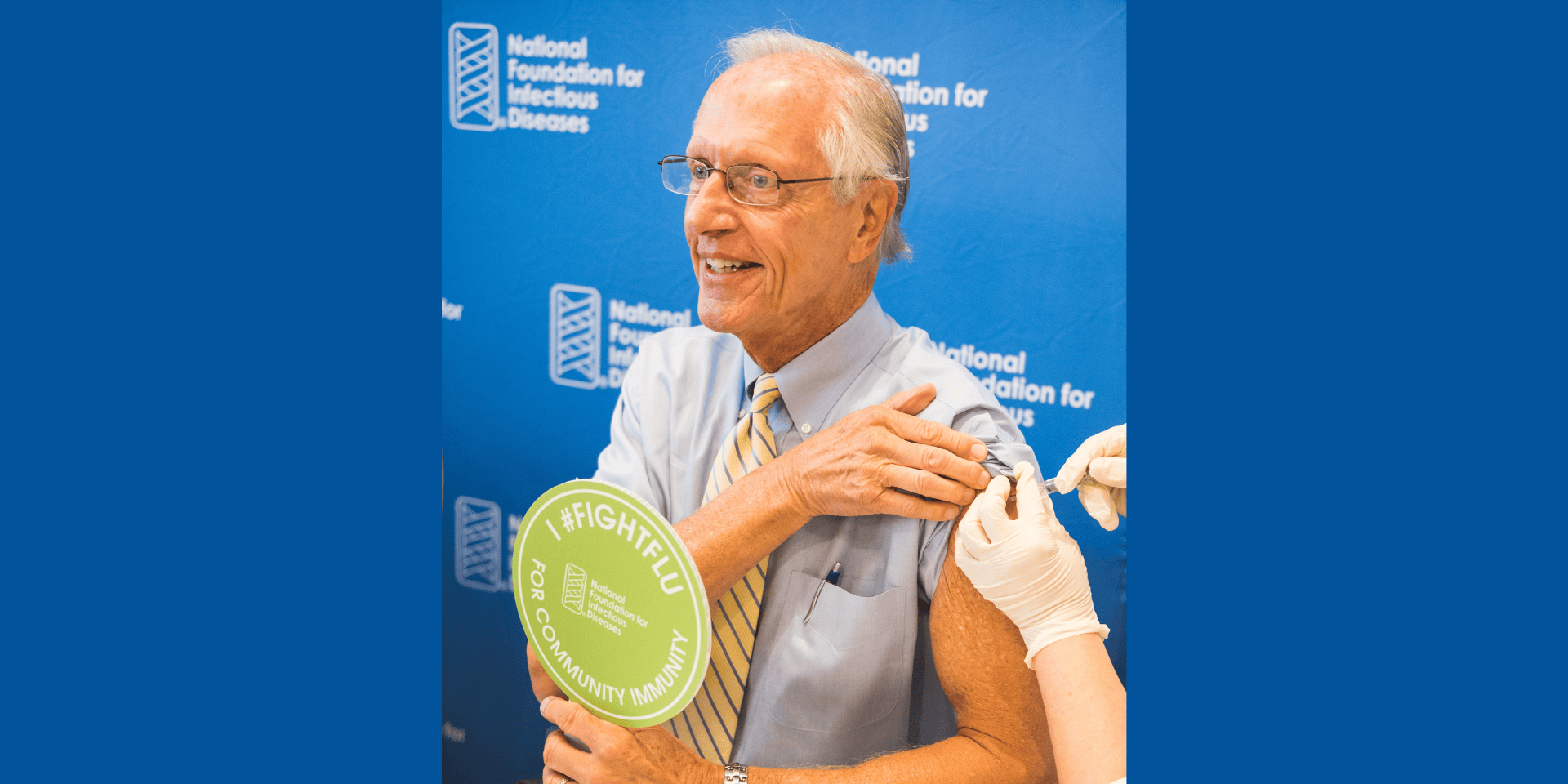 Special thanks to William Schaffner, MD, NFID Medical Director and Professor of Preventive Medicine and Infectious Diseases at Vanderbilt University School of Medicine, for this guest post about the importance of influenza vaccination for individuals age 65 years and older.
During the 2016 Annual NFID Influenza/Pneumococcal News Conference, Tom Frieden, MD, MPH, Director of the Centers for Disease Control and Prevention (CDC) announced a 3.4 percentage point decrease in influenza vaccination coverage among US adults age 65 years and older, bringing the rate down to 63.4% for the 2015-2016 season, well below US public health goals. As a nation, we need to do far better to protect this vulnerable population.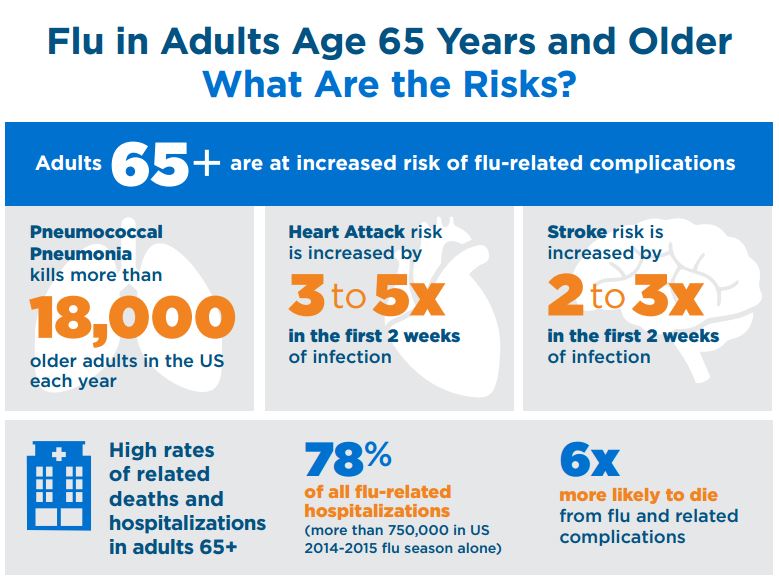 Adults age 65 years and older are six-times more likely to die from flu and related complications compared to the general population. They are hospitalized at the highest rates of any age group and have an increased risk of bacterial lung infections, most notably pneumococcal disease. Perhaps less well known is that influenza also increases the risk of heart attack by 3 to 5 times and stroke by 2 to 3 times in the first 2 weeks of infection, with the risks remaining elevated for up to 3 months.
The increased risks in older adults are due to an age-related decline in the immune system (immunosenescence) combined with a higher likelihood of chronic conditions and age-related anatomic changes including decreased strength in respiratory muscles that makes it harder to clear pathogens from the lungs. Immunosenescence also affects immune response to vaccination. Influenza vaccination may not completely protect older persons but if they do get influenza, it is likely to be less severe with fewer complications.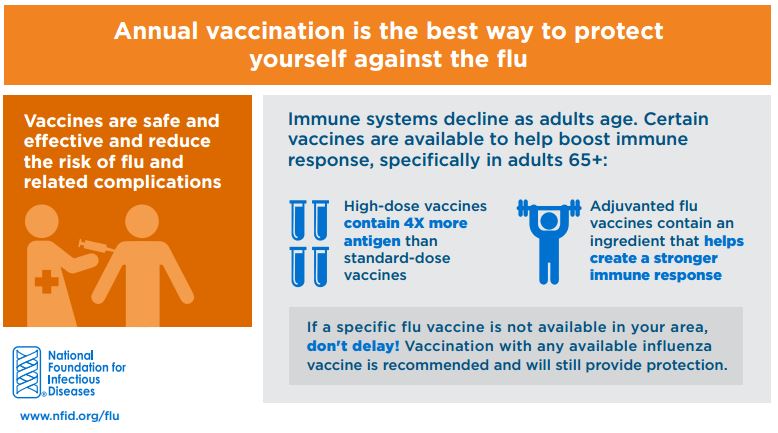 Two specialty vaccines approved for the 65+ population are designed to provide a better immune response. The high-dose flu vaccine has been available in the US since 2009 while the adjuvanted vaccine was first approved for use in the US during the 2016-2017 season. Both vaccines are associated with somewhat more injection-site reactions but a higher immune response for older adults.
Patients should be vaccinated with any available approved influenza vaccine, even if their first choice of vaccine type is not available. CDC states (and I wholeheartedly agree) that it is far better to vaccinate at the first opportunity with whichever vaccine is available than to delay. A vaccine deferred is often a vaccine never received.
Fortunately, there is plentiful supply and various influenza vaccine choices to help prevent influenza. Healthcare professionals need to strongly recommend vaccination for all indicated patients, and especially those age 65 years and older. They should also encourage their patients to ask their caregivers, family members, and friends to get vaccinated to provide an additional zone of protection.
To learn more about this important topic, read the NFID Call to Action: Reinvigorating Influenza Prevention in US Adults Age 65 Years and Older and download and share the infographic "Flu in Adults Age 65 Years and Older: What Are the Risks?"
To join the conversation, follow NFID on Twitter (@nfidvaccines) using the hashtag #FightFlu, like us on Facebook, join the NFID Linkedin Group, and subscribe to NFID Updates.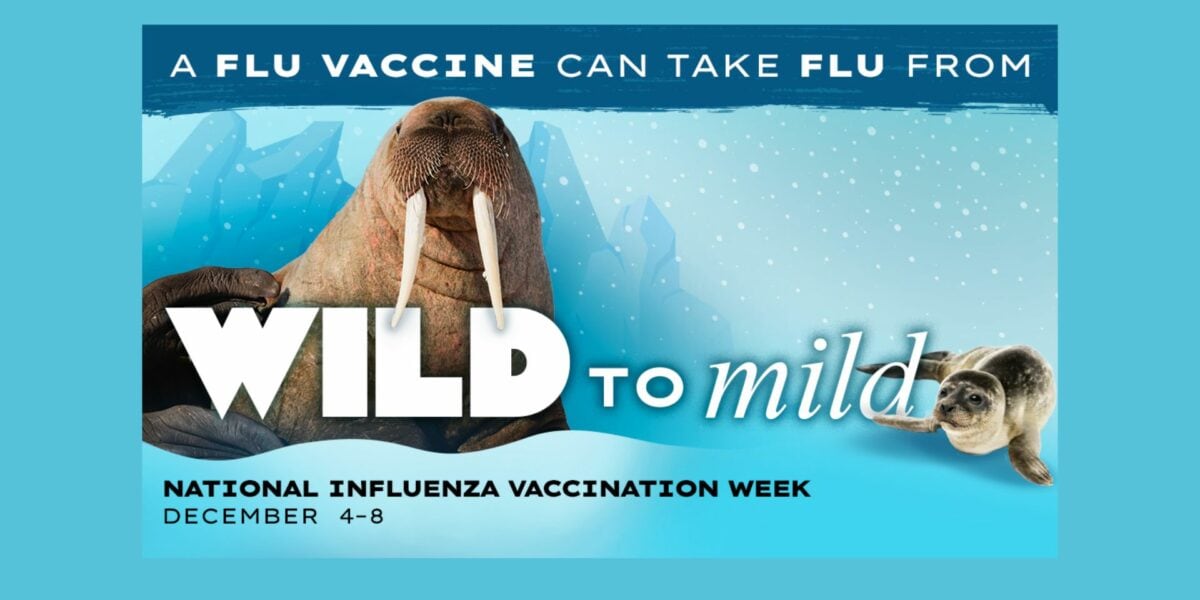 With flu activity on the rise and vaccination rates lagging across the US, NFID is reminding everyone age 6 months and older to get vaccinated against flu