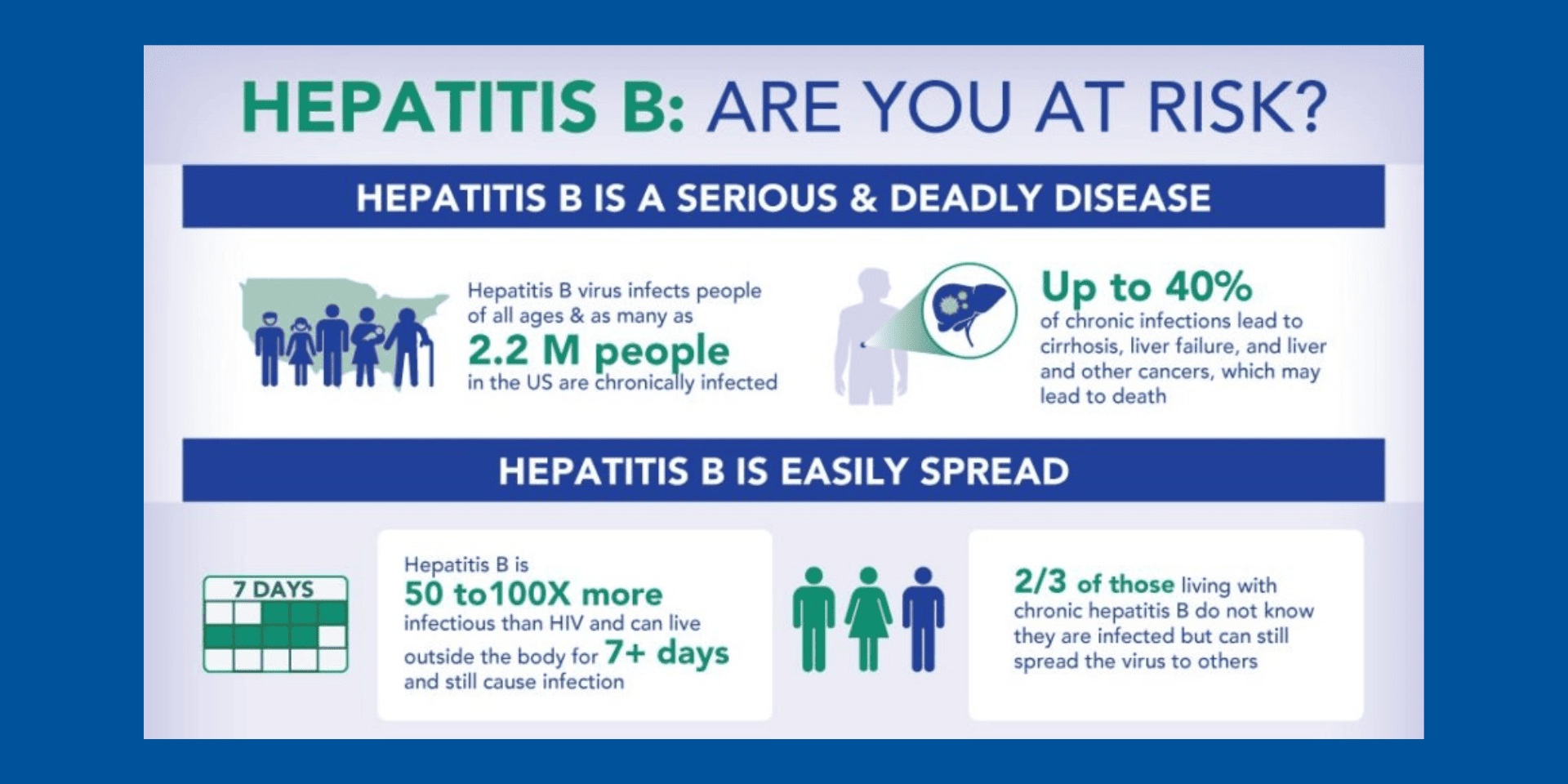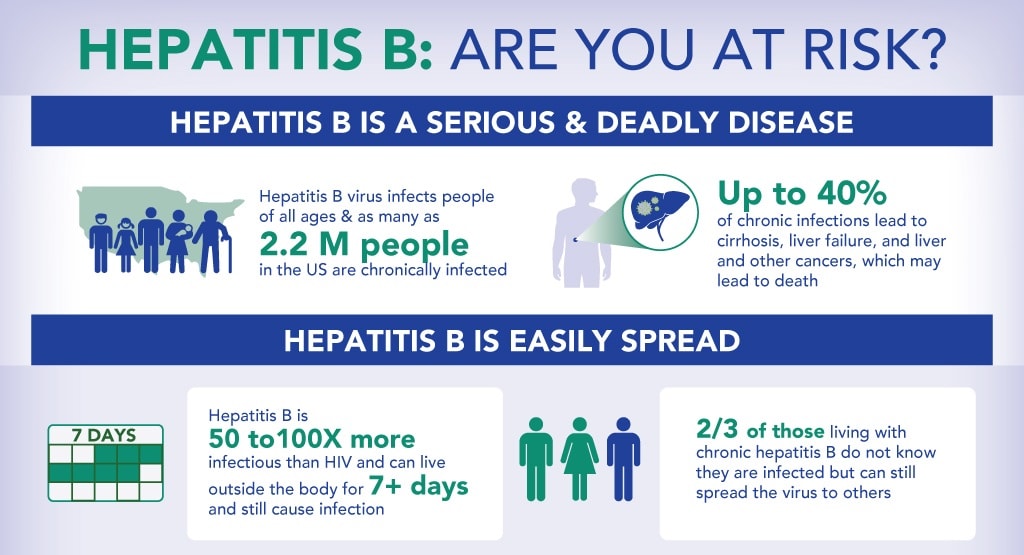 Did you know that in the US, two out of three people living with chronic hepatitis B do not know they are infected but can still spread the virus to others?
Nearly three decades ago, the US adopted a public health strategy aimed at eliminating transmission of the hepatitis B virus (HBV) and infection rates have been steadily declining in the US since widespread vaccination of children began in the 1990s. However, HBV infection rates have leveled off and there are some indications that they now may be on the rise, due to the rising rate of injection drug use connected to the opioid crisis.
Universal vaccination in children and risk-based vaccination in adults were critical parts of the plan to eliminate transmission of HBV. While uptake of childhood vaccination has been largely successful (more than 90% of US children are vaccinated), adult vaccination rates are well below US public health goals at just 25%—three in four at-risk adults are unvaccinated and vulnerable to infection. This significant gap has serious consequences. As many as 2.2 million people in the US are estimated to be chronically infected with HBV and 40% of them will go on to develop cirrhosis, liver failure, or liver cancer.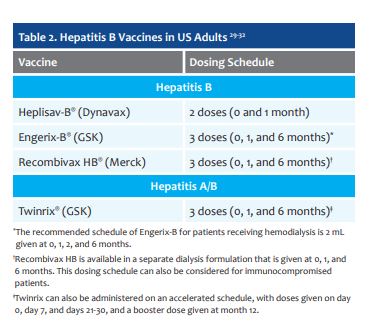 More must be done to ensure that vaccination is provided to all those at-risk of HBV infection. The good news is that we have safe and highly effective vaccines available in our toolbox. There are four hepatitis B vaccines currently approved for use in US adults (one is a combination hepatitis A/B vaccine). All provide excellent and long-lasting protection. One of the four vaccines requires just two doses one month apart, while the others require a third dose six months after the first.
In order to increase awareness of this important public health issue, the National Foundation for Infectious Diseases (NFID) has developed a toolkit of resources for healthcare professionals and consumers about the burden of hepatitis B and the importance of vaccination. The tools and resources were developed based on discussions at a June 2018 multidisciplinary Roundtable that are summarized in a Call to Action supported by more than 20 organizations representing hepatitis experts, policy makers, healthcare professionals, and consumer health advocates.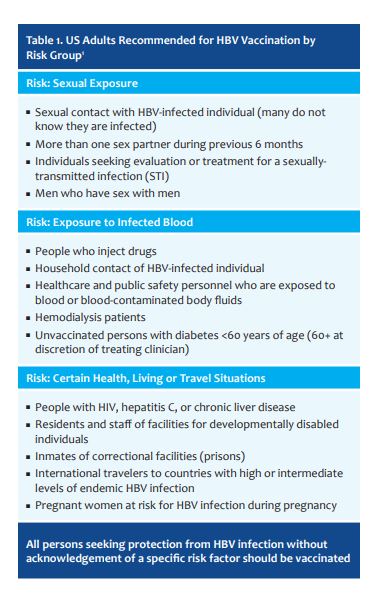 The diverse group of Roundtable participants included many unique stakeholders due to the extensive list of risk factors that move adults into the "recommended for HBV vaccination" category. The risks are mainly connected to sexual activity or exposure to contaminated blood, such as through needles.
It is important to point out that even when the risk factor is less stigmatized, hepatitis B vaccination rates remain low. For example, only 26% of adults with diabetes between 19-59 years old get vaccinated as recommended. These suboptimal rates show that stigma is not the only barrier to vaccination; there are also practical issues including vaccine ordering, storage, and reimbursement for the two- or three-dose vaccine series, depending on which vaccine is used.
"I can tell you from my own experience, that there is a lot of stigma involved with this disease. Patients may not want to admit to risk behaviors. That's why we, as physicians, need to be proactive in discussing hepatitis B vaccination with our patients."

-Amra Resic, MD, Family Medicine Physician and Representative of the American Academy of Family Physicians
The NFID hepatitis B resources were developed to help healthcare professionals better understand current hepatitis B vaccine recommendations and overcome challenges to incorporating them into practice, to make sure high-risk patients are protected from this serious and deadly disease.
The toolkit includes the following free resources:
To view the toolkit and access resources, including sample social media posts and graphics, visit www.nfid.org/hepatitis-b-toolkit.
Share the information widely with colleagues and patients to help #PreventHepatitis!
To join the conversation and get the latest news on infectious diseases, follow NFID on Twitter and use the hashtag #PreventHepatitis, like us on Facebook, follow us on Instagram, join the NFID Linkedin Group, and subscribe to NFID Updates.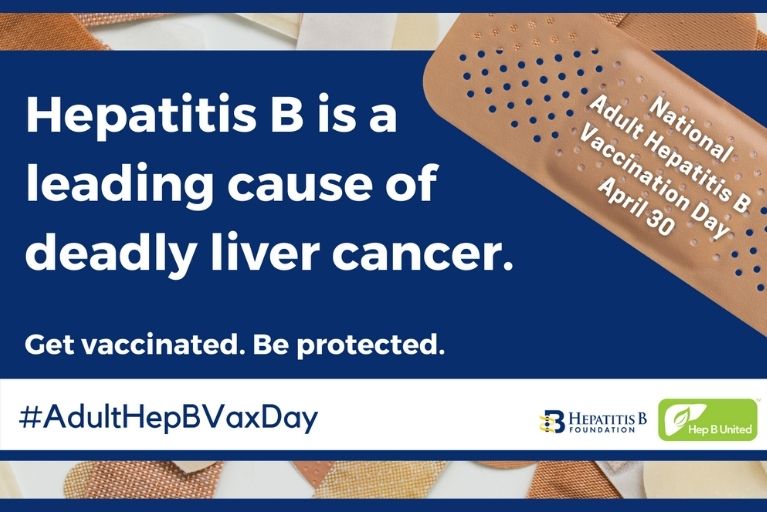 April 30 is National Adult Hepatitis B Vaccination Awareness Day. As the hepatitis B vaccine recommendation for adults shifts from risk-based to routine, there is an opportunity to increase adult vaccination rates, and education will be a critical part of successfully implementing the new recommendation. Special thanks to Michaela Jackson, MPH, MS, prevention policy manager of the Hepatitis B Foundation for this guest blog post on the importance of preventing hepatitis B in adults …