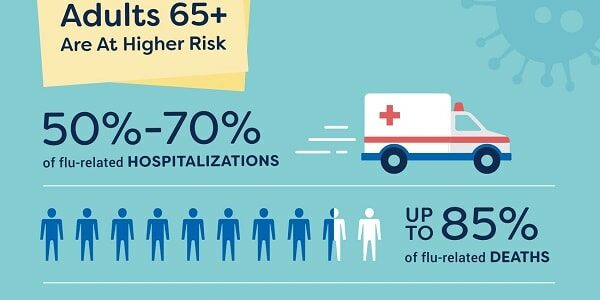 Did you know that in the US, adults age 65 years and older account for more than half (50-70%) of all flu-related hospitalizations and most (85%) flu-related deaths?
The phenomenon known as immunosenescence describes how the body grows weaker with aging, making the immune system less effective in fighting off infections. As a result, adults age 65+ have an increased risk of hospitalization and complications from flu. Older adults with chronic conditions, like heart disease, diabetes, and rheumatoid arthritis, are at an even higher risk of developing serious flu-related complications.
The Centers for Disease Control and Prevention (CDC) recommends routine annual influenza vaccination for all individuals age 6 months and older, with a licensed age-appropriate vaccine. No preferential recommendation is made for one influenza vaccine product over another for persons for whom more than one licensed, recommended product is available.
There are safe and effective flu vaccines licensed by the Food and Drug Administration (FDA) that are specifically designed for adults age 65 years and older, including high-dose and adjuvanted vaccines, to provide protection against flu.
Healthcare professionals (HCPs) play a critical role in helping to protect older patients against flu. In fact, older adults are more 
likely to get a flu shot when recommended by their physician. To help HCPs talk to patients about the importance of annual influenza vaccination, NFID has created a toolkit of resources as part of the Care for Older Adults? Care About Flu! campaign.
The toolkit includes a fact sheet of the risks of flu in older adults, an infographic to visually illustrate the unique risks and potential complications of flu among older adults, customizable on-hold scripts to help guide conversations with patients, a 30 second animated public service announcement video, and additional resources to ensure that older patients get the protection against influenza that they deserve.
As community leaders, HCPs are key to protecting older adults against flu and a strong HCP recommendation for annual vaccination matters! NFID is committed to providing easy-to-use materials for HCPs, to aid in the prevention of infectious diseases across the lifespan. To learn more, view the NFID complimentary webinar focused on the critical role that HCPs play in protecting adults age 65 years and older against influenza.
Together, we can all #FightFlu!
To join the conversation, follow NFID on Twitter using the hashtag #FightFlu, like us on Facebook, follow us on Instagram, join the NFID Linkedin Group, and subscribe to NFID Updates.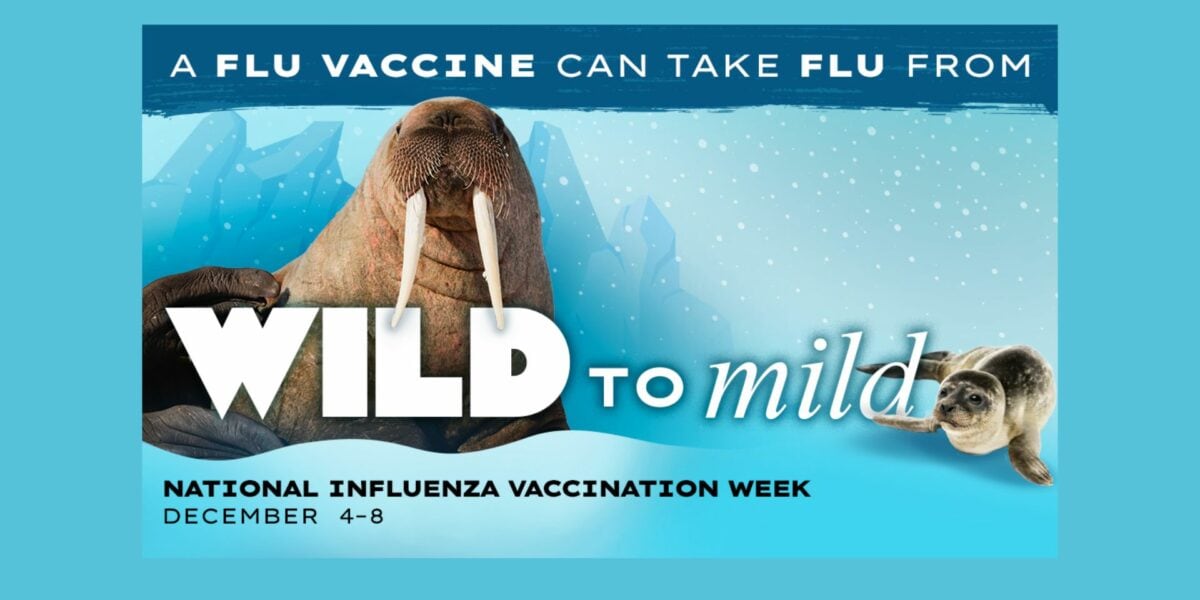 With flu activity on the rise and vaccination rates lagging across the US, NFID is reminding everyone age 6 months and older to get vaccinated against flu