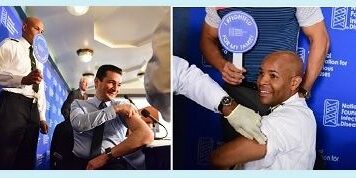 US Surgeon General Jerome M. Adams, MD, MPH joined medical/public health leaders at the annual NFID Influenza/Pneumococcal News Conference on September 27, 2018 to discuss the importance of preventing influenza (flu) and pneumococcal disease and to encourage all individuals age 6 months and older to get vaccinated against flu every year.
Adams was joined by an expert panel, moderated by NFID Medical Director William Schaffner, MD. Panelists included Wendy Sue L. Swanson, MD, MBE (Chief of Digital Innovation at Seattle Children's Hospital) and Laura E. Riley, MD (Given Foundation Professor and Chair of the Department of Obstetrics and Gynecology at Weill Cornell Medicine).
Scott Gottlieb, MD, Commissioner of Food & Drugs at the US Food & Drug Administration, Daniel B. Jernigan, MD, MPH, Influenza Division Director at the Centers for Disease Control and Prevention (CDC), and Joe Thomas, NFID Flu Ambassador and 2006 Outland Trophy Winner, also led by example and got vaccinated against flu at the news conference.
View the video of the news conference:
Experts discussed the impact of flu and pneumococcal disease and the importance of vaccination. The 2017-2018 flu season was especially severe—with an estimated 900,000 hospitalizations and 80,000 deaths.
@NFIDvaccines Medical Director William Schaffner speaks about the unpredictability of the flu and urges everyone six months and older to get vaccinated. Get your #flushot. More at https://t.co/cHdd4nmAC5. #FightFlu pic.twitter.com/77LaA3s69L

— MedStar VNA (@MedStarVNA) September 27, 2018
"Any flu death is one too many. That's why it is so important for everyone 6 months and older to get a flu vaccine every year. Flu vaccination can save a life." Speaking at the @NFIDvaccines conference. #FightFlu pic.twitter.com/0fogFR2d9R

— US Surgeon General (@Surgeon_General) September 27, 2018
Vaccination rates among children age 6 months to 17 years have fallen short of the 80% US public health goal for several previous flu seasons. Last season, rates dropped from 59% to 57.9%. The death toll for children during the 2017-2018 US flu season was a record-breaking 180—surpassing the previous high of 171 for a nonpandemic influenza season. Of note, most of the children who died last season were not vaccinated against flu.
Pediatrician Dr. Wendy Sue Swanson @SeattleMamaDoc at #FightFlu event hosted by @NFIDvaccines and @CDCgov. The flu vaccine is an essential, every year vaccine for all children age 6 months and up. Learn more here: https://t.co/9L3evn8BB5 pic.twitter.com/SbaEJjFuS9

— American Academy of Pediatrics (@AmerAcadPeds) September 27, 2018
Protecting children begins by protecting pregnant women. Influenza can cause more severe illness in pregnant women and flu symptoms, particularly fever, can also harm a developing baby. All women who are pregnant or planning to become pregnant should receive an influenza vaccine. During the 2017-2018 season, CDC estimates that nearly half (49.1 percent) of women who were pregnant were vaccinated.
Dr. Riley making case for influenza vaccination in pregnant women. #FightFlu pic.twitter.com/s2ZSWu92BR

— Shmuel Shoham, MD (@ShohamTxID) September 27, 2018
US Surgeon General, Jerome M. Adams, MD, MPH, also noted that the 2017-2018 flu season was especially deadly for older adults and individuals with chronic medical conditions, such as heart and lung disease, diabetes, and obesity, as they are at high risk for flu-related complications. According to CDC, about 70% of hospitalizations and 90% of deaths last year occurred in those age 65 years and older.
#DYK: Getting vaccinated may also help protect people around you, including those who are more vulnerable to serious #flu illness, like babies, young children, older adults, and people with chronic health conditions. #FightFlu  https://t.co/iOkqdEhXrn pic.twitter.com/eR9QDteaGX

— US Department of Health and Human Services (@HHSGov) September 27, 2018
Panelists also emphasized the CDC Take 3 approach to flu prevention
Get vaccinated against flu each year
Take everyday preventive actions to stop the spread of germs
Take antiviral drugs if prescribed.
If you do get #flu, ask your healthcare provider about antiviral drugs to help reduce the severity and length of illness #FightFlu pic.twitter.com/9urXWZB38u

— NFID (@NFIDvaccines) September 27, 2018
Influenza and pneumococcal vaccination are an important part of managing chronic diseases. By getting vaccinated against flu and pneumococcal disease, we can all do our part to stay healthy and interrupt the spread of these serious diseases.
@NFIDvaccines media conference also highlights the importance of vaccinating against #pneumococcal disease, especially for those with chronic conditions. Remember influenza & co-infection with #pneumococcal can be deadly. #FightFlu

— lj_tan (@lj_tan) September 27, 2018
Following the panel discussion and media Q&A, all attendees were encouraged to get their annual flu shots at the onsite vaccine clinic provided by Medstar Visiting Nurse Association.
Protect yourself, your family & community w/a flu shot. It's recommended for most ages 6 months & older, especially those at high-risk, such as seniors, pregnant women & young children. Here's FDA Commissioner @SGottliebFDA getting his today! #FightFlu https://t.co/FlIbp9P35i pic.twitter.com/SRO5ujwYiL

— US Food & Drug Administration (@US_FDA) September 27, 2018
Everyone six months and older should be vaccinated against the #flu. Check out @Surgeon_General leading by example. Visit https://t.co/iOkqdEhXrn for more tips on preventing the flu. #FightFlu pic.twitter.com/1MPFRDqZZF

— HHS.gov (@HHSGov) September 27, 2018
Trying not to cry #FightFlu Good thing @Surgeon_General was there to catch me if I rolled off the chair and passed out pic.twitter.com/1GxHGdSsNO

— Joe Thomas (@joethomas73) September 27, 2018
Thanks to @NFIDvaccines for #LeadingbyExample and holding such an awesome event! #FightFlu pic.twitter.com/NBJYRO2qhs

— Sue Peschin (@SuePeschin) September 27, 2018
#FF Thx to partners working to #FightFlu @AVACNow @AIM_IZ @Aging_Research @ImmunizeAction @HealthIsPrimary @NACCHOalerts @schoolnurses @NMQF @DeptVetAffairs @VaxYourFamily @theAMGA @AADEdiabetes @TheFWAA @outlandtrophy @CMSGov @geronsociety @HHSvaccines @AAPCHOtweets @IAmBiotech pic.twitter.com/5ilgbwLOhB  — NFID (@NFIDvaccines) September 28, 2018
4 Ways You Can Help #FightFlu
Join the Leading By Example (LBE) initiative, calling on leaders in healthcare, business, education, and politics to lead by example by making a commitment to annual influenza prevention.
Update your Facebook profile page with a #FightFlu frame featuring one of the images below. On your Facebook profile image, select Update Profile Picture, add frame, and search for #FightFlu
Help spread awareness, not flu! Download and print out the Traveling Flu Bug, take a picture of the cutout in your hometown, office, school, or near an interesting landmark, and post it on social media using #TravelingFluBug and #FightFlu.
Post a flu vaccine selfie on Twitter with the hashtag #FightFlu.
To join the conversation and get the latest news on infectious diseases, follow NFID on Twitter using the hashtag #FightFlu, like us on Facebook, follow us on Instagram, join the NFID Linkedin Group, and subscribe to NFID Updates.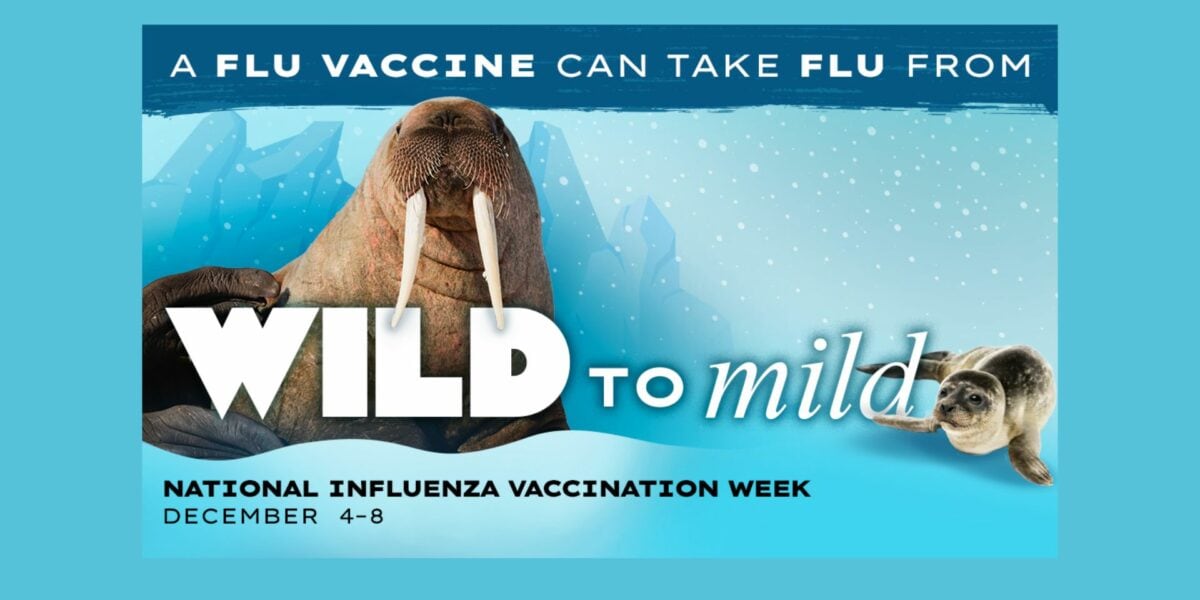 With flu activity on the rise and vaccination rates lagging across the US, NFID is reminding everyone age 6 months and older to get vaccinated against flu