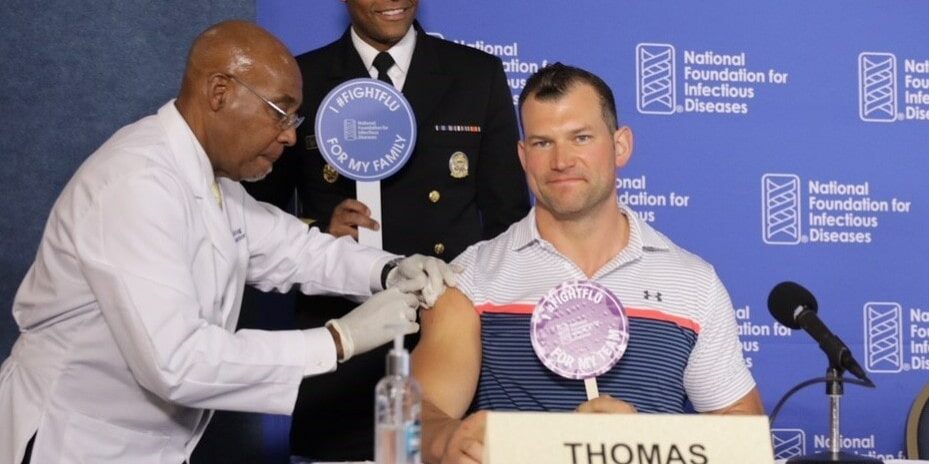 Special thanks to Joe Thomas, National Foundation for Infectious Diseases (NFID) #FightFlu ambassador, former Cleveland Browns National Football League (NFL) player, and 2006 Outland Trophy winner, for this guest blog post highlighting the importance of  influenza (flu) prevention during National Influenza Vaccination Week. NFID is partnering with the Football Writers Association of America (FWAA) to present the 2018 Outland Trophy, awarded to the best interior lineman in college football.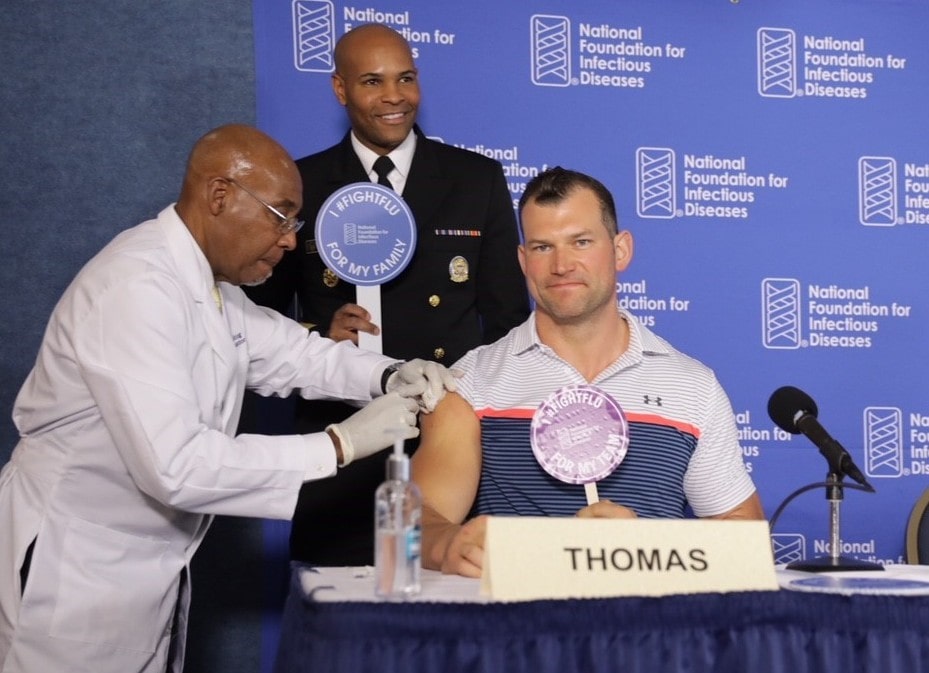 "Why should I get a flu vaccine?" Believe it or not, I sometimes get asked this question. My answer is simple: Get vaccinated against flu this year and every year. If you need a good reason, I can give you about 80,000. That's the number of people who died from flu and flu-related complications in the US during the 2017-2018 flu season—and 185 of them were children, which is shocking and sad to me as a dad.
As a former Cleveland Browns player, I know the value of a good defense, and that's why I get a flu shot every year. As the parent of a newborn, it's also important that my whole family gets vaccinated to protect my baby daughter, who is too young to be immunized.
According to NFID, flu is a highly contagious viral infection of the nose, throat, and lungs that usually starts to circulate in the US each fall, right along with football season, and can last through the winter and early spring. Flu is a serious infection—in the US, last year's flu season was one of the worst on record, causing more than 950,000 hospitalizations.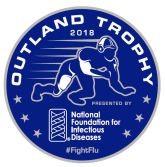 To help raise awareness about the importance of flu prevention, NFID has partnered with the FWAA to present the 2018 Outland Trophy, awarded to the top interior lineman in college football. As part of the campaign, I am serving as a #FightFlu ambassador. This year, I got my flu vaccine in September in Washington, DC with US Surgeon General Jerome Adams and Scott Gottlieb, MD, US Food & Drug Administration (FDA) Commissioner at a press conference sponsored by NFID.
Although the flu vaccine may not be perfect, you will be a lot better off if you do get vaccinated each year. Even if you do get the flu, the vaccine can help make your illness milder and reduce the time you are sick. Getting vaccinated is also a good way to protect other people you come into contact with—whether it's your family, neighbor, teammate, or even members of the opposing team.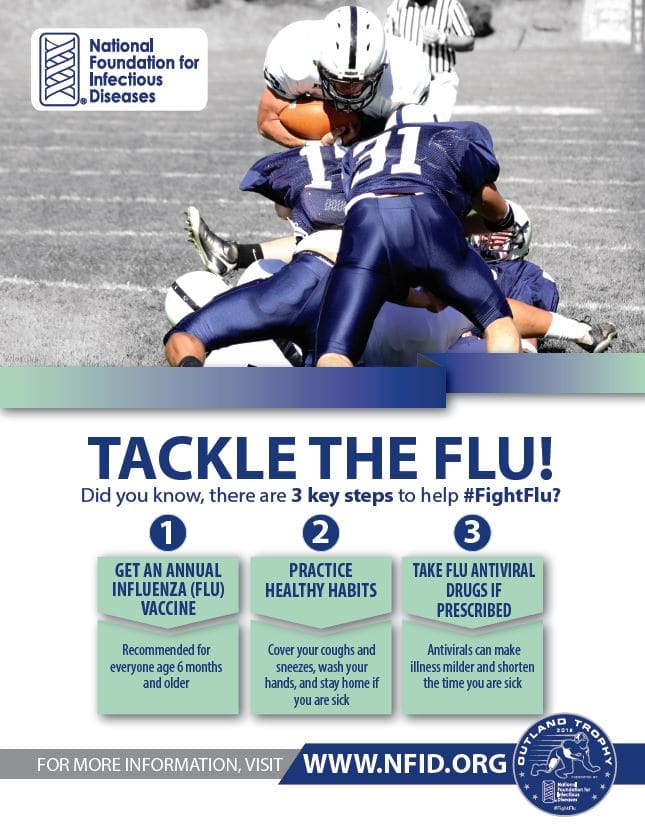 So what can you do to help #FightFlu? NFID and the Centers for Disease Control and Prevention (CDC) recommend a "Take 3" approach to flu prevention:
Get your flu vaccine every year. It's the best first line of defense. CDC recommends that everyone age 6 months and older get vaccinated against flu annually.
Practice healthy habits. Cover your coughs and sneezes, wash your hands frequently, and stay home when you are sick.
If you do get sick and you suspect it's flu, call a healthcare professional right away and take antiviral medicine if prescribed.
Football fans across the country may have seen these three steps laid out in an NFID 'Tackle the Flu' ad featured in NCAA college football game-day programs and NFL team yearbooks. Maybe you've seen the #TravelingFluBug, who's been showing up at football games everywhere to help spread awareness about flu.
 Getting an annual flu vaccination is your best defense against the flu. If you're age 6 months or older, this means you!
-Joe Thomas, 2006 Outland Trophy winner and #FightFlu Ambassador
Be sure to keep an eye out for #FightFlu messaging on ESPN tonight (7 PM ET, Thursday, December 6, 2018), as the Outland Trophy winner is announced during the College Football Awards Show, which just so happens to coincide with National Influenza Vaccination Week. The official presentation of the 2018 Outland Trophy will be made at an awards dinner in Omaha, NE on January 9, 2019.
For more information about the partnership between NFID, FWAA, and the Outland Trophy, read a previous post, Tackle the Flu This Football Season: #GetVaccinated to #FightFlu.
And to find out where you can get a flu shot near you, visit vaccinefinder.org
To join the conversation, follow NFID (@NFIDvaccines), Joe Thomas (@joethomas73), and  Outland Trophy (@outlandtrophy) on Twitter using the hashtag #FightFlu, like NFID and Outland Trophy on Facebook, follow NFID on Instagram, join the NFID Linkedin Group, and subscribe to receive future NFID Updates.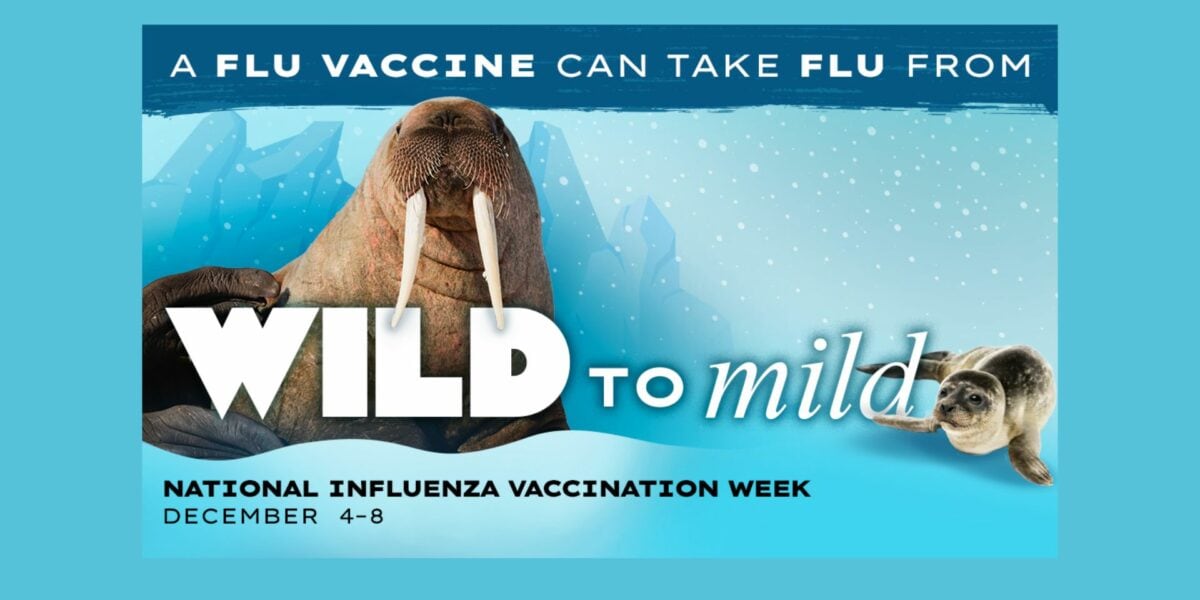 With flu activity on the rise and vaccination rates lagging across the US, NFID is reminding everyone age 6 months and older to get vaccinated against flu