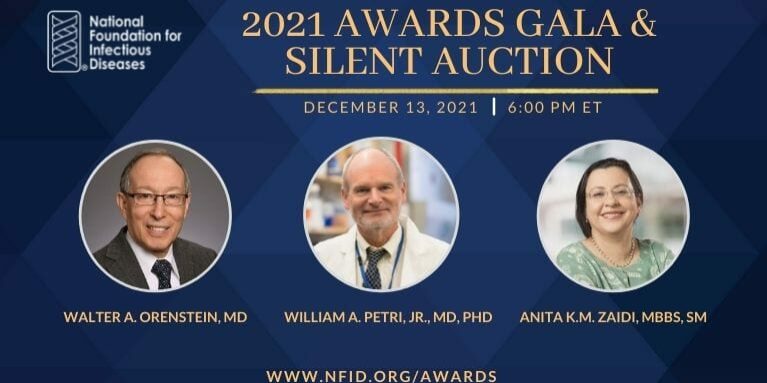 The National Foundation for Infectious Diseases (NFID) is honoring three outstanding individuals who have made significant and lasting contributions to public health: Anita K.M. Zaidi, MBBS, SM, director of vaccine development, surveillance, and enteric and diarrheal diseases, and president of gender equality at the Bill & Melinda Gates Foundation; William A. Petri, Jr., MD, PhD, vice chair for research in the Division of Infectious Diseases and International Health at the University of Virginia Department of Medicine; and Walter A. Orenstein, MD, professor of medicine, global health, and pediatrics at Emory University and NFID Past President. These inspirational public health heroes will be honored at the virtual NFID Annual Awards Gala & Silent Auction on December 13, 2021.
We asked the 2021 NFID awardees about the changes and challenges they have seen in the healthcare profession throughout their noteworthy careers…
2021 Jimmy and Rosalynn Carter Humanitarian Award:
The biggest threat is not recognizing that tackling infectious diseases will require the whole world to work together. COVID-19 is an obvious example where we addressed a disease as a country-specific problem, and it quickly became a global problem. We cannot stop travel, so we cannot rely on boundaries to stop diseases.
There is an opportunity to work together and set up global prevention and response structures as we are doing to address the climate change crisis. This means investing in public health infrastructure to enable prevention and early detection of infectious disease outbreaks in the poorest parts of the world, as well as in the richest. Lack of investment in public health has caused ancient diseases like syphilis to have a  resurgence in the US. There were almost 2,000 cases of congenital syphilis in the US in 2000!
We need the world to come together to understand that if an infectious disease is a problem anywhere, the disease is a problem everywhere.

Anita K.M. Zaidi, MBBS, SM
2021 Maxwell Finland Award for Scientific Achievement
Health inequality is holding us back as a society. Locally, we see this in the disproportionate impact of the pandemic on the Black and Latinx communities, and globally, through unequal access to life-saving COVID-19 vaccines. Mixed in with this is the second problem of politicization or lack of trust in science that has hindered vaccination and treatment.
We practice medicine and enjoy our society through generations of physicians and scientists who have preceded us with advancement and discoveries, and are therefore obligated to pay this back, but going forward to benefit our children and grandchildren.
Each of us can and should contribute to new knowledge.

William A. Petri, Jr., MD, PhD
2021 John P. Utz Leadership Award
We need to learn lessons from the COVID-19 pandemic to avoid disasters in the future. This includes assuring that we have a trained workforce to address such pandemics, sufficient resources to implement pandemic mitigation measures, and adequate surveillance and research capacity to detect potential emerging pathogens early and take steps to prevent them from evolving into pandemic agents.
We need to build the political will to assure this all gets done. Prevention can be hard to sell. This is very different from therapy when the person suffering clearly can see the benefits of effective treatment.
When prevention happens, nothing happens. Thus, people may not realize the benefits.

Walter A. Orenstein, MD
Join Us Online on December 13, 2021 to Honor the NFID Awardees
The NFID Annual Awards Gala & Silent Auction is the premier annual fundraising event for NFID and celebrates the work of inspirational public health heroes. Support the NFID mission and help honor the 2021 awardees. Note that tickets are required to participate in the virtual event and may be purchased at www.nfid.org/awards.
To join the conversation, share your thoughts in the comments below, follow NFID on Twitter using the hashtag #NFIDAwards, like us on Facebook, follow us on Instagram, visit us on LinkedIn, and subscribe to receive future NFID Updates.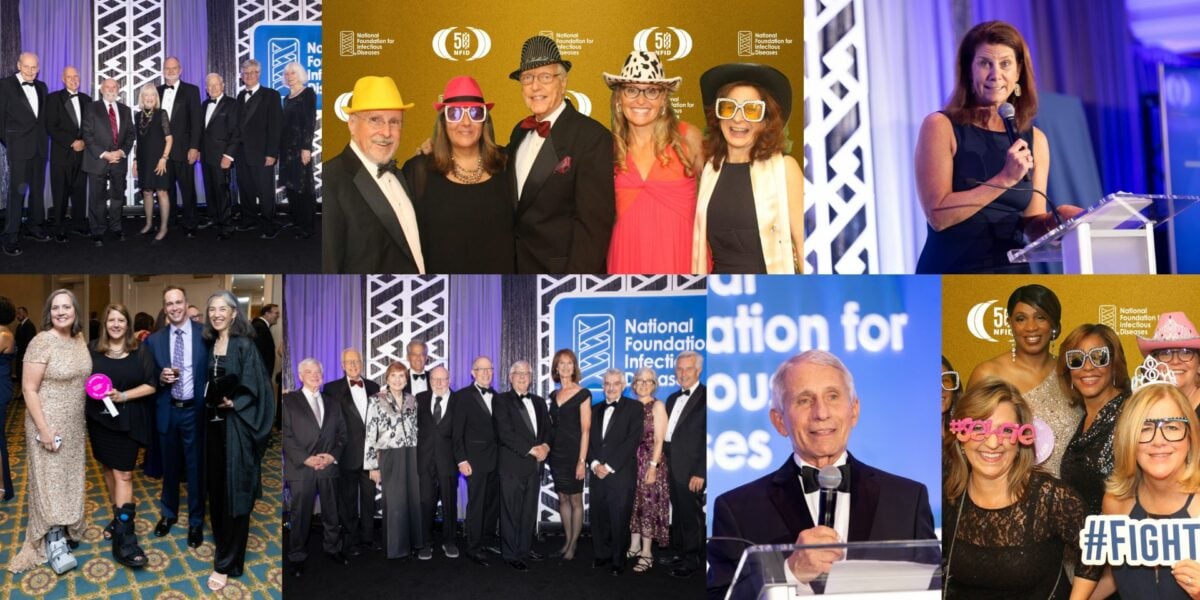 The stars of public health gathered together for the star-studded NFID 50th Anniversary Gala, including more than 20 past recipients of the prestigious NFID awards