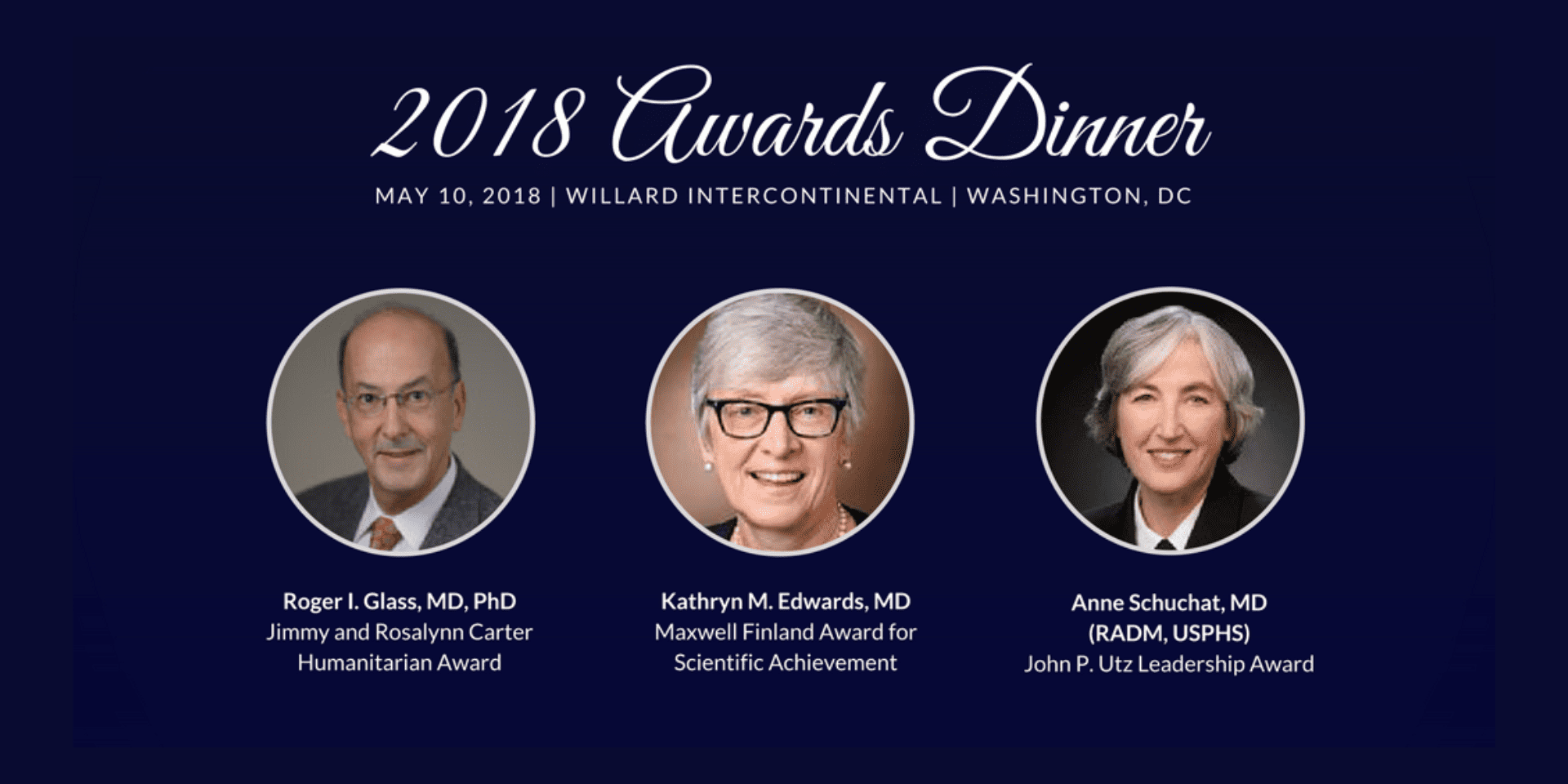 Founded in 1973, the National Foundation for Infectious Diseases (NFID) is a non-profit  organization dedicated to educating the public and healthcare professionals about the causes, prevention, and treatment of infectious diseases across the lifespan. As we celebrate our 45th anniversary, we are proud to honor three individuals who have made significant and lasting contributions to public health: Kathryn M. Edwards, MD; Roger I. Glass, MD, PhD; and Anne Schuchat, MD (RADM, USPHS).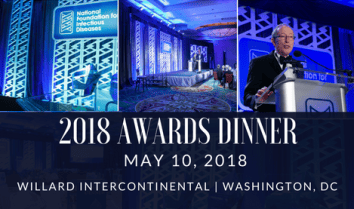 The 2018 NFID Awards will be presented at a black-tie dinner on Thursday, May 10, 2018 at the historic Willard InterContinental hotel in Washington, DC. Limited tickets are still available for purchase at www.nfid.org/awards.
As a preview of the celebration, the awardees shared insights on those who had the greatest impact on their professional career development and what inspired them to work in the field of infectious diseases.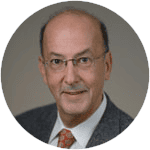 2018 NFID Jimmy and Rosalynn Carter Humanitarian Award
Roger I. Glass, MD, PhD
The greatest inspiration to work with infectious diseases came from spending 3 ½ years at the International Center for Diarrheal Diseases in Bangladesh where infections, and particularly diarrhea, were the number one most common cause of childhood deaths. Working at the Center in Bangladesh that treated approximately 100,000 patients ,and where cholera epidemics occurred every year, directed my attention to the control of enteric infections through new interventions such as vaccines.
I had many mentors along the way including my supervisor at the Centers for Disease Control and Prevention (CDC), Roger Feldman, PhD; my PhD advisor in Sweden, Jan Holmgren, MD, PhD; my lab chief at NIH, Albert Kapikian, MD; and my Indian colleagues, M.K. Bhan, MD and Krishna Ella, PhD.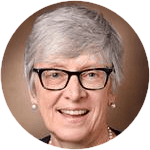 2018 NFID Maxwell Finland Award for Scientific Achievement
Kathryn M. Edwards, MD
Four individuals had a great impact on my professional career development. The first was Todd Davis, MD, who was Director of Pediatric Infectious Diseases at Children's Hospital, Northwestern University, in Chicago when I was a resident. He was an excellent clinician and taught me to love unraveling the puzzles of infectious diseases. Because of him, I continued at Children's to pursue my clinical fellowship under his tutelage.
The second individual was Henry Gewurz, MD at Rush Medical School in Chicago. He mentored me during a two-year basic research fellowship where I endeavored to understand the host's immune responses to pathogens. The third person was David Karzon, MD, Chair of the Department of Pediatrics at Vanderbilt who hired me for my first job, where I have remained ever since. He was a tough critic and expected only the best. Lastly, Peter Wright, MD, Division Director of Pediatric Infectious Diseases at Vanderbilt and the leader of the vaccine program, allowed me the freedom to pursue my studies on vaccines and supported my initiatives with acellular pertussis, live influenza, and conjugate bacterial vaccines.
2018 NFID John P. Utz Leadership Award
Anne Schuchat, MD (RADM, USPHS)
My first CDC supervisor, Claire Broome, MD, set me on a course of passion for epidemiology, public health, and CDC. She urged me to take a long-term view in taking on projects, to focus on asking the right questions, and showed me that our work could be fun.
My interest in infectious diseases has two sources. My microbiology professor at Dartmouth Medical School, Elmer Pfefferkorn, PhD, taught us about pathogens through stories culled from the Morbidity and Mortality Weekly Report as well as the history of virology. His passion was contagious. The second source comes from my internship and residency in Internal Medicine in New York City from 1984-1988. Young people dying from AIDS accounted for a substantial portion of the patients I cared for, and they had a profound effect on my long-term career. Watching that infectious disease emerge with so much sorrow and pain, and working in the field before and after the availability of highly active antiretroviral therapy (HAART) and then the President's Emergency Plan for AIDS Relief (PEPFAR), showed me that even the worst problems of today can be solvable.

NFID is currently seeking nominations for the 2019 Jimmy and Rosalynn Carter Humanitarian Award and Maxwell Finland Award for Scientific Achievement, through June 30, 2018. All nominations must be submitted online at: 2019 Awards Nominations. Awards will be presented at a black-tie gala in the spring of 2019 in the Washington, DC area.
To join the conversation, follow us on Twitter using the hashtag #NFIDawards, like us on Facebook, follow us on Instagram, join the NFID Linkedin Group, and subscribe to NFID Updates.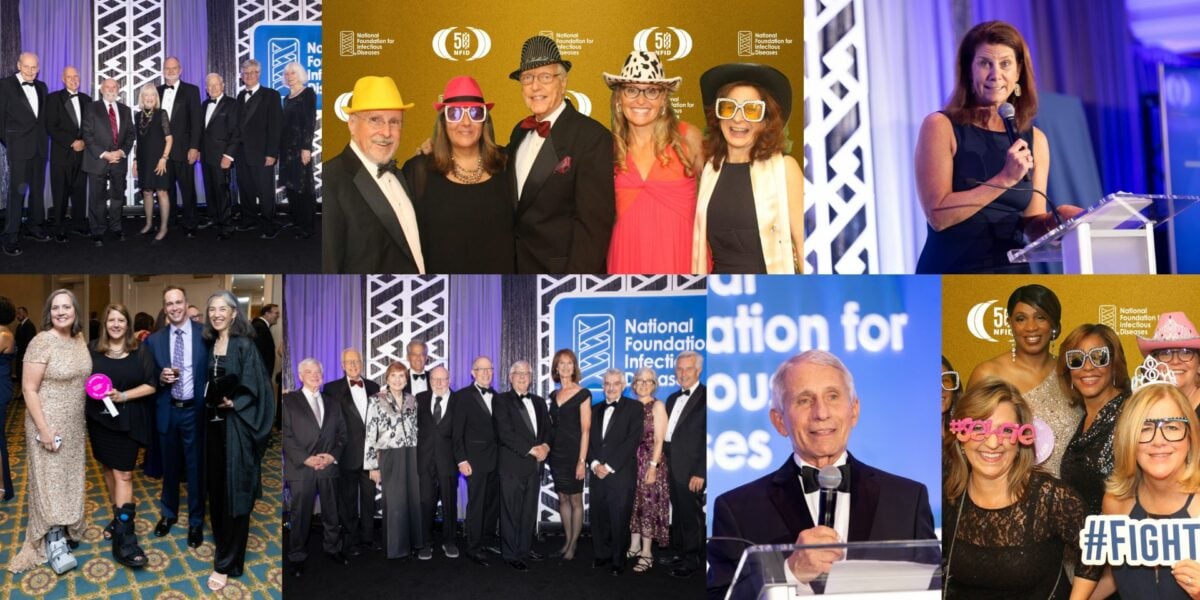 The stars of public health gathered together for the star-studded NFID 50th Anniversary Gala, including more than 20 past recipients of the prestigious NFID awards