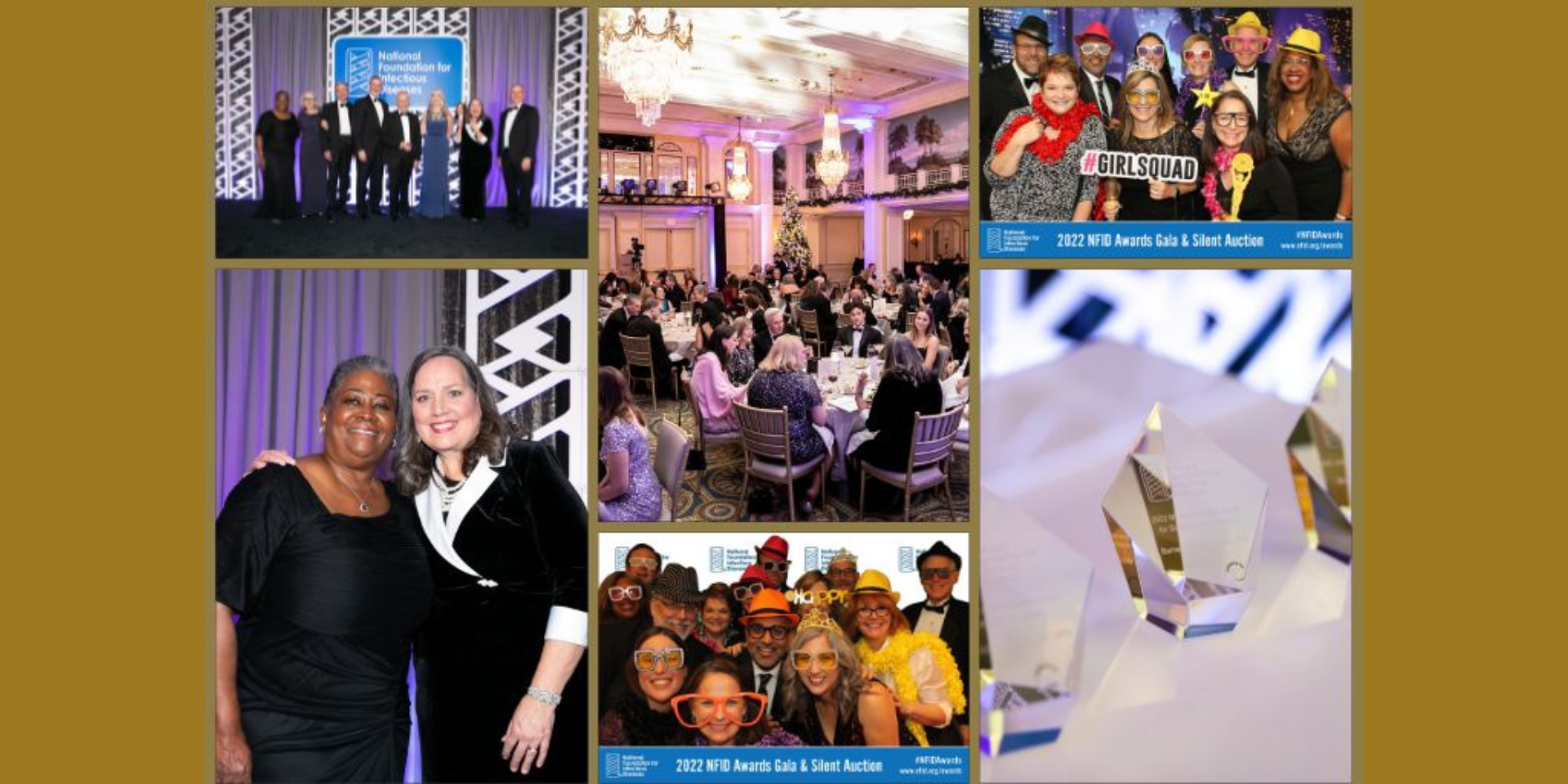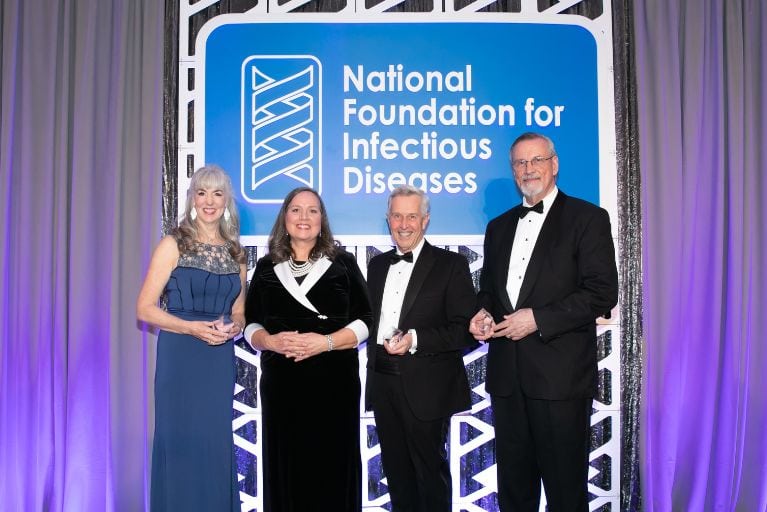 The National Foundation for Infectious Diseases (NFID) honored three public health heroes at the 2022 NFID Awards Gala & Silent Auction on December 8, 2022, in Washington, DC. As emcee, NFID President Patricia (Patsy) A. Stinchfield, RN, MS, CPNP, presented the 2022 Jimmy and Rosalynn Carter Humanitarian Award to Katherine (Kate) L. O'Brien, MD, MPH, of the World Health Organization, the 2022 Maxwell Finland Award for Scientific Achievement to Barney S. Graham, MD, PhD, of Morehouse School of Medicine, and the 2022 John P. Utz Leadership Award to Bruce G. Gellin, MD, MPH, of The Rockefeller Foundation. Widely known as the 'Oscars of Infectious Diseases,' the elegant event recognized the remarkable accomplishments of three inspiring leaders who have dedicated their careers to improving public health globally.
After two years of virtual celebrations, NFID Immediate Past-President Patricia N. Whitley-Williams, MD, welcomed the audience to the in-person event, thanked NFID supporters, and requested a moment of silence to remember the public health heroes we lost this year and to honor countless other healthcare professionals on the frontlines of the pandemic.
---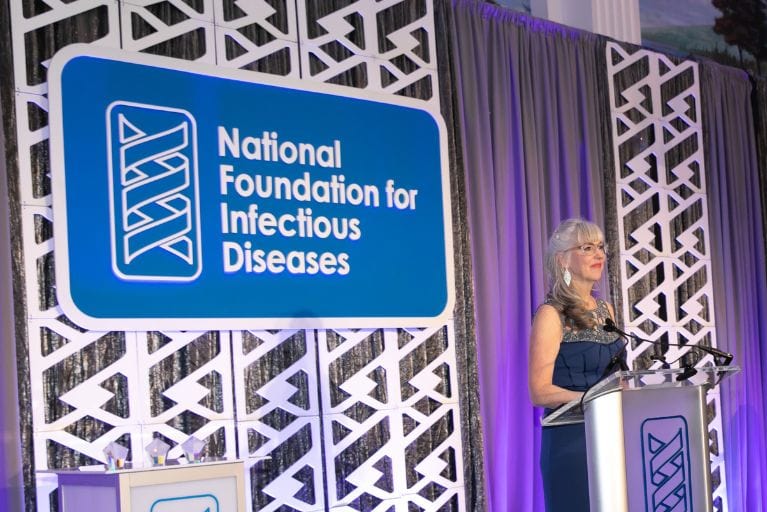 In recognition of her achievements as an international leader in vaccinology, NFID honored Kate O'Brien, a tireless advocate for vaccine equity who played an key role in the remarkable achievement of delivering more than 1 billion doses of COVID-19 vaccine to the world's poorest countries. Renowned for her ground-breaking research, O'Brien was one of the first investigators to quantify the global burden of pneumococcal disease, unlocking the case for pneumococcal vaccine use globally. Her contributions to decision-making and policy development by Gavi, the Vaccine Alliance have enabled millions of children throughout the world to have access to vaccines against HPV, polio, COVID-19, and soon malaria.
---
Barney Graham, who formerly served as deputy director of the National Institute of Allergy and Infectious Diseases (NIAID) Vaccine Research Center, was honored for his work in viral pathogenesis and vaccine development, which culminated in the foundational discovery leading to safe and effective SARS-CoV-2 vaccines worldwide. Graham's innovative work on respiratory syncytial virus (RSV) established a "game-changing" approach to structure-based vaccine design that is now being applied to the development of vaccines for important pathogens, including Ebola and influenza. His contributions have distinguished him as a leader in the approach to current viral pathogens and the COVID-19 pandemic, as well as a futurist in anticipating and preparing for emerging pathogens with pandemic potential.
---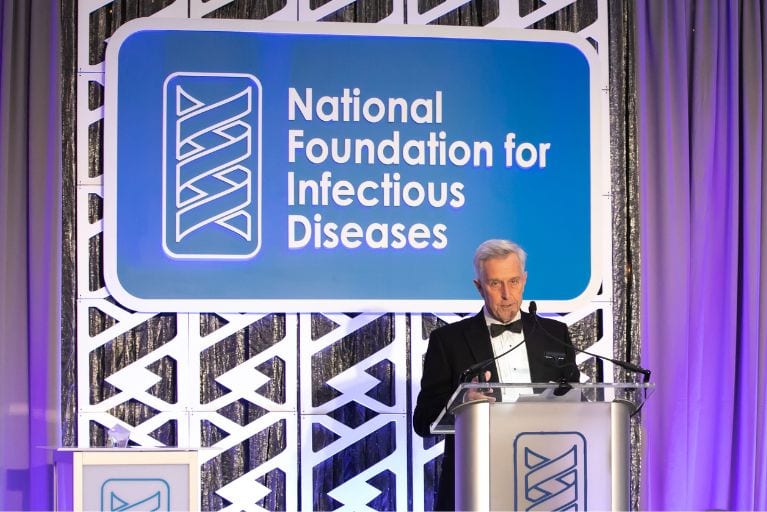 Bruce Gellin was honored for his leadership and lifelong work to prevent infections through education, communication, and collaboration. Throughout his distinguished career, Gellin has held numerous positions leading and advising on global immunization, strategic policy development, and pandemic preparedness and response. He has led key federal vaccine initiatives, including developing the National Vaccine Plan at the US Department of Health and Human Services (HHS) and creating the first HHS pandemic influenza preparedness and response plan. His focus on vaccine demand as a public health issue both nationally and globally has made him a well-known champion of public health and a skilled immunization advocate.
---
Celebrate These Heroes and Support the NFID 50th Anniversary Campaign …
The evening closed with a look ahead to 2023, which marks the 50th anniversary of NFID. As we celebrate the accomplishments of the past 50 years, we also look ahead to an exciting future and to achieving the NFID vision of healthier lives for all through the effective prevention and treatment of infectious diseases.
View tribute videos and acceptance remarks, and read interviews with each of the awardees at www.nfid.org/awards. To honor the awardees and support the important mission of NFID, visit www.nfid.org/donate.
To join the conversation and get the latest NFID updates, follow us on Twitter using the hashtag #NFIDAwards, like us on Facebook, follow us on Instagram, visit us on LinkedIn, listen to the Infectious IDeas podcast, and subscribe to receive future NFID Updates.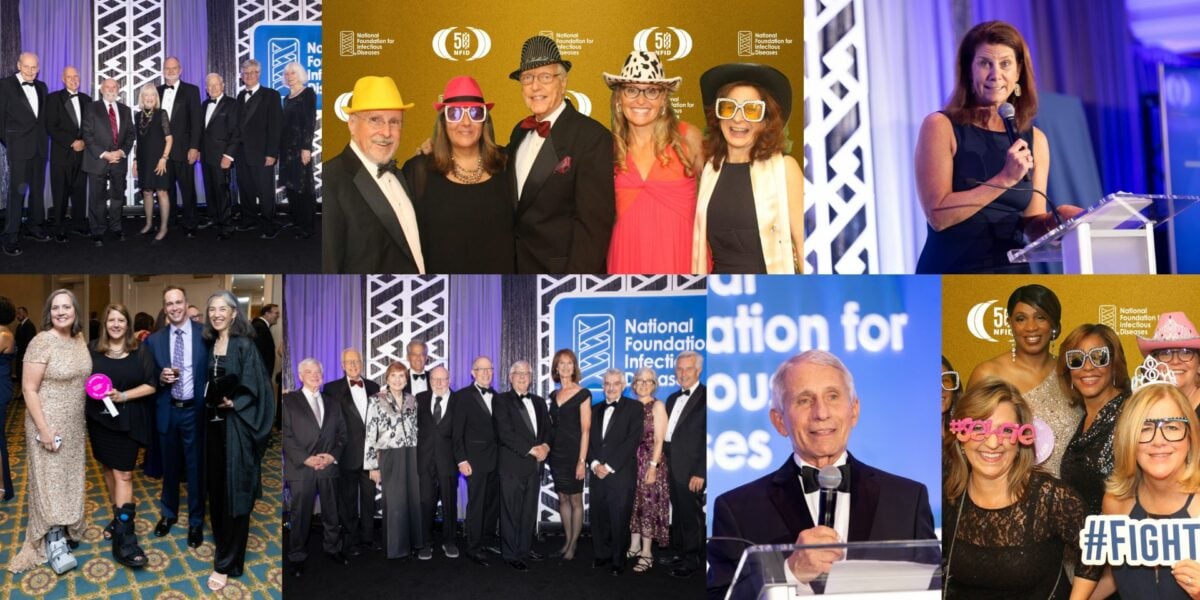 The stars of public health gathered together for the star-studded NFID 50th Anniversary Gala, including more than 20 past recipients of the prestigious NFID awards