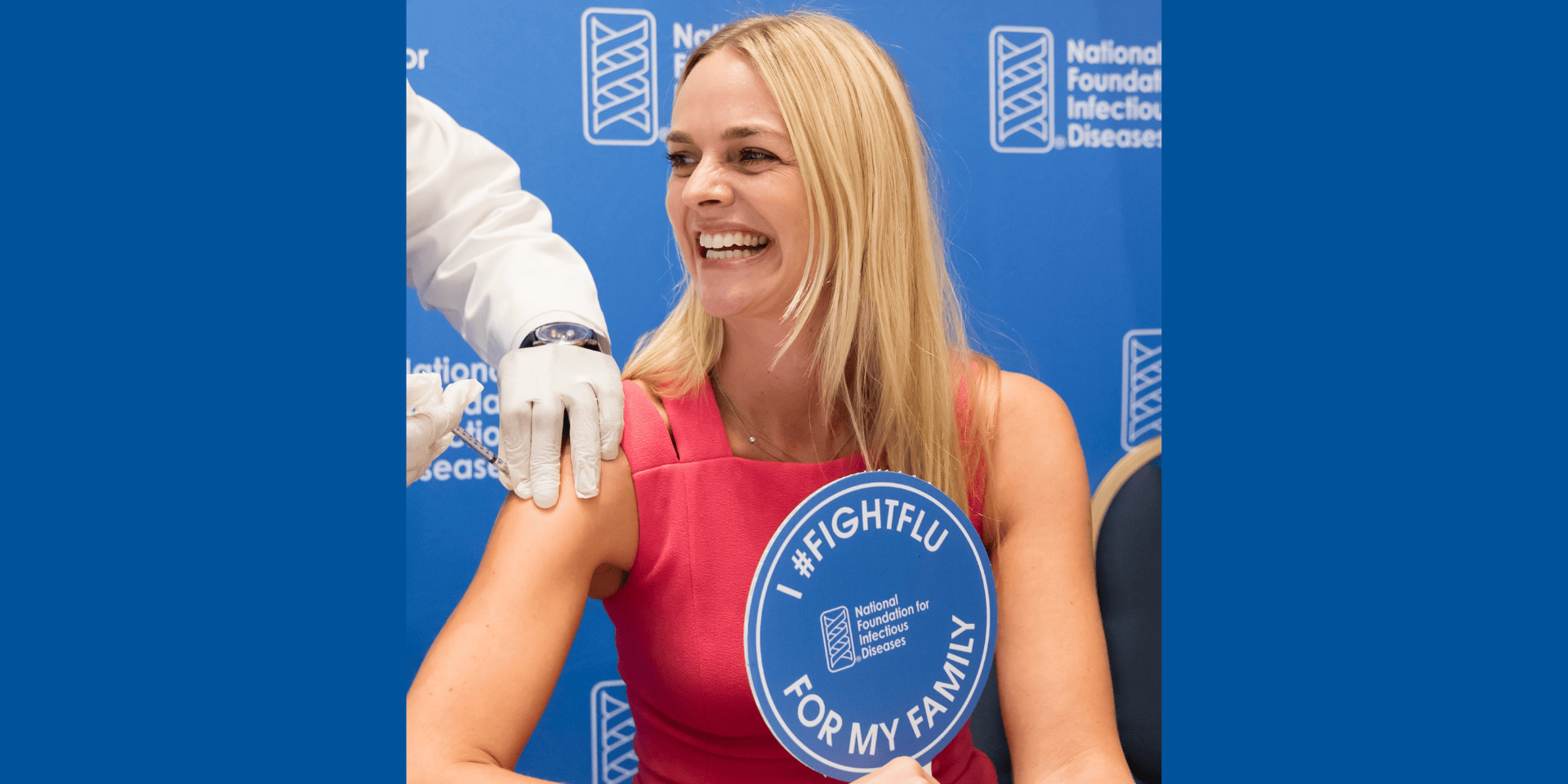 Special thanks to Wendy Sue Swanson, MD, MBE, pediatrician, author of Seattle Mama Doc blog, and Chief of Digital Innovation at Seattle Children's Hospital, for this guest post on the new Amazon Alexa skill, Flu Doctor, designed to build trust in the science and safety behind flu vaccines.

Last year, 185 children in the US died from influenza (flu) infections or related complications. And like many seasons before, almost 80% of those children who died did not get a flu shot. As many pediatricians and parents may remember, last flu season was robust, starting earlier than expected, causing too many serious infections in children that required hospitalization, and causing tragedy in far too many families. It is hard to believe that nearly 80,000 individuals died from flu and related complications in the US last year alone.
Flu is predictably unpredictable so layering protections for our families can help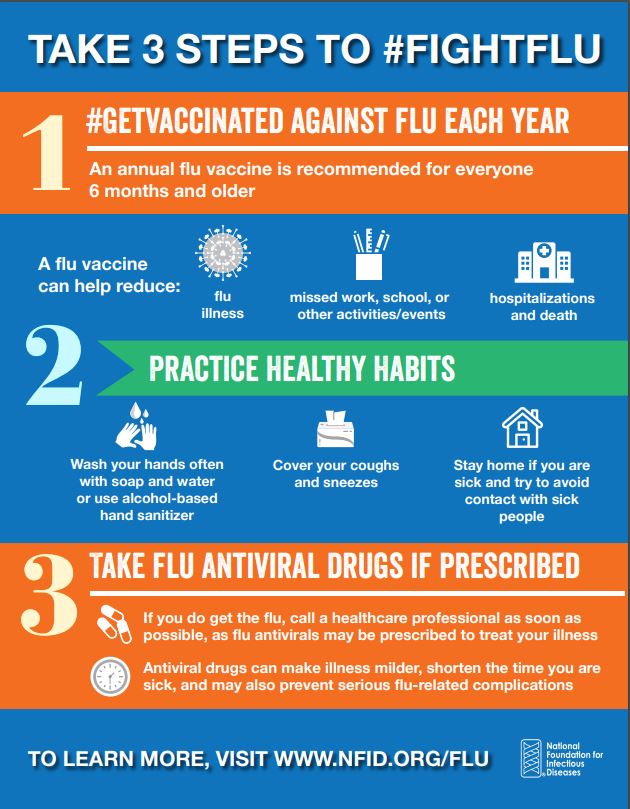 (such as the Take 3 approach to fight the flu: 1. Get an annual flu vaccination. 2. Practice healthy habits: wash hands, stay home when ill, and stay away from those who are sick. 3. Take antiviral drugs if prescribed.) But the reality is, people can spread flu even before they feel symptoms, so there is no fool-proof way to outsmart the virus. Basically, flu is gnarly and can be super gnarly some seasons. And there is no way to know in advance which kind of year it will be…
The wonderful thing about the 2018-2019 flu season is that we have vaccines for that…the flu shot and flu nasal spray!
New Alexa Skill: Flu Doctor 
We recently launched a new communication technology to help get the word out on ways to prevent flu infections and reduce the likelihood of getting, or dying from flu. We use the word "flu" because everyone else does but we clearly know that we are talking about one specific virus called influenza.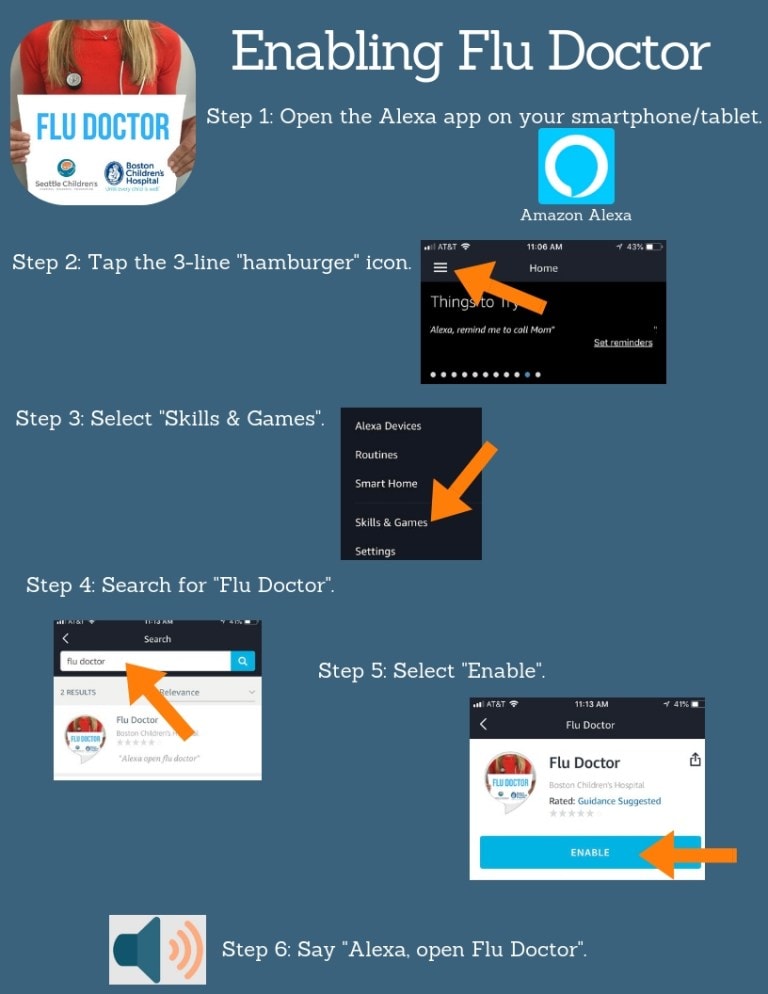 The new Amazon Alexa skill is already available in your Alexa speaker—but you do have to enable it. The goal here is to help parents gain more trust in flu vaccines and the science behind vaccine recommendations, access accurate flu information as flu season unfolds, and expand ways to help families understand the benefits of vaccination in preventing flu and serious complications.
The digital health innovation team at Seattle Children's partnered with the digital health and innovation team at Boston Children's Hospital to build the Flu Doctor. It has flu vaccine information and answers to questions you may have—right in your home—for those with an Alexa smart speaker. We will continue to provide updates as the flu season progresses including information on how flu is affecting families, the protection provided by flu vaccinations, and additional ways you can protect yourself and your family members.
The Flu Doctor skill was a great way for our hospitals to partner together and leverage our strengths to bring relevant, timely, and trusted public health messaging at scale to families across the country.

-John Brownstein, PhD, Chief Innovation Officer at Boston Children's Hospital
Really this is just the beginning for learning how to use tools like Amazon's Alexa smart speaker to connect you with vetted information. We want to learn how to support families in understanding immunizations at large by starting with one vaccine in particular—flu. We're dreaming up skills that will help remind you to get your child vaccinated (imagine how nice it will be when your child turns four and your smart speaker explains what shots they need and WHY and then helps you schedule an appointment!)
Flu Doctor responses were vetted with communication experts from the Centers for Disease Control and Prevention (CDC), American Academy of Pediatrics (AAP), the WA State Department of Health, as well as other pediatric infectious disease experts. The skill offers responses and education on a variety of flu topics. When you open the skill with Alexa (say, "Alexa, open Flu Doctor") she will allow for a two-way conversation about flu, flu vaccination, and can help you find the closest location for a flu shot. The skill also includes information on:
Who should get a flu shot (everyone age 6 months and older)
When you should get a flu shot (read: NOW!)
Common side effects of flu shots (soreness at the injection site, occasional fever in young children, and malaise)
Treatments & remedies for flu infections (over the counter medicines, prescription anti-viral medicines if started within 48 hours of symptom onset)
Where you can get a flu shot. The skill has awesome integration powered by Vaccine Finder. You can ask Flu Doctor to find the 3 closest locations to your home or office.
How to help with needle fear and children who are scared of needles
Support for families with allergies (no need to avoid flu shots with an egg allergy)
Data for pregnant moms and ways to protect newborn babies (get vaccinated and  pass on antibodies to baby)
Efficacy statistics—how well the vaccine has worked in the past and how well it is  working this year (updates as data unfolds)
Common symptoms and ways to identify flu and tips on when to call a healthcare professional
Types of vaccine available this year (flu shot, nasal spray, and the 2 new strains included in this year's flu vaccine)
The Flu Doctor skill includes about a dozen video responses for those who have an Alexa Show (a smart speaker with a smart screen).
As a pediatrician in digital health, I want to learn about how families may use Alexa to help make family decisions around prevention and healthcare. I encourage readers to  enable the skill on their Alexa device and try it out. I would love to hear your feedback on what you most like about it and what could be improved. What questions didn't we answer? We have two awesome teams ready to improve the skill as time unfolds… and will continue to build more.
To learn more about common misunderstandings about flu and flu vaccines as well as communication tips on how best to respond to flu-related questions, attend the  upcoming free NFID webinar: Flu Myths & Communication Tips on Wednesday, December 5, 2018 at 12:00 PM ET.
To join the conversation and get the latest news on infectious diseases, follow NFID (@NFIDvaccines) and Wendy Sue Swanson (@SeattleMamaDoc) on Twitter using the hashtag #FightFlu, like NFID and Wendy Sue Swanson on Facebook, follow NFID and Wendy Sue Swanson on Instagram, join the NFID Linkedin Group, and subscribe to NFID Updates.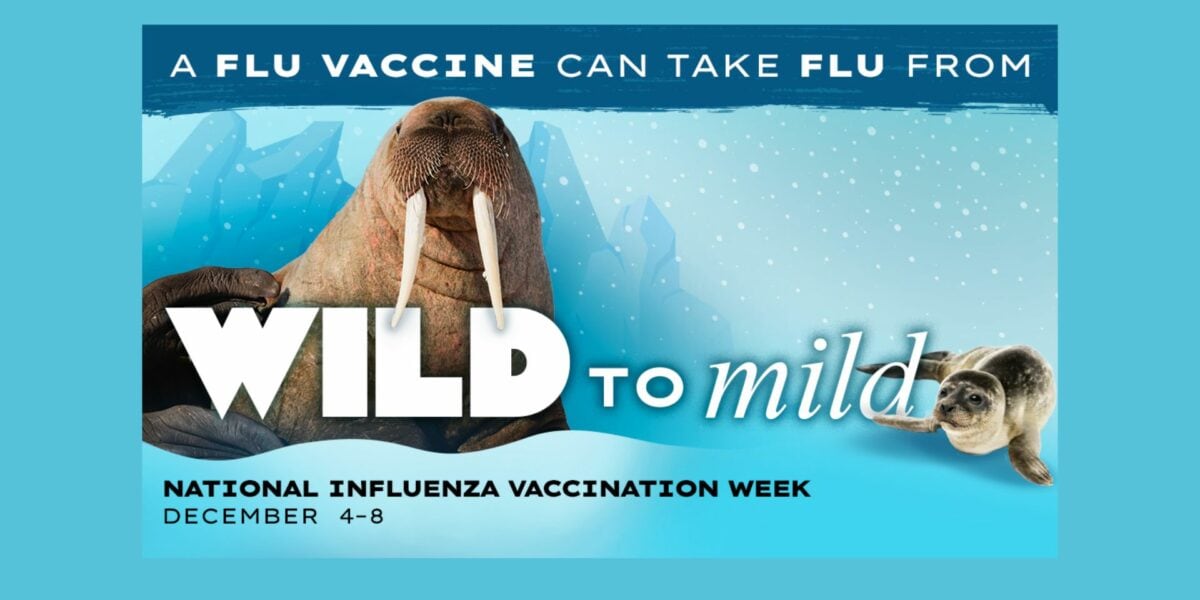 With flu activity on the rise and vaccination rates lagging across the US, NFID is reminding everyone age 6 months and older to get vaccinated against flu