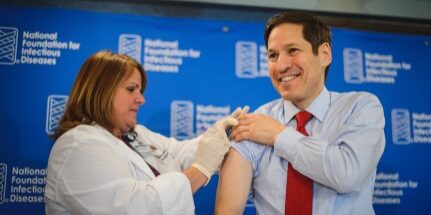 Unfortunately, less than half of all healthy adults in the US were vaccinated against influenza (flu) last year. With the start of flu season now upon us, YOU can help increase immunization rates by taking a few simple actions. Read on to be fully prepared to take on flu season head first this year.
1. Urge healthy adults around you to get their flu vaccine.
The data is in: In the US, more children and seniors are getting vaccinated than ever before, but vaccination rates among healthy adults have yet to top 40%. This means over half of all individuals in the US are not getting the protection they need. We can do better!
Last year's flu season was a stark reminder of the unpredictability and severity of flu, for all age groups – in fact nearly 60% of reported, flu-related hospitalizations were in people age 18 to 64 years old! Although we can't predict which viruses will be predominant or how severe this flu season will be, we know it will have serious consequences.
Spread this message around: No one is exempt from the flu. Everyone six months and older should get vaccinated every year to  reduce the risk of flu illness, hospitalization, and even death.
2. Ask healthcare professionals to lead by example.  
Healthcare professionals play an extremely important role in fighting flu, and we continuously see high vaccination rates when providers recommend and offer the vaccines to patients in their offices. It's just as important that they vaccinate themselves annually.
With vaccination rates hovering around 90%, doctors and nurses are truly leading by example to make sure they do not spread flu to their patients and families. However, low rates persist in long-term care workers and this puts patients at risk.
It is essential that all healthcare personnel be vaccinated against flu every year to protect themselves, their patients, and their families from seasonal flu. All healthcare, business, and community leaders are encouraged to join the NFID Leading by Example initiative by making a commitment to influenza prevention.
3. Encourage pregnant women to protect themselves and developing babies.
Pregnant women and their developing babies are at increased risk of flu complications because of changes to a woman's immune system, heart, and lungs during pregnancy. In fact, getting sick with the flu while pregnant doubles the risk of fetal death, premature labor, and hospitalization for the mother. No mother should have to experience this!
Vaccination of mothers also protects newborn babies for up to six months, a period when they are particularly vulnerable to influenza but too young to get vaccinated. Make sure pregnant women are aware of the need for flu vaccination, during any trimester of pregnancy.
4. Get familiar with the various flu vaccines available this year.
Current vaccine options include:
Traditional (intramuscular) flu shot
Nasal spray vaccine
Intradermal vaccine
Egg-free vaccine
The nasal spray vaccine is recommended as the preferred flu vaccine for healthy children 2 to 8 years old, if it is immediately available and there are no contraindications or precautions. Early vaccination is especially important for children younger than 9 years of age being immunized against flu for the first time because they may need a second dose four weeks later to have optimal protection. All vaccines protect against the same 3-4 influenza viruses, which research suggests are most likely to circulate during the coming season. All families should get the vaccine type available near them to avoid any delays in protection.
5. Be ready to educate those who refuse flu vaccine.
Some adults choose not to be vaccinated because they think the flu poses no risk to them, or mistakenly assume that the vaccine causes flu and other symptoms, but they might not be aware of the following:
Flu hit healthy adults hard last season, with the highest hospitalization since the 2009 pandemic.
In addition to protecting healthy adults, vaccination makes them less likely to spread flu to others around them, including co-workers, young children, and older parents.
6. Join the conversation on social media.
In addition to engaging in conversations with family and friends, you can join us in fighting flu by sharing vaccination selfies with NFID paddles (download them, print them out, and use them in your photos to show your commitment!)
Flu is unpredictable, and annual vaccination is the best way to protect yourself and those around you. Fortunately, there are many options available this season and NOW is a great time to get your flu vaccine!
Thanks to all who supported the 2014 Annual NFID Influenza/Pneumococcal News Conference.
To join the conversation, follow us on Twitter (@nfidvaccines) using the hashtag #FightFlu, like us on Facebook, and join the NFID Linkedin Group.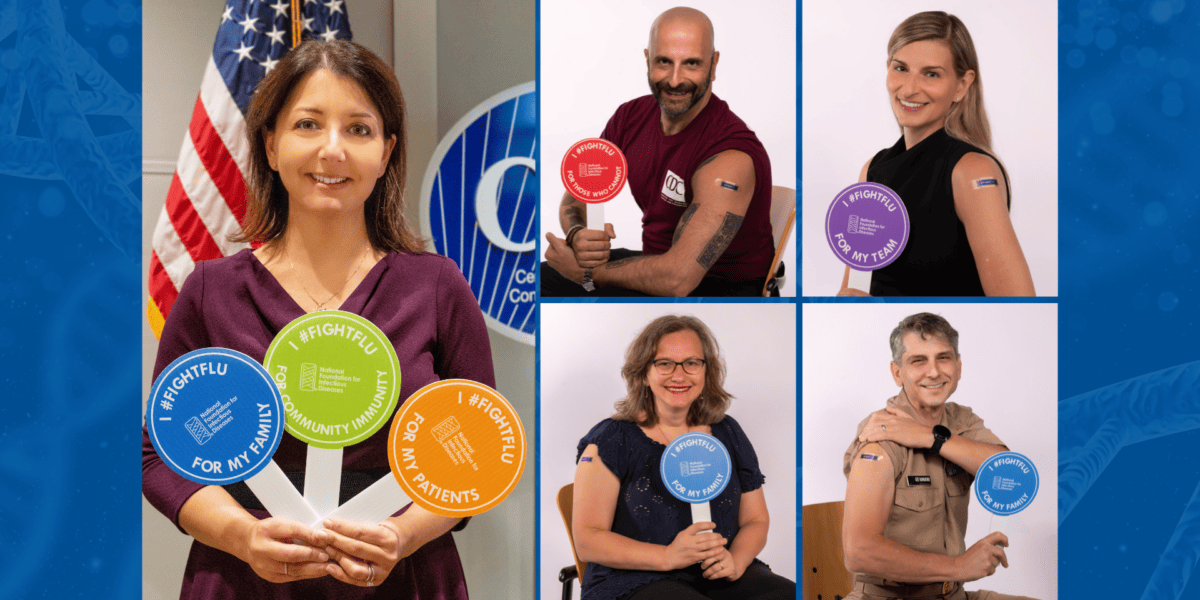 CDC guest post on the importance of disease prevention and leading by example to help protect against flu, COVID-19, and RSV