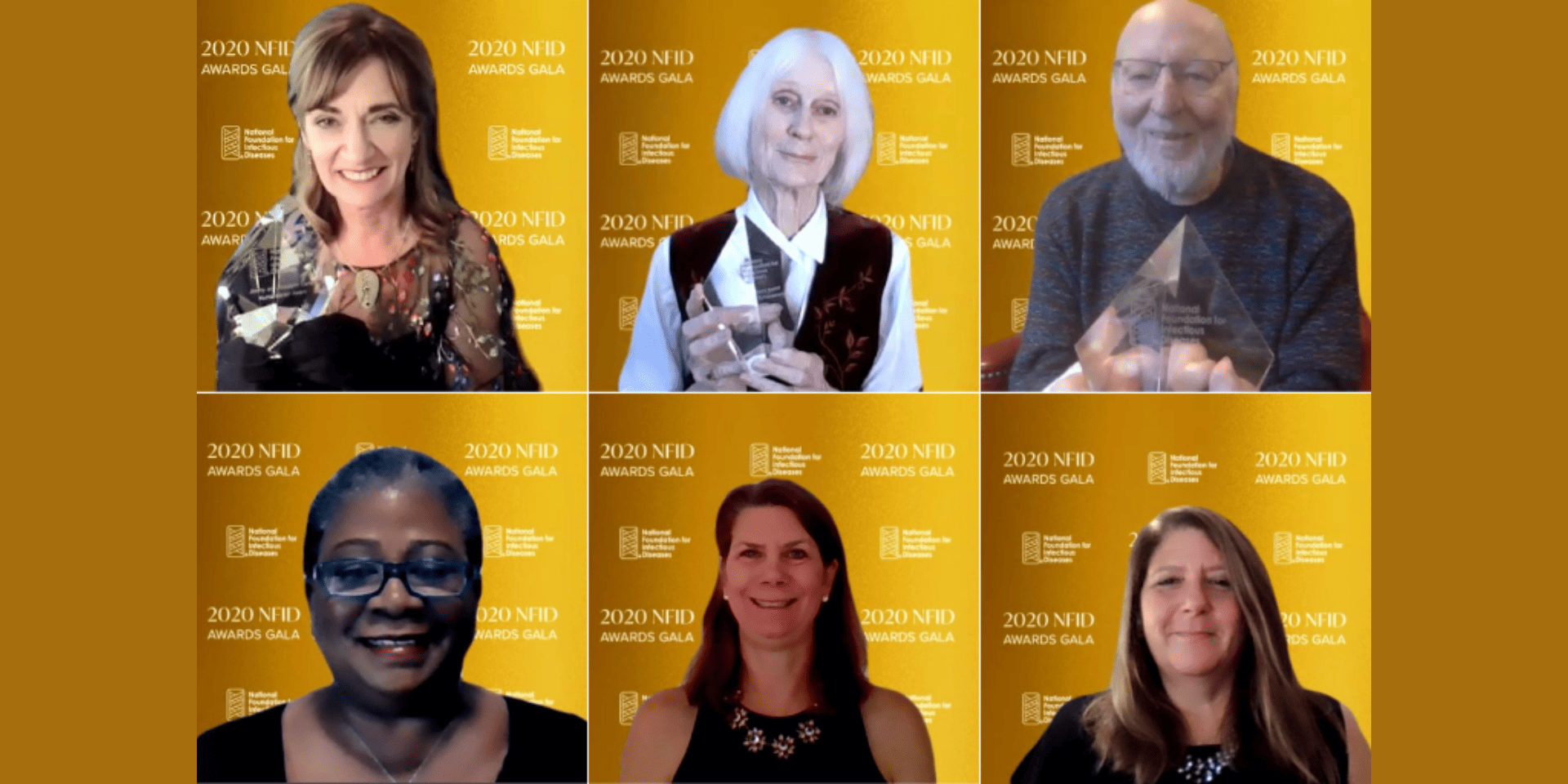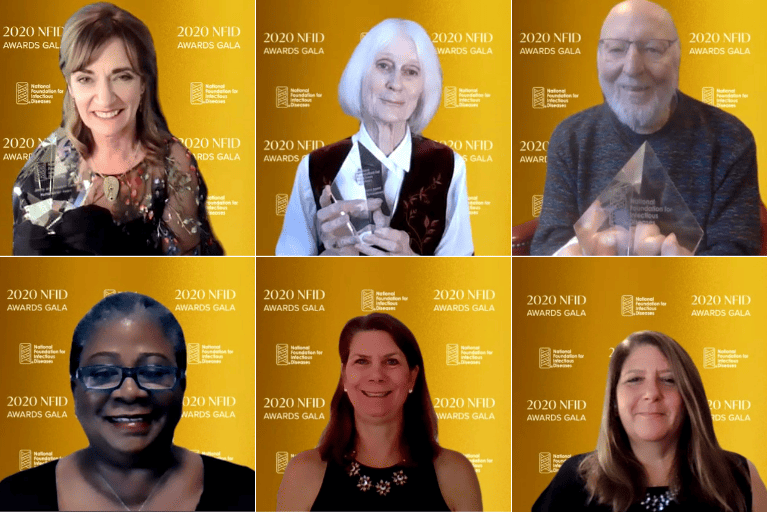 The National Foundation for Infectious Diseases (NFID) honored three distinguished public health heroes at the first-ever virtual NFID Awards Gala on December 14, 2020. Due to the COVID-19 pandemic, the event was converted to a virtual celebration, recognizing the inspiring accomplishments of three outstanding leaders who have dedicated their remarkable careers to improving public health.
NFID Awards Chair Kathleen M. Neuzil, MD, MPH presented the 2020 Jimmy and Rosalynn Carter Humanitarian Award to Penny M. Heaton, MD (Bill & Melinda Gates Medical Research Institute), the 2020 Maxwell Finland Award for Scientific Achievement to Claire V. Broome, MD (Rollins School of Public Health at Emory University), and the 2020 John P. Utz Leadership Award to Richard J Whitley, MD (University of Alabama at Birmingham).
The program also included remarks by NFID Executive Director and CEO, Marla Dalton, CAE, noting that the work of NFID to educate the public and healthcare professionals has never more relevant or timely, as well as NFID President Patricia N. Whitley-Williams, MD, who thanked the heroic healthcare professionals and public health officials on the front lines and the researchers and industry partners working tirelessly to develop new vaccines and therapeutics for COVID-19 and other diseases. She also recognized essential workers who stepped up to the plate during this pandemic, including those in the food industry, public transportation, delivery services, and waste management.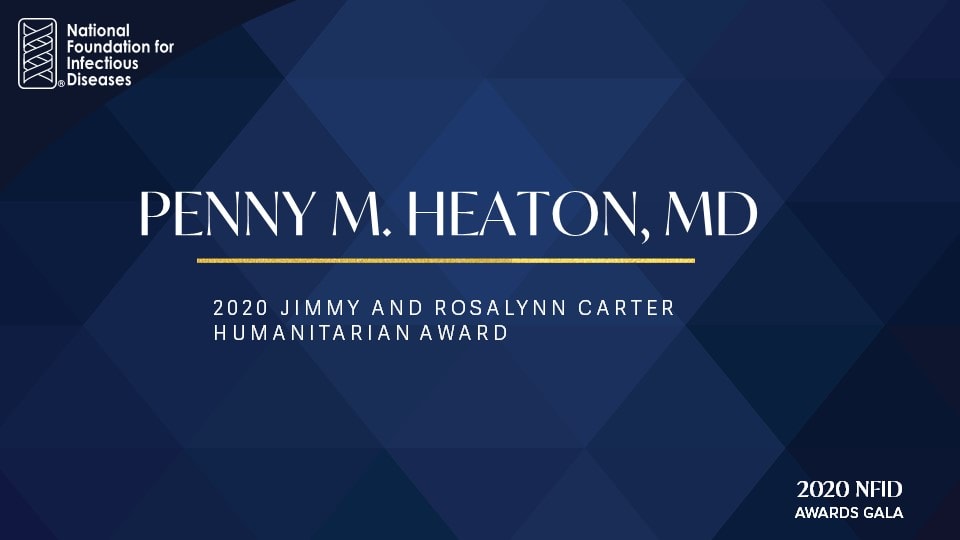 Penny Heaton was recognized for her distinguished career of developing and enhancing access to lifesaving vaccines in economically and socially disadvantaged settings throughout the world. Renowned for leading the development of vaccines that have saved millions of lives, including vaccines for rotavirus, influenza, and meningococcal disease, her groundbreaking contributions on maternal vaccines have the potential to address important causes of prematurity, stillbirths, and neonatal sepsis.
---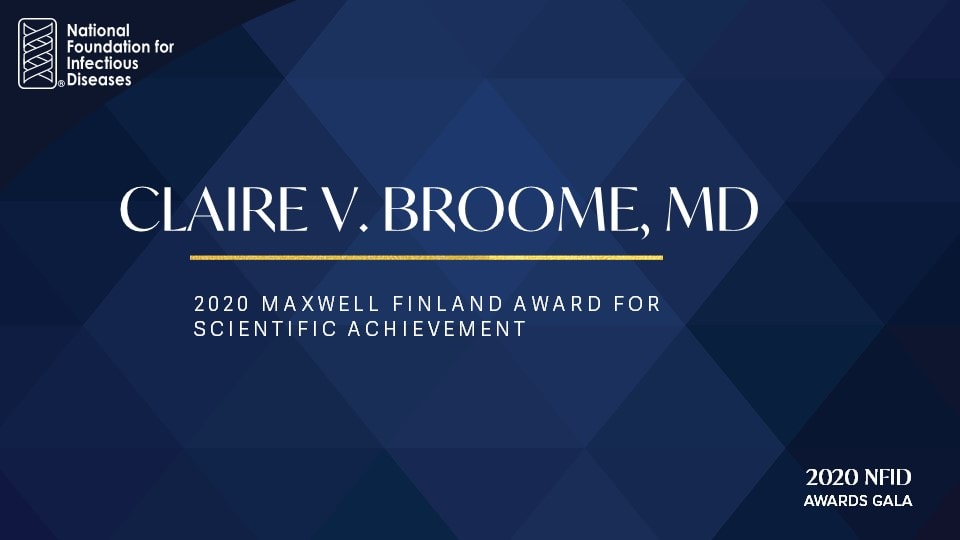 A former US assistant surgeon general and acting director of the Centers for Disease Control and Prevention, Claire Broome has had a profound influence on global public health. She has advised organizations around the world on vaccines, disease burden and surveillance, and outbreak detection and response. Her conceptualization and use of the "indirect cohort" approach to measuring the effectiveness of pneumococcal polysaccharide vaccine has become a landmark in observational studies of vaccines.
---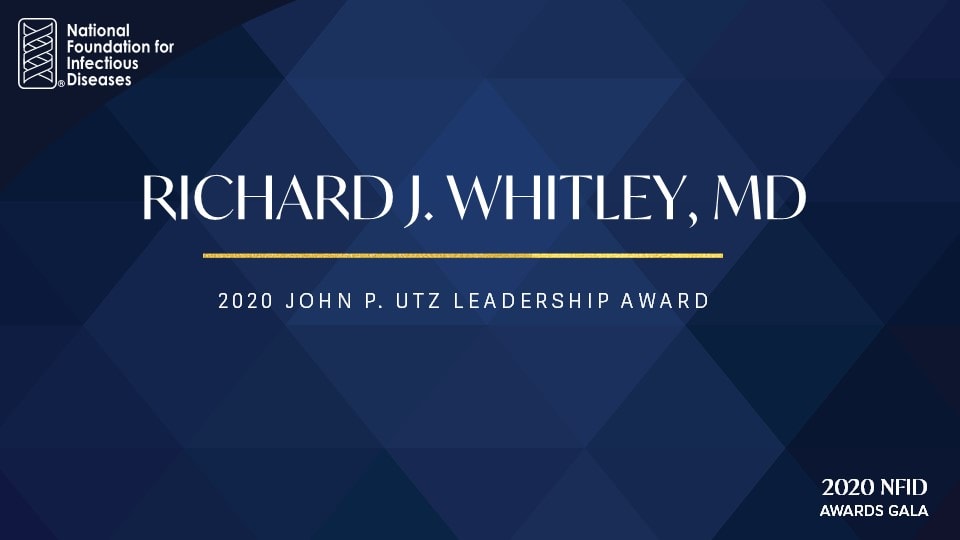 Richard Whitley was recognized for his long-standing leadership in the field of clinical virology, his expertise in how antiviral therapies fight infections in children and adults. Best known for his pioneering work in herpes antivirals, he also led the development of guidelines for the emergency use of influenza antiviral therapy in infants. In the midst of the COVID-19 pandemic, Whitley is the primary investigator on the National Institutes of Allergy and Infectious Diseases grant to study remdesivir, which recently became the first Food and Drug Administration-approved drug to treat patients hospitalized with COVID-19, and he is playing a crucial role in evaluating the data on safety and effectiveness of coronavirus vaccines.
---
The program ended with a surprise musical performance by Ethan Schaffner and Elisabeth King (Songband) in honor of healthcare professionals and frontline workers around the world who are working so hard to help stop the spread of COVID-19.
Thank you to all who made the evening such a success and congratulations to Drs. Heaton, Broome, and Whitley on receiving these prestigious and well-deserved awards. All proceeds from the event directly benefit NFID, a non-profit organization dedicated to educating the public and healthcare professionals about the burden, causes, prevention, diagnosis, and treatment of infectious diseases across the lifespan.
Learn more at www.nfid.org/awards. To support the important mission of NFID, visit www.nfid.org/donate.
To join the conversation and get the latest NFID updates, follow us on Twitter using the hashtag #NFIDawards, like us on Facebook, follow us on Instagram, visit us on LinkedIn, and subscribe to NFID Updates.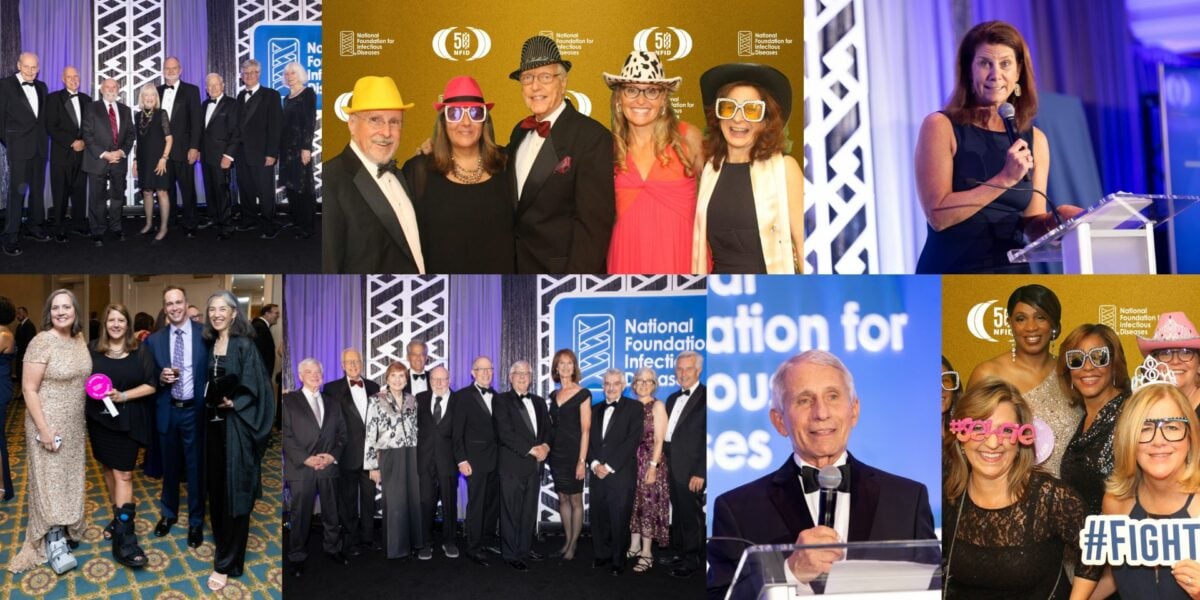 The stars of public health gathered together for the star-studded NFID 50th Anniversary Gala, including more than 20 past recipients of the prestigious NFID awards