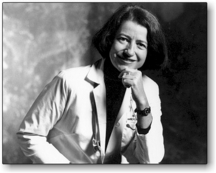 The Mary Lou Clements-Mann Memorial Lecture in Vaccine Sciences was first presented by NFID in 1999 to honor and remember a prolific, compassionate, and courageous vaccinologist. Dr. Clements-Mann was a professor at the John Hopkins University School of Hygiene and Public Health, where she worked since 1985, founding and directing its Center for Immunization Research. Her career in vaccine science began in 1979, when she joined the Center for Vaccine Development at the University of Maryland School of Medicine as assistant professor of medicine.
Dr. Clements-Mann was internationally recognized for her clinical research and leadership on viral vaccines of public health importance. Her bibliography includes more than 100 papers indexed to vaccination for influenza (37), HIV (31), cholera (6), hepatitis B (5), respiratory syncytial virus (4), parainfluenza (4), Rocky Mountain spotted fever (4), rotavirus (3), E. coli (3), and typhoid (1).
Raised on a Texas ranch, Mary Lou Clements entered Texas Tech University intending to become a veterinarian, but her interests soon changed to human disease, and upon graduation she attended the University of Texas Southwestern Medical School. After completing internship and residency at Temple University in Philadelphia, she obtained a diploma at the London School of Tropical Medicine and Hygiene in 1975. At that time, the front lines of public health were in the global program to eradicate smallpox, and she went to India to work for the World Health Organization (WHO) for the final years of vaccination and surveillance. After returning in 1977, she moved to Baltimore to earn her MPH degree at Johns Hopkins University.
Early in the AIDS pandemic, Dr. Clements-Mann founded the Center for Immunization Research, recognizing the threat of this new disease and making it a major focus of her research. She became a dominant figure in the multi-center networks established by the National Institutes of Health to conduct phase I and II clinical trials of HIV vaccines. She also consulted for WHO and the joint United Nations program on AIDS to help prepare for essential HIV vaccine trials in developing countries. Her great contributions to these efforts arose from her broad experience testing vaccines for other diseases, and her vision for how to move forward the development process.
In 1996, she married Dr. Jonathan Mann, founder of the Global Program on AIDS at WHO, an international authority on the pandemic, and an eloquent advocate for human rights and compassion in controlling it. In the final years of their lives, they became increasingly frustrated with impediments to HIV vaccine development not faced by other vaccines, and began crusading—despite the risk to her peer-reviewed research grants—for a reinvented Federal HIV vaccine effort. She presented an invited lecture on this effort at the 1st Annual Conference on Vaccine Research on May 30, 1998. On September 2, 1998, the couple tragically perished in the crash of Swissair flight 111 off the coast of Nova Scotia, Canada.
The lecture is now presented each year at the Annual Conference on Vaccinology Research.
Featured Lecturers:
| | |
| --- | --- |
| 2023 | Barney S. Graham, MD, PhD |
| 2022 | Melanie Saville, MD, MSc |
| 2021 | Heidi J. Larson, PhD |
| 2020 | Carol J. Baker, MD |
| 2019 | Anita K. M. Zaidi, MBBS, SM |
| 2018 | Barton F. Haynes, MD |
| 2017 | William H. Foege, MD, MPH |
| 2016 | Bali Pulendran, PhD |
| 2015 | Carol A. Heilman, PhD |
| 2014 | Gregory A. Poland, MD |
| 2013 | D. A. Henderson, MD, MPH |
| 2012 | F. Marc LaForce, MD |
| 2011 | Ron N. Germain, MD, PhD |
| 2010 | Anthony S. Fauci, MD |
| 2009 | Harold Margolis, MD |
| 2008 | Barton F. Haynes, MD |
| 2007 | Jeffrey K. Taubenberger, MD, PhD |
| 2006 | Rino Rappuoli, PhD |
| 2005 | Keith P. Klugman, MD, PhD |
| 2004 | William H. Foege, MD, MPH |
| 2003 | Donald P. Francis, MD, DSc |
| 2002 | Marcus A. Horwitz, MD |
| 2001 | Andrew McMichael, PhD |
| 2000 | Sir Gustav Nossal |
| 1999 | Margaret I. Johnston, PhD |